This tutorial shows you how to make Swiss Meringue Buttercream, which uses egg whites to make a silky smooth frosting with a light touch of sweetness. This frosting recipe is perfect for decorating cakes, cupcakes, and for filling macarons and other desserts!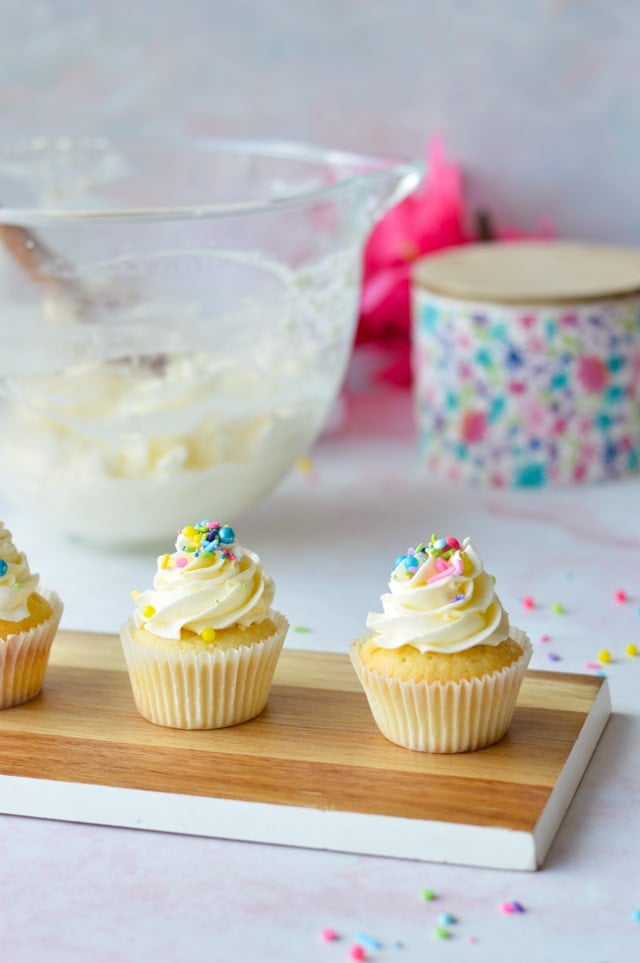 The difference between Swiss Meringue Buttercream and American Buttercream
Traditional or American buttercream is generally made from creamed butter or shortening and powdered sugar. It's very sweet and can be a tad bit grainy.  It's super simple to make, and great for cupcakes, kids birthday cakes, and is similar to what you'll find in a grocery store bakery.
Swiss meringue buttercream, on the other hand, is very smooth and satiny. It uses egg whites to give it a smoother texture. It's not grainy at all. It's also much less sweet. This is the frosting that your  local patisserie or wedding cake shop is probably using.
It does have an extra step of heating egg whites over a double broiler that American buttercream does not.  Adding the egg whites helps stabilize the frosting for piping therefore Swiss meringue buttercream is often the preferred frosting for cake decorating.    
Below is a picture of lemon American buttercream and lemon Swiss meringue buttercream side by side.  You can find my recipe for American lemon buttercream here. You can see below the difference in the two frosting:

The Swiss Meringue buttercream is silky smooth and you can't see any sugar while the American buttercream is light and fluffy.    Which one is better is up to you! It depends what type of frosting you prefer. Try them both out and see what you like!
Uses for Buttercream
There are so many ways to use buttercream. The most common is frosting and decorations for cakes and cupcakes.  But, you can also use as delicious filling for macarons and other sandwich cookies.
Using a double broiler
Using a double broiler or bain-marie is a lot easier than it sounds and you don't need any special equipment.  As long as you have a small or medium sized cooking pot and a medium or large metal or heatproof bowl, you're all set.  To use a double broiler, heat about an inch of water in the pot, put the metal bowl over it as shown below, and place over medium-low heat to simmer the water. 
The water in the bottom of the pan creates steam to slowly and gently heat what is in the metal bowl. This method is very common for melting chocolate in addition to heating egg whites.    If you tried to heat either egg whites or chocolate directly on the stovetop, without the double broiler, you'd have scrambled egg whites and scorched chocolate because it gets too hot.  
Making Swiss Meringue Buttercream
Making Swiss Meringue Buttercream is much easier than people think. First step is to heat the egg whites and sugar in a double broiler.  You'll mix it until it is combined and then heat the egg whites until they reach 160 °F.   Then, you beat the egg whites until they are cool, about 10-15 minutes.  Once they're cooled you change to a paddle attachment. Then and add the butter – 1 pound of butter for 5-6 egg whites.   That's it. You can add vanilla, or other flavors, to make all different kinds of Swiss meringue buttercream. But, the basic method is the same. 
Curdled and Soupy Swiss Meringue Buttercream
Sometimes when you start to add the butter the buttercream separates and looks curdled and thin or soupy.  Don't fret! This is normal! It's fairly common when you're mixing the buttercream it will separate at some point. I remember the first time I made Swiss meringue buttercream  I actually threw it out thinking I made it wrong.  Only when I did some research did I realize I needed to keep mixing and it would eventually come together.  Here is what curdled buttercream looks like: 
It won't always separate, but if it does just keep mixing and eventually it will come together to a silky buttercream frosting.  If after mixing for a few minutes it doesn't seem to come together, put in the fridge for 5-10 minutes to firm up, then remix. You can also try running some ice cubes or frozen towel around the outside of the bowl near the bottom. This works better with a metal bowl. Often this is enough to bring the buttercream back together without the wait time.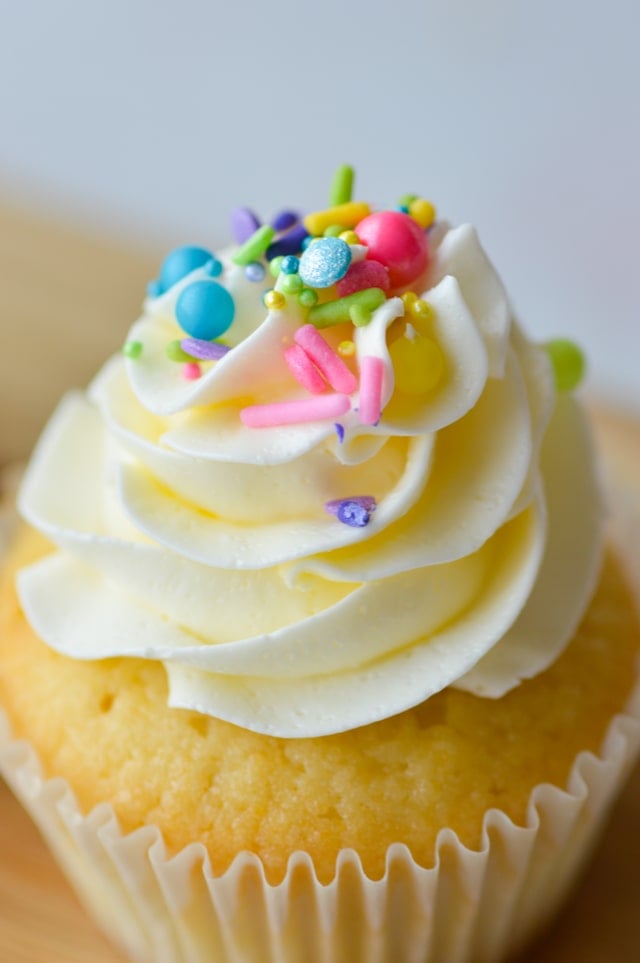 Tips for making Swiss Meringue Buttercream:
Make sure when working with egg whites that all of your tools are very clean. Any oil or butter on them can hinder the eggs white being whipped into stiff peaks.
Heat until the sugar in the egg whites until it is 160 degrees and the sugar is completely dissolved.   The mix never gets too hot, so you can rub a bit between your fingers to tell if the sugar is dissolved. If it still feels a little grainy, keep heating.  
When using a double boiler, keep the water line far below the bottom of the bowl you're using to whip the egg whites. And, make sure it is on a light simmer rather than roiling boil. If the water line is too high and it touches the bottom of the bowl it can make your egg whites grainy and you'll possibly have a grainy frosting.
Make sure the egg whites have completely cooled before you add the butter, otherwise they can melt the butter and you won't be able to achieve optimal Swiss Meringue  Buttercream.
If the buttercream curdles when adding the butter while you're mixing it, don't worry! This is totally normal and you just keep on mixing. It will eventually come together into a beautiful and silky final frosting.
If you don't have a cooking thermometer, no problem!  You can use boxed pasteurized egg whites in this recipe. You'll still need to heat up to incorporate the sugar. 
Freezing Buttercream
Buttercream is incredibly freezer friendly!  That means you can make this Swiss meringue buttercream well in advance to save time. Make sure you store it in an airtight container or in a freezer ziplock bag. The tighter it is wrapped the less likely it will take on any flavors from your freezer. Buttercream can last up to 3 months frozen. When you're ready to use, defrost  in the fridge until complete thawed. Then, rewhip with a hand-held or standing mixer, and you're ready to start frosting.
Flavor Combinations
The flavor combinations for buttercream are pretty much endless! Here are two easy additions to change up the flavor of regular vanilla Swiss meringue buttercream.  
Lemon Swiss Meringue Buttercream
Mix 1/2 cup lemon curd into finished buttercream. Viola, easy lemon buttercream!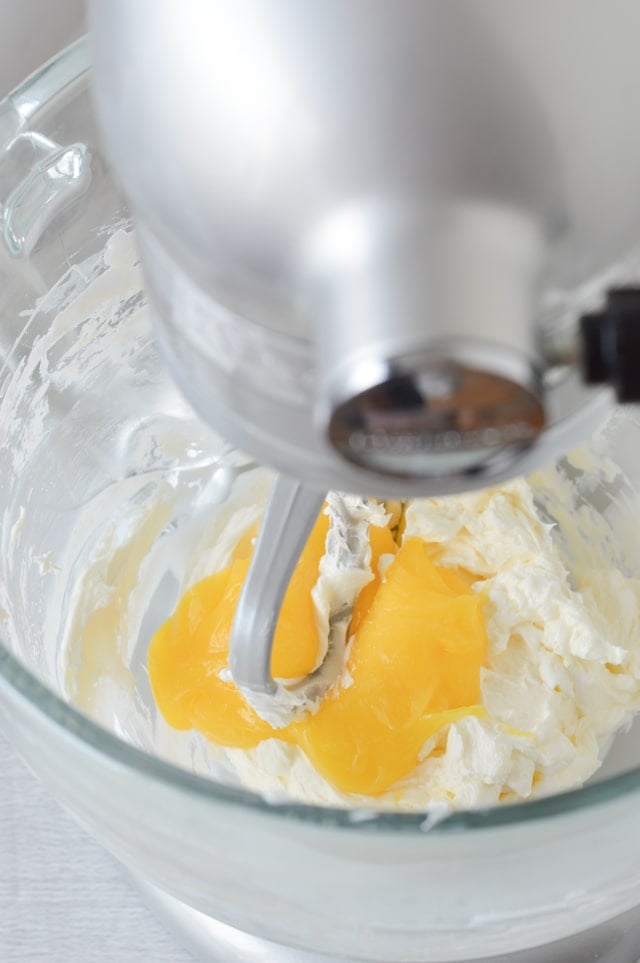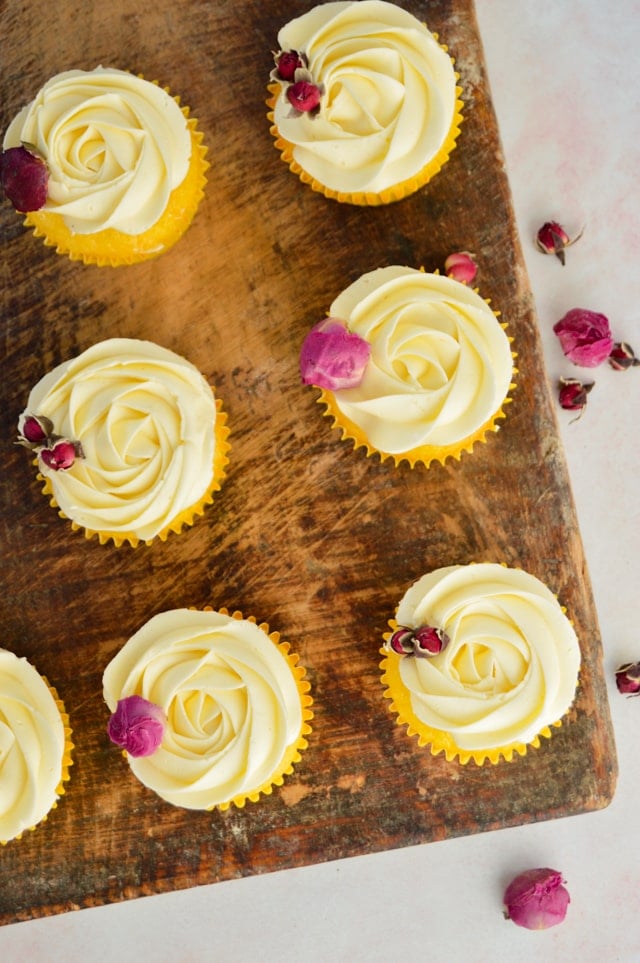 Chocolate Swiss Meringue Buttercream
Mix into finished buttercream 6 oz melted and cooled chocolate (milk, dark, semi sweet, or bittersweet). Chocolate should be cooled to the touch (about 85-100°F) before adding it to the buttercream so it doesn't melt the butter.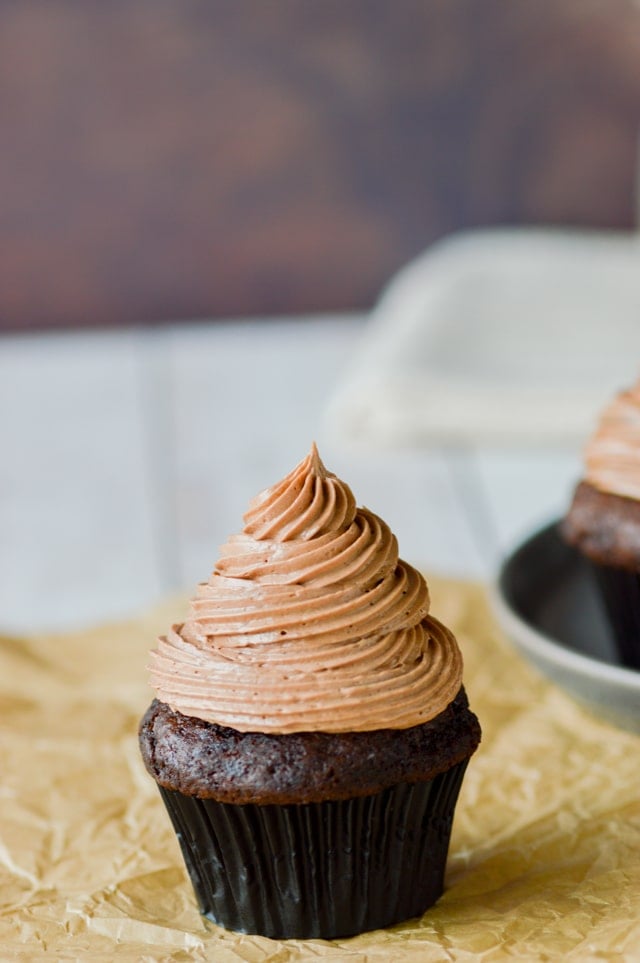 Plus, try using Swiss Meringue Frosting in the Lime Buttercream for this margarita macaron recipe.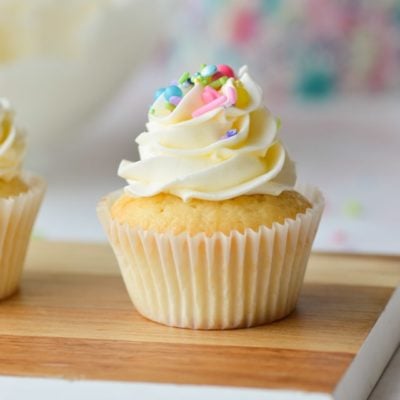 Swiss Meringue Buttercream
The sophisticated cousin to American buttercream, Swiss meringue buttercream uses egg whites make the frosting silky smooth with a light touch of sweetness. This buttercream recipe is perfect for decorating cakes, cupcakes, or to fill macarons and other desserts! 
Print
Pin
Rate
INGREDIENTS
1

cup

sugar

5

large egg whites

1

pound

butter softened and cut into 1 inch pieces

1

tsp

pure vanilla extract
Lemon Swiss Meringue Buttercream
Chocolate Swiss Meringue Buttercream
6

oz

chocolate

melted and cooled
Instructions
Instructions
Set up a standing mixer with a whisk attachment

Mix 1 cup sugar and 5 egg whites in a metal bowl. Set on top of a pot with about an inch of simmering water.

Cook the egg whites until they reach about 160 degrees, about 3-5 minutes.

Transfer the sugar egg mixture to the standing mixer and whip on medium high until the mixture is completely cool. This should take about 10-15 minutes. If after 15 minutes it's still warm, keep mixing until the egg whites are cool to the touch.

Switch the mixer to a paddle attachment and mix on low. Add the butter one tablespoon at a time, making sure it is fully incorporated before adding the next piece.

Once all the butter is added, return to medium high speed and whip until it is silky smooth. At some point after adding the butter the buttercream might separate. This is not a problem! Continue whipping the mixture and it will eventually come together to a silky smooth buttercream.

Once it's a silky and smooth buttercream add vanilla extract or other flavors and mix until combined.
Lemon Swiss Meringue Buttercream
Make the Swiss Meringue Buttercream as instructed above, omitting the vanilla extract.

After the Swiss Meringue Buttercream is mixed add ½ cup of lemon curd and mix until fully combined.
Chocolate Swiss Meringue Buttercream
Before making the Swiss meringue buttercream, melt 6 oz of milk, dark, or semi-sweet chocolate over a bain-marie double broiler. You want to let it cool to about 85-100 degree F while you make the buttercream.

Make Swiss meringue buttercream as instructed above.

Add the melted and cooled chocolate to the buttercream.

Mix until incorporated.
Notes
You can also make with pasteurized eggs, in which case skip the step of heating the mixture until 160 degree and go right into mixing the egg whites until stiff peaks and adding the softened butter.
*Nutrition facts are for Vanilla Swiss Meringue Buttercream
Nutrition
Serving:
2
Tbsp
|
Calories:
171
kcal
|
Carbohydrates:
8
g
|
Fat:
15
g
|
Saturated Fat:
9
g
|
Cholesterol:
40
mg
|
Sodium:
145
mg
|
Potassium:
14
mg
|
Sugar:
8
g
|
Vitamin A:
470
IU
|
Calcium:
5
mg