This vanilla bean pastry cream recipe is a perfect filling for cream puffs, tarts, pastries, cakes, and other delicious desserts!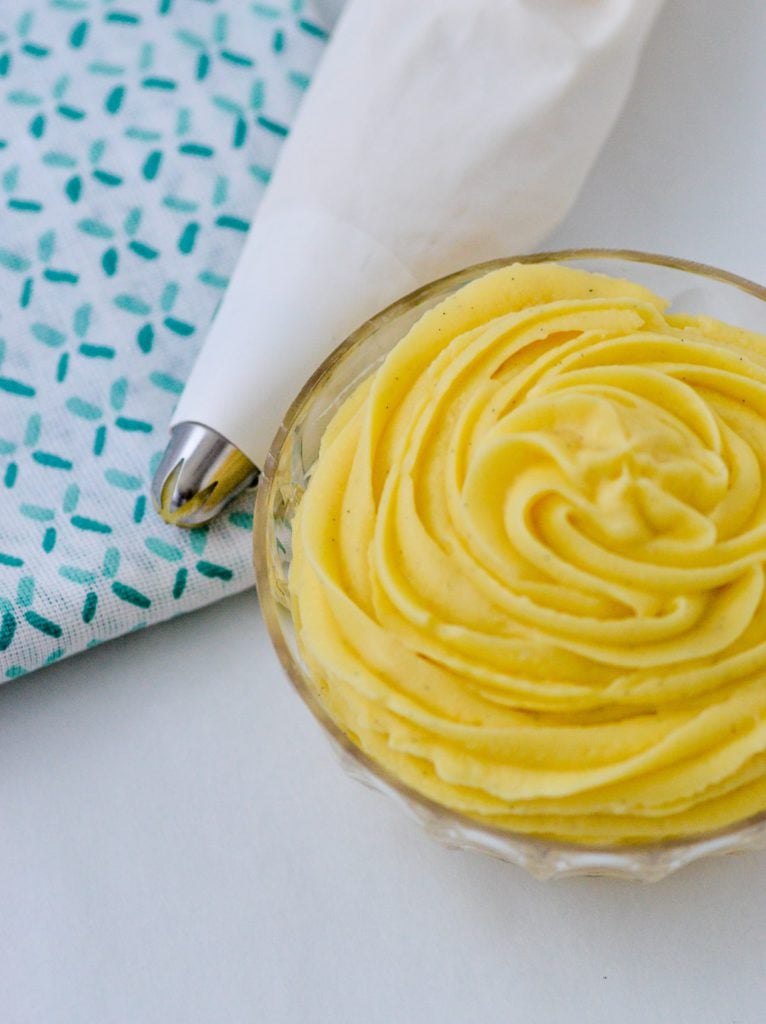 Pastry Cream is a mix between a pudding and a custard. Custards are traditionally thickened with egg yolks and pudding is thickened with cornstarch or flour. Pastry Cream is thickened with both and is used to fill a variety of desserts including tarts, creams puffs, and cakes.
One of my favorite things about pastry cream is the distinct vanilla flavor but you can fill it with all sorts of different combinations. I do highly recommend using real vanilla bean or vanilla paste if you're going for a traditional vanilla flavor. It makes a big difference in final flavor. 
First, you cook the milk, vanilla, and salt over medium heat, being careful not to burn it.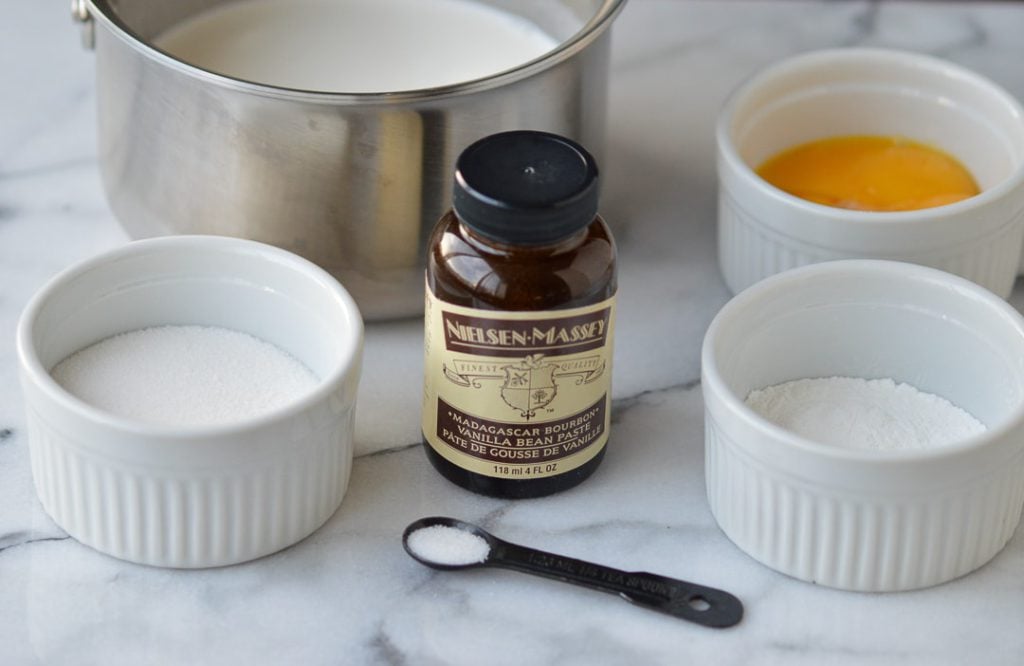 Whisk the egg yolks with the sugar and cornstarch. It will thick and pale yellow. Then, you can slowly add the hot milk mixture while continuing to whisk.
Once it's fully incorporated you pour it back into the pan you were heating the milk in, and put  back on medium heat.
You'll continue to cook until it is thick and creamy.  Then, you'll strain the mixture to ensure it's smooth and there are no bits of cooked egg.
Once it's strained you cover with plastic wrap, making sure to push the plastic directly onto the pastry cream. Then chill for a few hours or until you're ready to use it.
Pastry Cream
This vanilla bean pastry cream recipe is a perfect filling for cream puffs, tarts, pastries, cakes, and other delicious desserts!
Print
Pin
Rate
INGREDIENTS
2

cups

whole milk

1

vanilla bean or tsp vanilla bean paste

Pinch

of salt

5

large egg yolks

1/4

cup

cornstarch

½

cup

sugar

2

tbsp

butter

optional
Instructions
In a saucepan bring milk, vanilla, and salt to a simmer over medium heat.

In a separate bowl, whisk together the egg yolks, sugar, cornstarch. It should be thick, creamy, and pale yellow.

While whisking, slowly add ½ cup of the hot milk mixture to the egg yolk mixture to temper it. This insures that the eggs don't overcook and curdle.

Add the remaining milk mixture half a cup at a time, while continuously mixing.

Return to saucepan and cook over medium heat until the mixture is thick and bubbling. If adding butter, add one tablespoon at a time and mix until fully incorporated before adding the next. Sometimes the butter separates a bit and makes the mixture greasy. If this happens, whisk continuously for a few minutes until it's fully combined and cooled down a bit. It should recombine and no longer be greasy.

Once everything if fully combined and slightly cooled, pour the mixture through a strainer into another bowl. This will make for a very smooth pastry cream and ensure there is no cooked egg in the mixture.

Cover with plastic wrap, placing the wrap directly on top of the pastry cream so it doesn't get a film on top.

Then chill until ready to use, at least two hours or overnight.