With only 5 ingredients and 15 minute prep time, choux pastry (pâte à choux) is a simple pastry dough for making cream puffs, eclairs, and profiteroles!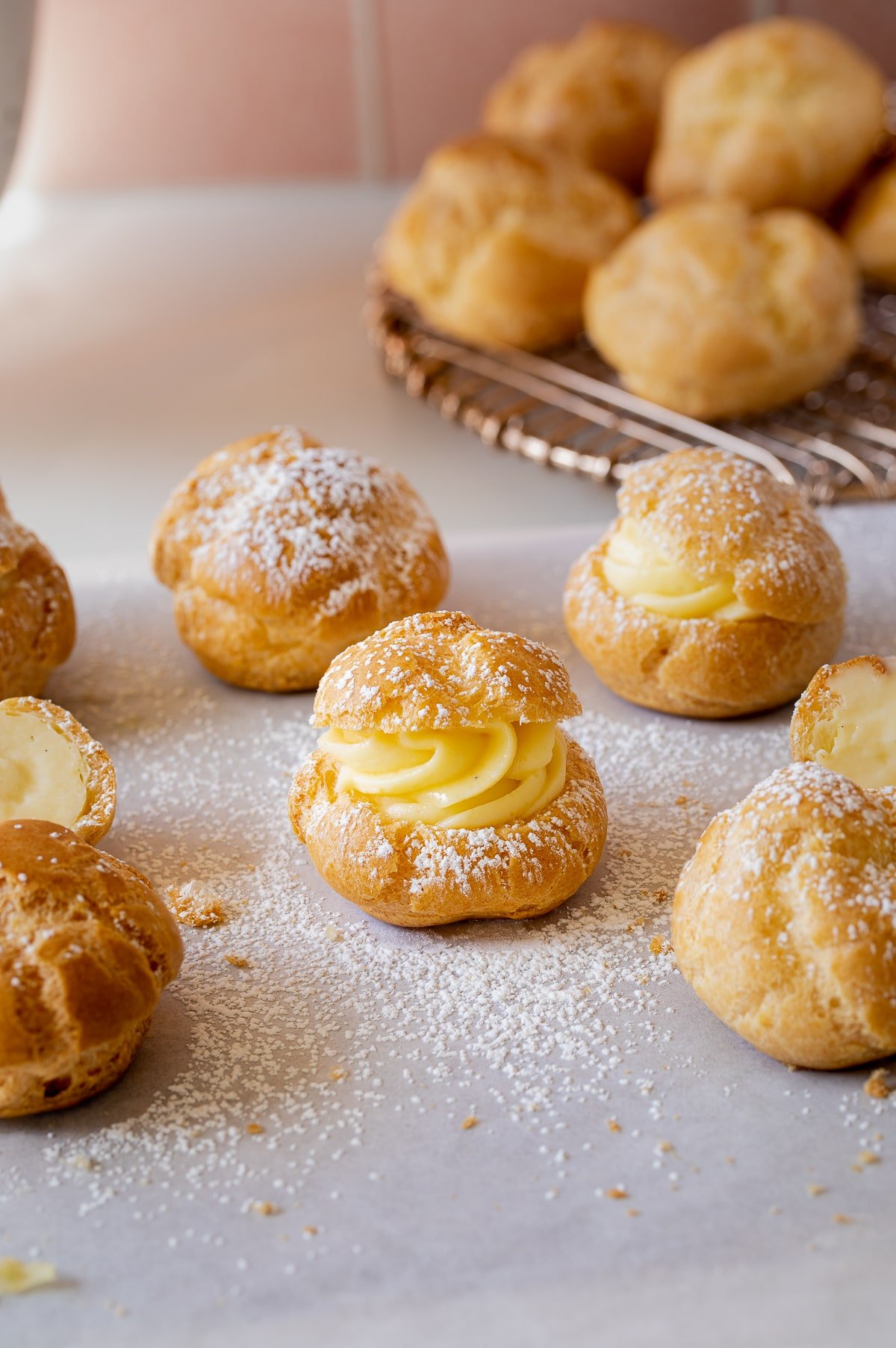 What is Choux Pastry
Choux Pastry is also knows as pâte à choux. It is a very simple and light pastry dough made only of water, butter, flour, and eggs.   There are no yeast or baking powders to make the dough rise up, instead they rise from all the extra moisture in the batter. This causes the pastry to steam and as a result we get a puffed up and hollow pastry that can be filled with sweet or savory fillings, making these an easy and versatile dessert or appetizer.   
Depending on how the dough is pipped, what is added, and how they're cooked, there are many different variations of basic choux pastry.  Below are a few of the most common. 
Common Variations:
Profiteroles  –

Piped into a ball, the choux pastry bakes up crispy an

d hallow. They are traditionally filled with sweet fillings (cream puffs) or savory fillings such as mixes of soft cheese, nuts, and/or meat. 

Cream Puffs – Profiteroles with a sweet filling, often pastry cream, whipped cream, or custard and sometimes covered in chocolate or caramel
Eclairs –

Log-shaped choux pastry, baked and filled with vanilla cream and topped with chocolate icing

Gougères –

Choux pastry that is mixed with cheese and baked 

Beignets –

Choux pastry that is deep fried and often sprinkled with powdered sugar

Churros

– Long thin choux pastry, deep fried, and covered in cinnamon and sugar
Ingredients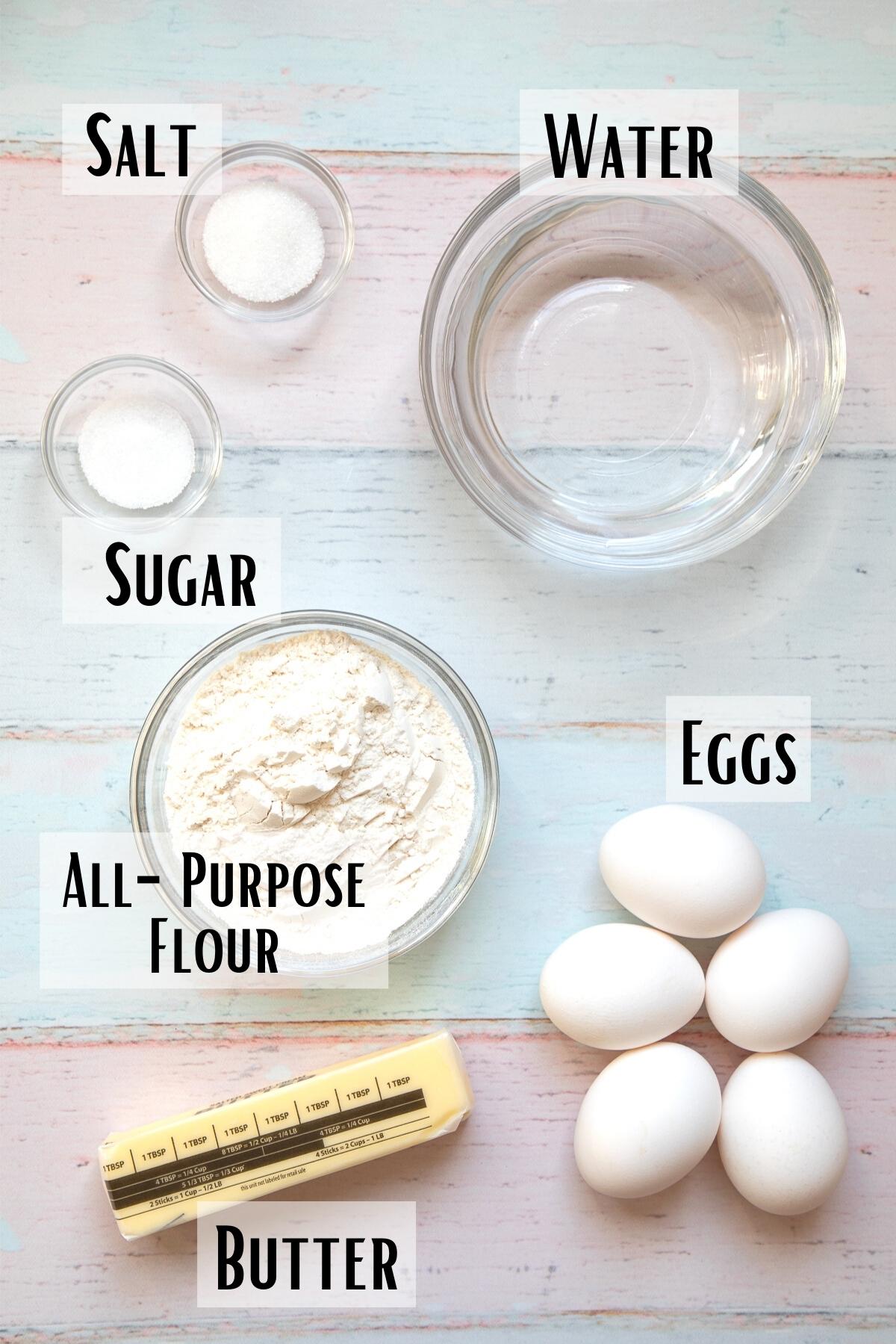 Butter – The recipe calls for unsalted, but you substitute salted, just reduce added salt to 1/4 tsp 
Flour – this recipe calls for all-purpose flour. Make sure to either weight the flour, or use the spoon and level method of the flour to ensure you do not get too much flour in your recipe. 
Water – Some recipes use milk in place of water, or part milk/part water. But, I personally prefer all water. And, you can save your milk for pastry cream. 
How to Make choux Pastry
Step 1: Prep
Preheat oven to 375℉ 

Line a baking pan with parchment or a silicone baking mat.

Fit a pastry bag with a medium or large tip (you can also use a large ziplock bag with the tip cut off).  For easy filling, place the pastry bag in a large cup with the edges folded over the cup. 

Fit a standing or hand held mixer with a beater attachment.
Step 2: Cook Water, Butter, Sugar, Salt
In a saucepan over high heat, melt the butter, sugar, and salt in the water until it boils.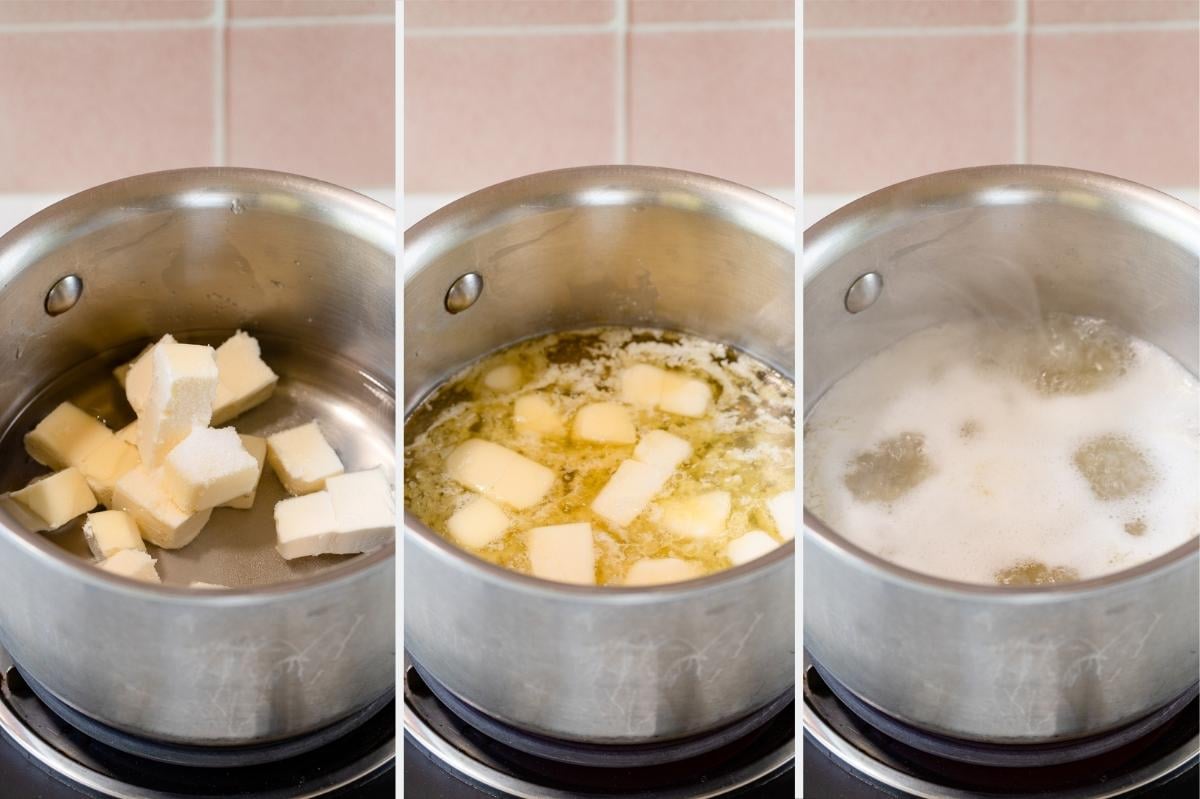 Step 3: Add and Cook Flour
Turn down to medium heat and add the flour.  Continuously stir the mixture. You'll be cooking out the flavor of the flour and drying out the dough. 
Keep cooking and stirring about 3-4 minutes, until a thick film forms on the bottom on the pan and the dough pulls smoothly form the sides of the pan.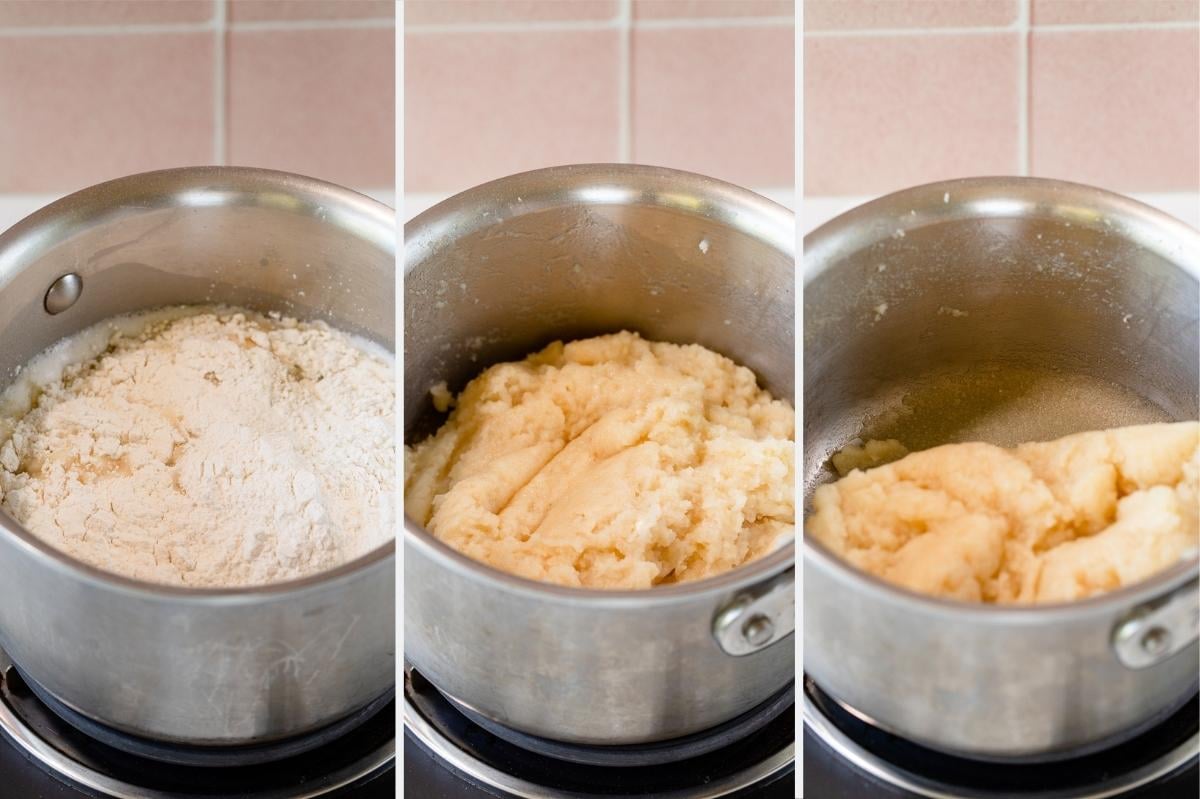 Step 4: Add Eggs
Transfer the mixture to a standing mixer with a paddle attachment or a large bowl with a hand held mixer, and mix on low for about two minutes to cool down.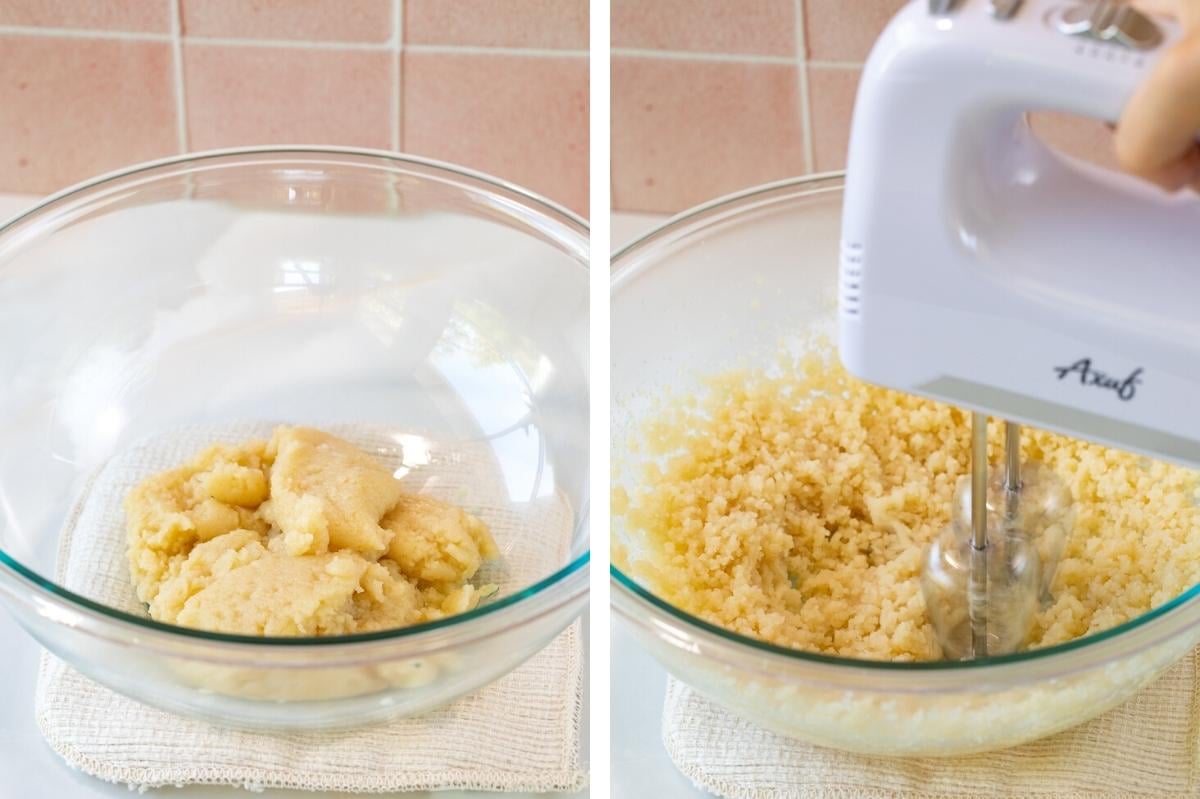 Then, add the 4 eggs, one at a time.  You'll know it's done when you slowly lift the paddle attachment and the batter comes off in a long string. If it doesn't pull away, you'll want to mix the 5th egg and add it to the batter one teaspoon at a time until it gets to the desired consistency.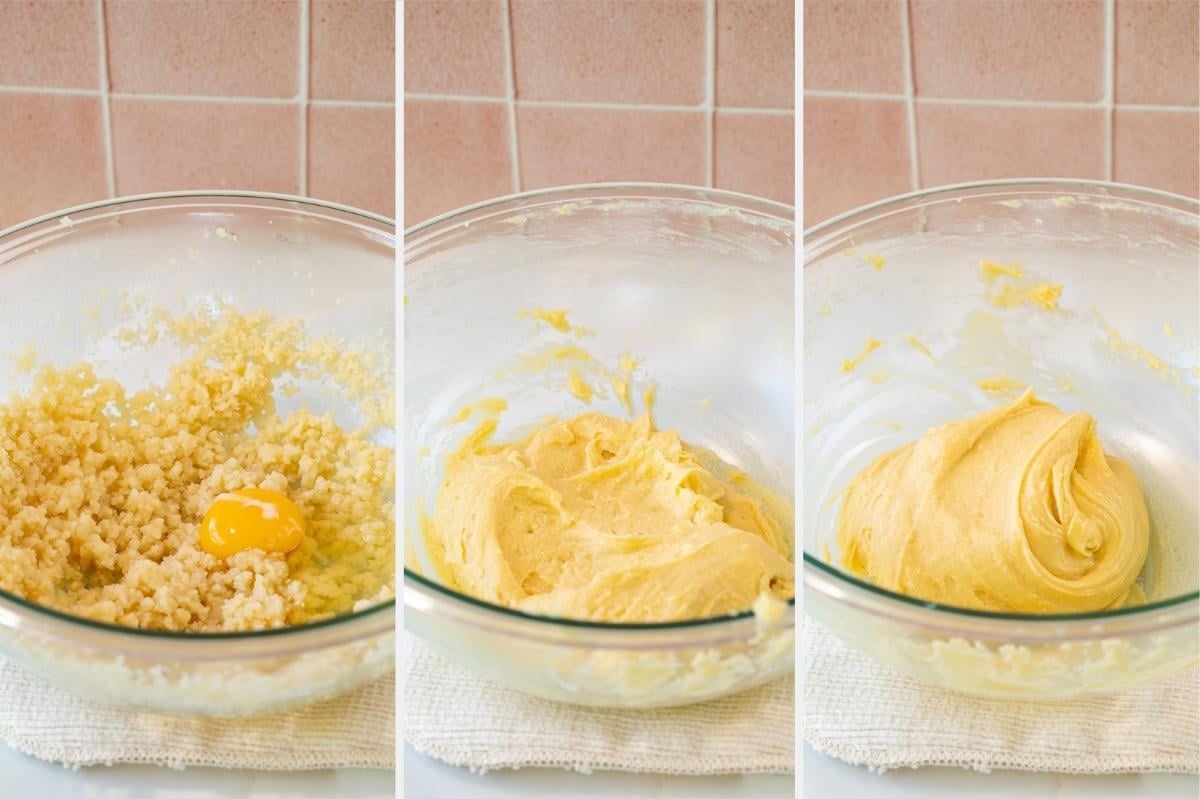 How to tell choux pastry is ready
There are two methods to tell the pastry cream is done.  The basis of each method is to to take a spatula or your finger and pull away from the batter. It should pull away in a long string.  
The first method prefers the pastry cream to stick straight up and the second prefers it to curl to one side.
I have personally found that both will yield perfectly acceptable and tasty cream puffs and profiteroles. The main difference I've found  is once the choux pastry curls to one side it will yield a slightly eggier cream puff. So, if that is the flavor you like go for it. 
Piping and Baking Choux Pastry
At this point, the dough is done and you can pipe and then bake or fry however you desire.
For basic profiteroles and cream puffs, add the batter to a pastry bag fitted with a large piping tip and pipe onto parchment or a slipmat. Do not pipe them too close as they will expand when the cook. The larger you pipe them the more they'll expand.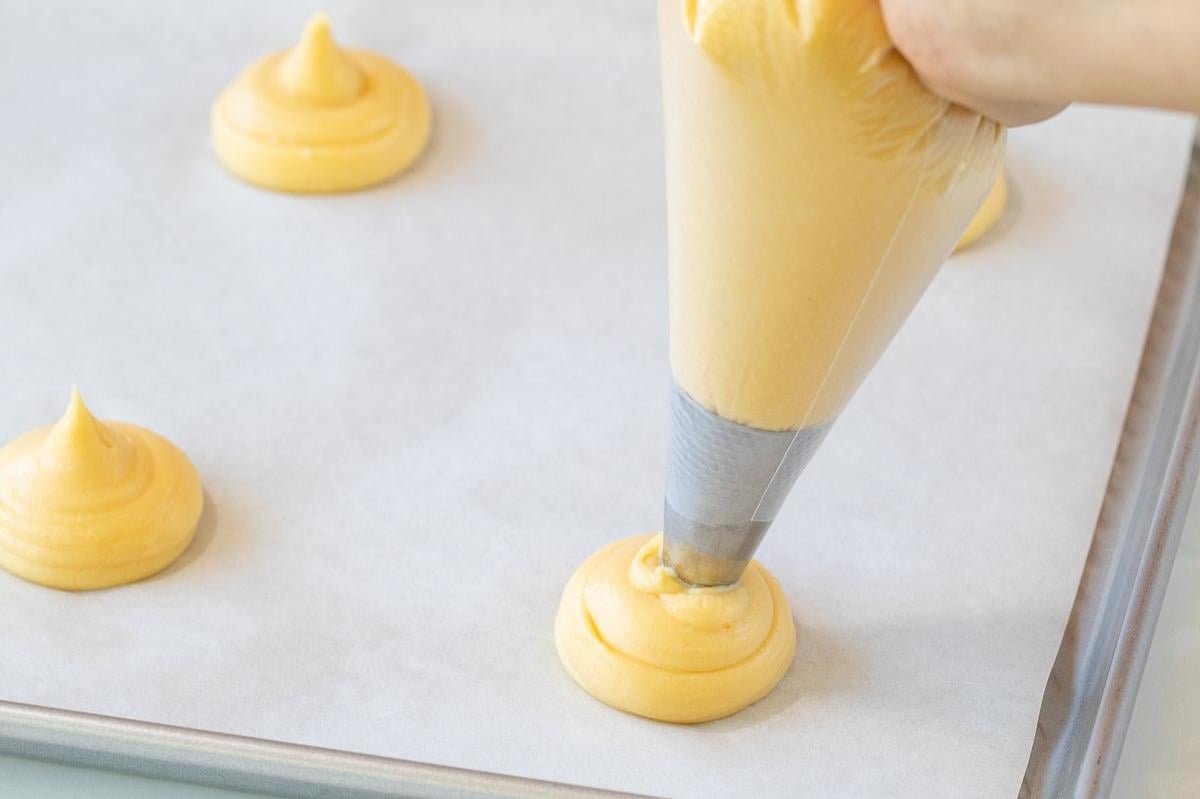 Topping the Pate a Choux
Once they're piped, you have a few choices before baking of how to top them and pat down the pointing tip.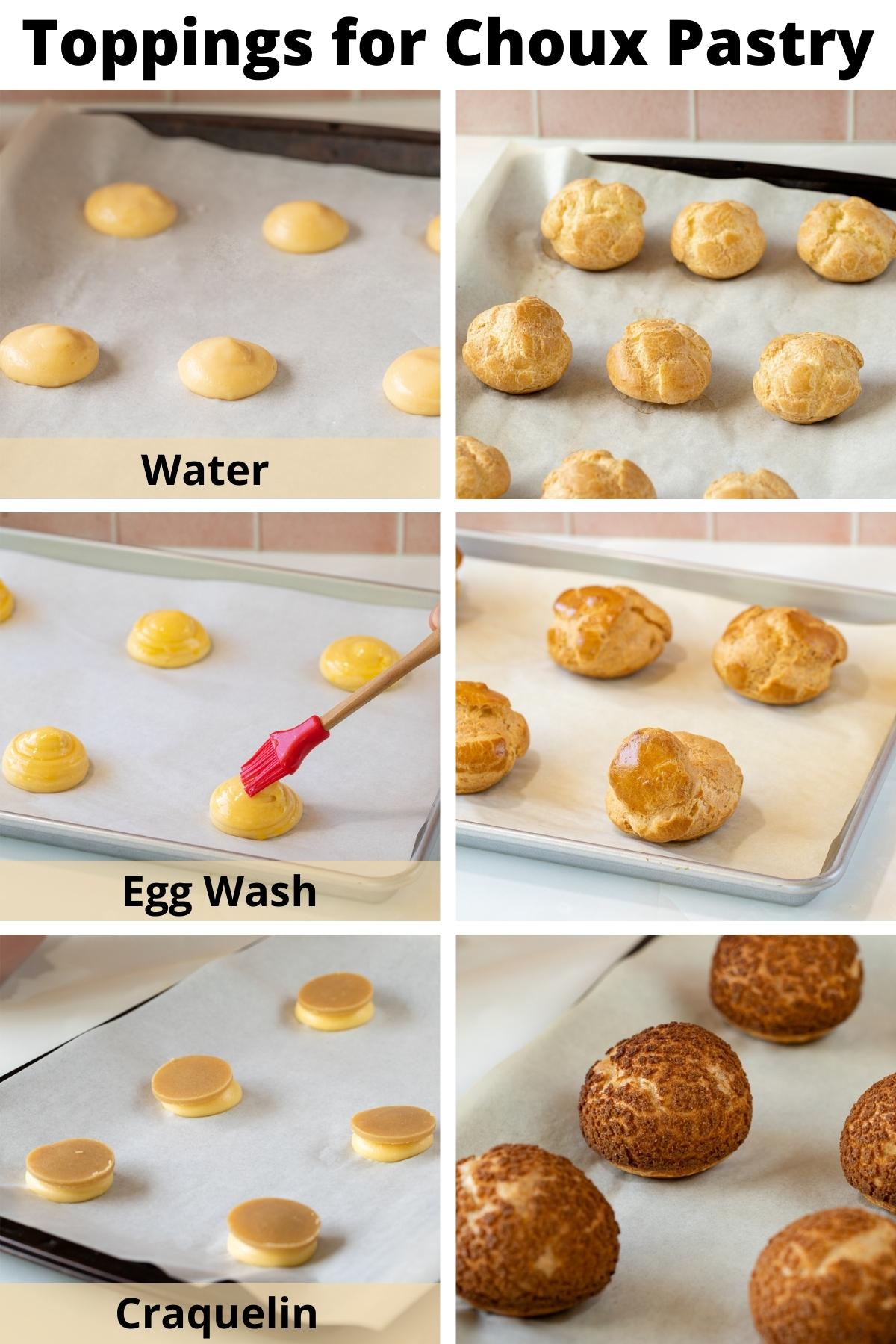 Water: This is the simplest method and very common. Just take a tiny bit of water on your finger and pat down the pointing tip. Then, you're good to bake!
Egg Wash: You can also add an egg wash, of an egg with about a tablespoon or so of water. Using a pastry brush, brush the mixture on top of the piped pate a choux. This will yield a more golden brown and slightly crispier cream puff. 
Craquelin: Craquelin is a delicious cookie topping often found in bakery cream puffs. It's super easy to make and absolutely delicious. You can find the recipe here.
BAking Pate a choux
Then, bake in the preheated oven at  375℉ for 30 to 35 minutes depending on the size of the cream puff (up to 45 minutes for very large cream puffs). 
It's important when baking the pastry dough that you do not open the oven door for at least the first 25 minutes! 
After 25-30 minutes you can start to check if they're done. You want to make sure they don't collapse when you take them out of the oven, so it's better to over-bake them than under bake them.
If necessary, test one by taking it out of the oven and seeing if it collapse and/or breaking it open. The cream puff should be thoroughly cooked and as dry as possible on the inside.  If it's still wet on the inside, keep baking.
After they're baked, you let them cool completely before filling.  When you're ready to fill, you can either cut off the top and spoon in the filling or use a pastry bag with a medium sized tip. Add the filling to the pastry bag and fill from the bottom.
Some people even prick each pastry puff after the 30 minute mark and continue baking to dry out the centers even more. I haven't found the need for that, but it's something to try if you're having issues with collapsing choux pastries.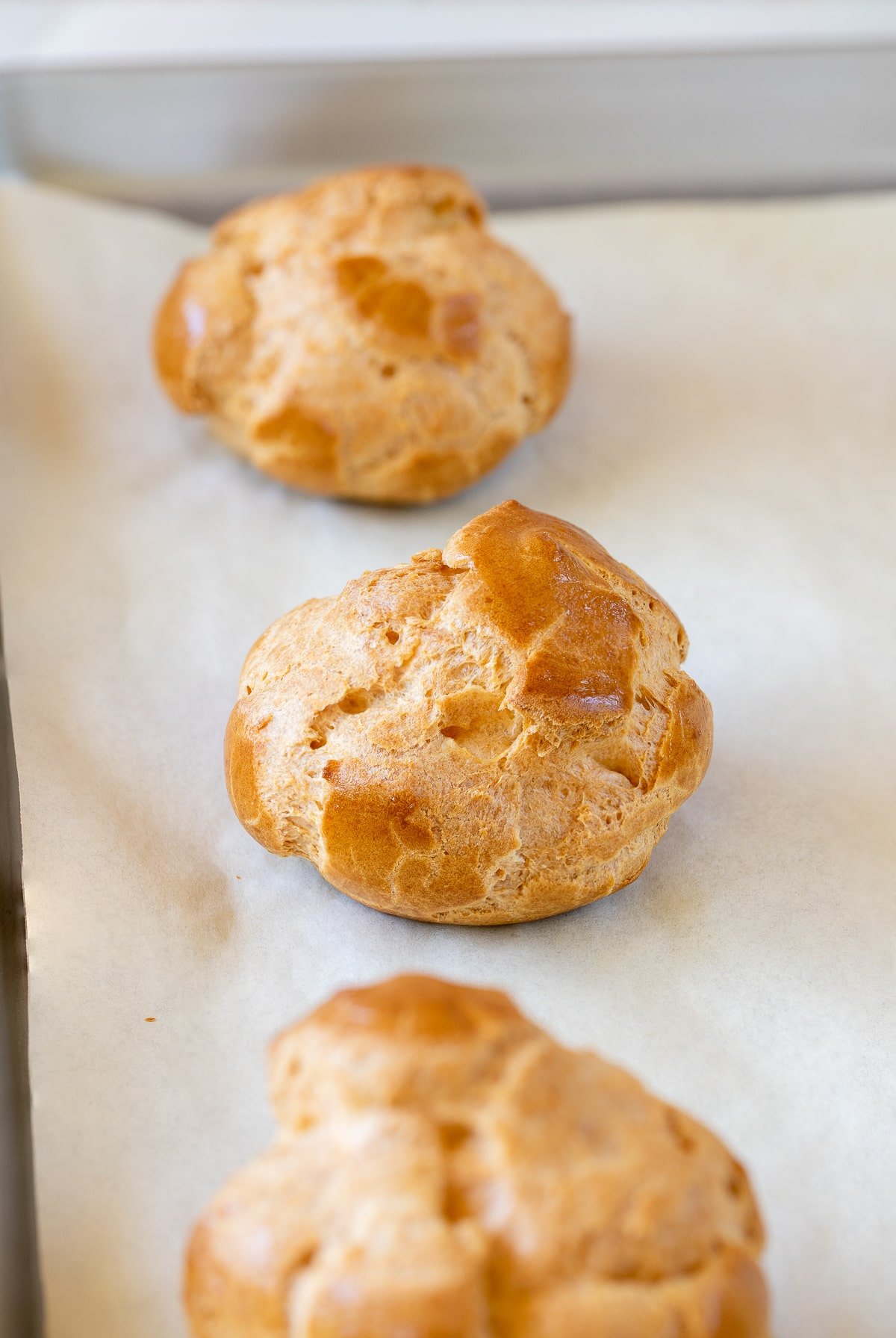 Troubleshooting
Why does my cooked flour look oily?
This is actually pretty normal, when cooking the butter, water, and flour the mixture will have a slight sheen and oily consistency. This is good! It' means you've cooked off enough of the liquid and you're ready to move on to the next step. 
Why is my choux pastry so eggy and runny?
This means you've added too much egg or water to the batter. This can be heard to come back from, so be sure to start testing if the pate a choux is done with the pull test after adding the 4th egg, and add the last egg 1 teaspoon at a time so you don't add too much. 
Why did my pastries collapse?
The two main reasons the choux pastry collapse when baking is:
The oven was opened when they first started cooking 

They were not cooked for long enough.
The first one is easy to combat – don't open the oven for the first 25 -30 minutes of baking.
For the second, it can be a little more difficult. Basically, the cream puffs do puff up and can look done even though they're not, especially larger cream puffs.  Large cream puffs can look done way before they actually are.
If they're not dry on inside and totally cooked, the pastries can collapse when you remove them from the oven. The good news is it's easy to test if they're done. Just remove one from the oven and break it open. You want the cream puffs to thoroughly cooked and as dry as possible on the inside.  If it's still wet on the inside, keep baking the remainder of the pastries. 
If you're having issues with collapsing pastries, you can also prick a small whole in the pastries at the 30 minute mark and continue baking. This  releases some steam and dries them out even more. 
Filling Ideas
Now comes the fun part, the filling! The filling possibilities for baked profiteroles are basically endless.  Buffalo chicken salad filled profiteroles? Why not! 
Here are some of the most common fillings:
Sweet:  Pastry Cream, Stabilized Whipped Cream, Chocolate Whipped Cream, Diplomat Cream,  Custards, and Ice Cream, are the most common sweet filling. The basic creams can be flavored so many ways – strawberry, lemon, raspberry, mocha, matcha, chocolate, caramel, etc. The dough is sometimes baked with craquelin, a crunchy cookie topping.  The baked cream puffs can also be drizzled with a bit of strawberry or raspberry coulis, caramel,  or chocolate ganache.
Savory: Meat salads and soft cheese mixes are perfect for filling savory profiteroles. Some common examples are chicken salad, salmon mouse, lobster or shrimp salad, whipped herb goat cheese, wild mushrooms and truffle, etc.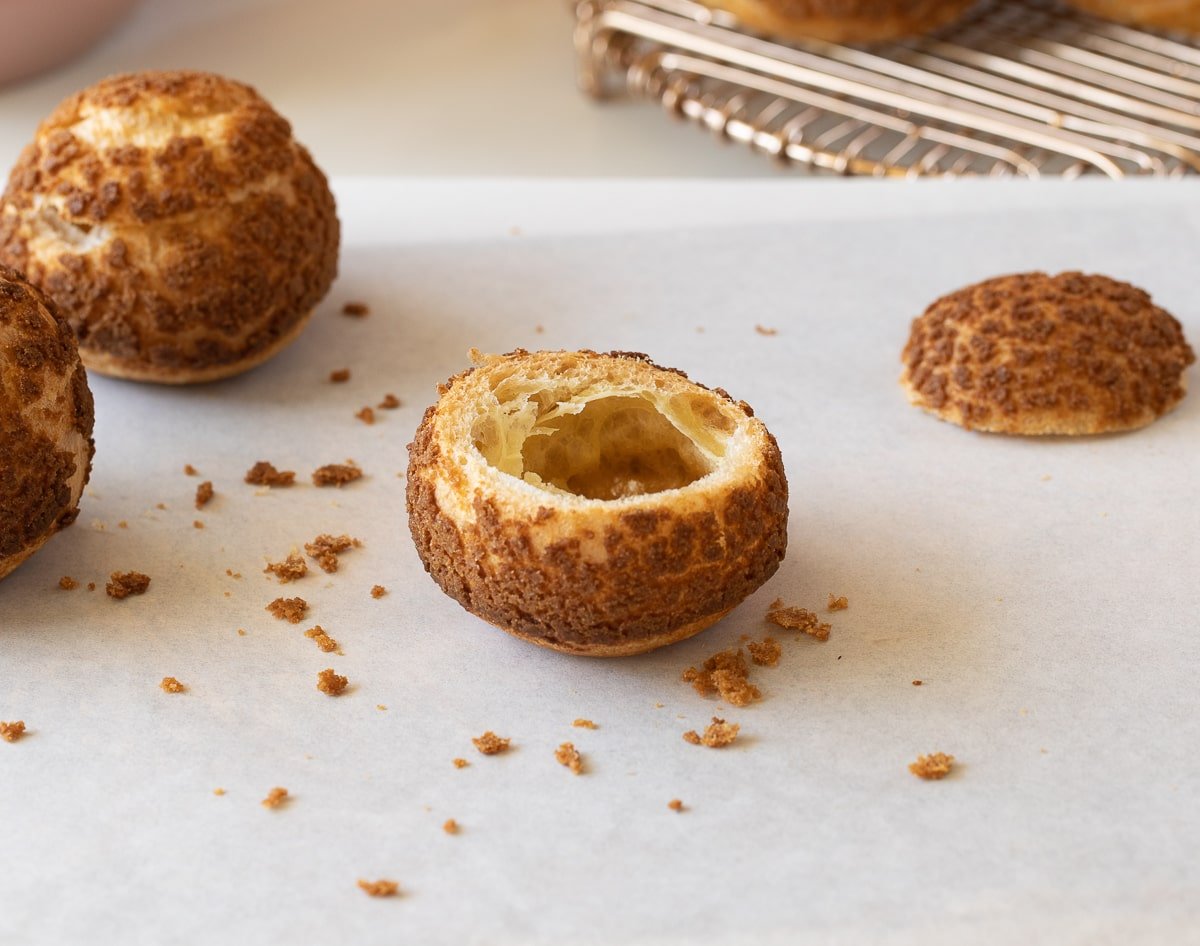 Making Ahead and Storing 
This pastry dough can be made ahead and stored in the fridge or freezer, making it perfect for party appetizers and desserts.
Storing unbaked and baked choux pastry: 
Unpiped dough

– you can make this dough up to 2-3  days ahead of time if storing in the fridge.  You can store 2-3 months in the freezer. Make sure the dough is tightly wrapped and/or in a freezer ziplock bag.  When ready to use, defrost then pipe and bake as directed.

Piped dough, unbaked-

freeze the piped pastry dough on a baking sheet until solid, then move the frozen dough to a ziplock freezer bag. When ready to bake, bake the piped choux pastry frozen and straight from the freezer, adding an additional 5-10 minutes baking time if necessary.

Piped dough, baked –

baked and unfilled profiteroles can be stored loosely covered at room temperature for up two days or frozen up to two months.  When ready to serve, fill as directed. Optional: before filling you can rebake in a 350 degree oven for 5-10 minutes to re-crisp.

Piped dough, baked and filled –  once baked and filled, these can be stored in the fridge up to two days.  You can also freeze the baked and filled pastries, but keep in mind some fillings freeze better than others. For example, whipped cream freezes better than pastry cream. Let come to come to temperature before serving.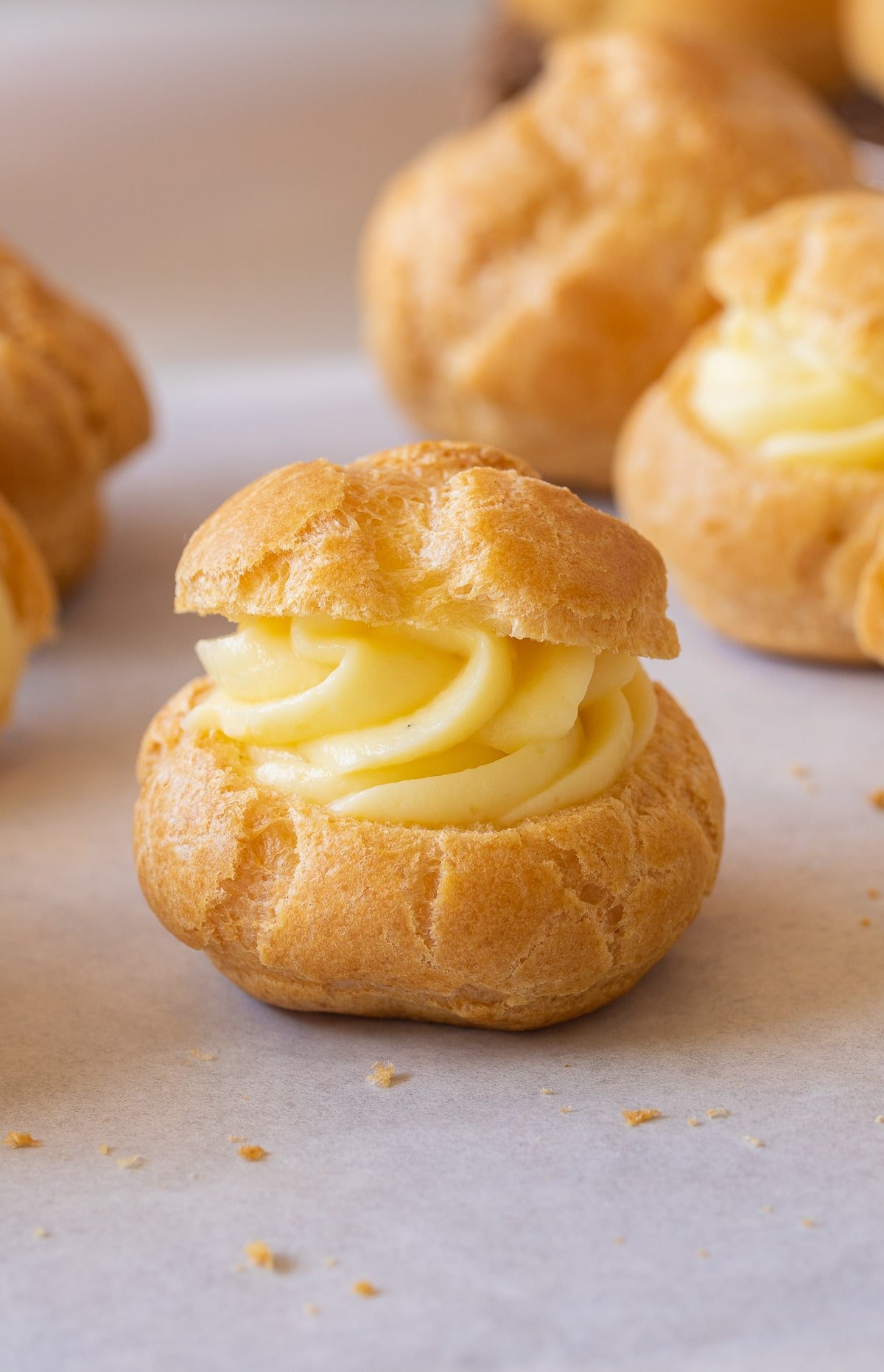 WANT TO JOIN THE PARTY? Subscribe to my newsletter and follow on Tik Tok, Pinterest, Instagram, and Facebook for all the latest recipes!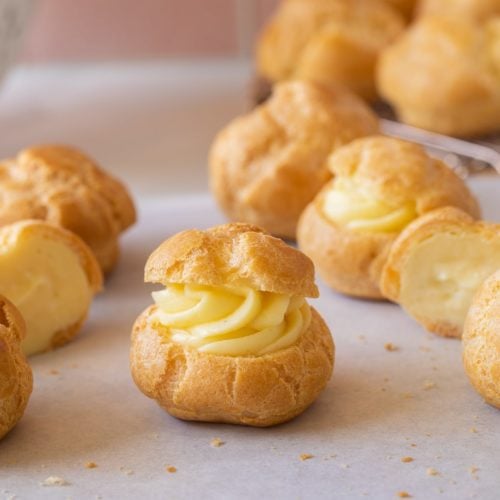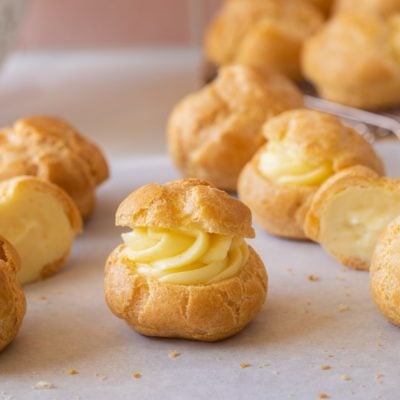 Choux Pastry
With only 5 ingredients and 15 minute prep time, choux pastry (pâte à choux) is a simple pastry dough for making cream puffs, eclairs, and profiteroles!
Print
Pin
Rate
Equipment
Saucepan

large bowl

piping bag and large tip

baking sheets
INGREDIENTS
1

cup

water

1/2

cup

unsalted butter

(1 stick), see notes for using salted butter

1

cup

all purpose flour, 125 grams

spooned and leveled

1

tsp

sugar

optional

½

tsp

salt

4-5

large eggs
Instructions
Prep:
Assemble a pastry bag with a medium sized round tip

Line two baking sheets with slipmats or parchment paper. You can create circles on the mats or paper by dipping a round cookie cutter or small glass into flour  and placing it on the parchment or mat. This gives you an outline when you go to pipe your cream puffs and helps ensure they are the same size.

Fit your standing mixer with a paddle attachment.
Making the Pate a Choux
Combine the butter, sugar, salt and water in a heavy  bottomed saucepan over medium high heat.

Once the butter is melted and it starts to boil, remove from heat and stir in the flour with a with a wooden spoon or heat proof spatula. When it is combined place back over heat.

Stir the mixture constantly of medium high for about 4 minutes. You are trying to dry it out a bit and cook the flour.   It will start to pull away from the edges and a film will form on the bottom of the pan.

Transfer the batter to a standing mixer and turn on low. Mix for about 2 minutes to cool it down.

While still mixing on slow, add 4 eggs one at a time. Make sure to fully incorporate each egg before you add the next.

Test the choux pastry batter to see if it's the right consistency by touching it with your finger or a spatula. It should pull away in a string. If it doesn't, mix up another egg and slowly add it to mixture one teaspoon at a time until it is the right consistency.

Fill your pastry bag with batter and pipe onto the baking sheets.  You can either pipe one sheet and store the reminder of the pastry cream in the piping bag in the fridge until you're ready to bake the second tray. Or, you can pipe out the second tray at the same time and store it with a lightly oiled plastic wrap in the fridge. I normally just keep it it in the piping bag and pipe right before I'm going to cook

If using craquelin, place on top of each puff. If not, use water, or an egg wash of egg and water, and rub over the surface, patting down any pointed tips.

Place in preheated oven and bake for 35-45 minutes. Do not open the oven while they are baking. That will release the steam and inhibit them rising to their full potential.

Once they are golden brown you can remove from oven and let them cool and transfer to wire rack.

Once they are cooled you can fill with your filling of choice and enjoy!
Notes
If using salted butter, cut added salt to 1/4 tsp
Be sure to use the spoon and level method for measure flour. If you dip the measure cup into a bag of flour, it is very easy to over fill and add to much flour to your recipe. 
Use the touch test when determining if there is enough eggs.  After adding the 4th egg, use your finger or the tip of a spatula to touch the batter and slowly pull away. It should pull away in a long string. If it doesn't pull in a string, add more egg, one teaspoon at a time. 
Don't open the oven door when cooking! You want to keep the oven hot and not release any of the steam as that is what causes the choux pastry dough to rise. Keep that oven closed friends!
These are best the day you make them, but you can freeze the baked and unfilled cream puffs and defrost in the fridge and fill them when you're ready to serve. 
Nutrition
Serving:
1
unfilled cream puff
|
Calories:
44
kcal
|
Carbohydrates:
2
g
|
Protein:
1
g
|
Fat:
3
g
|
Saturated Fat:
1
g
|
Cholesterol:
29
mg
|
Sodium:
9
mg
|
Potassium:
12
mg
|
Vitamin A:
110
IU
|
Calcium:
5
mg
|
Iron:
0.3
mg