This creamy, delicious limoncello panna cotta is the perfect make ahead dessert for your next party! This is the perfect springtime lemon recipe, with a kick!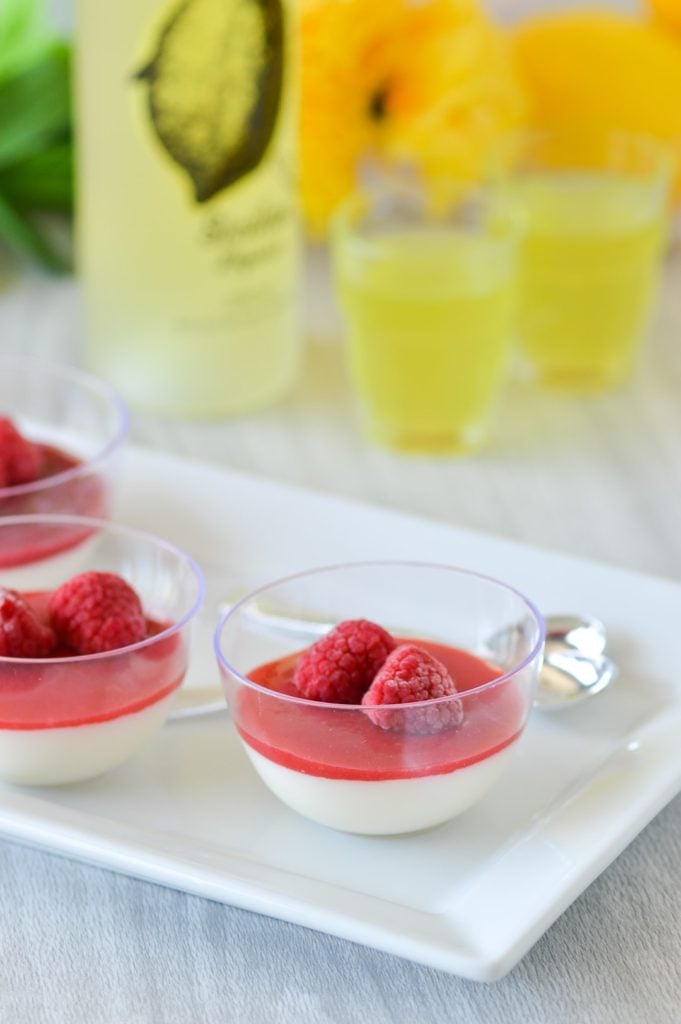 What is Panna Cotta
Panna Cotta means cooked cream in Italian. It's a  cream, sugar, with gelatin to set it.  It is a very simple and classic dessert. Plus you can make it ahead of time and it's pretty hard to mess up, which are two of my favorite things when cooking!  I tested a number of different methods and alcohol variations for this recipe.   The beauty of this recipe is you can make it as strong or mild as you want.   Here are my tips and tricks for making the perfect limoncello panna cotta.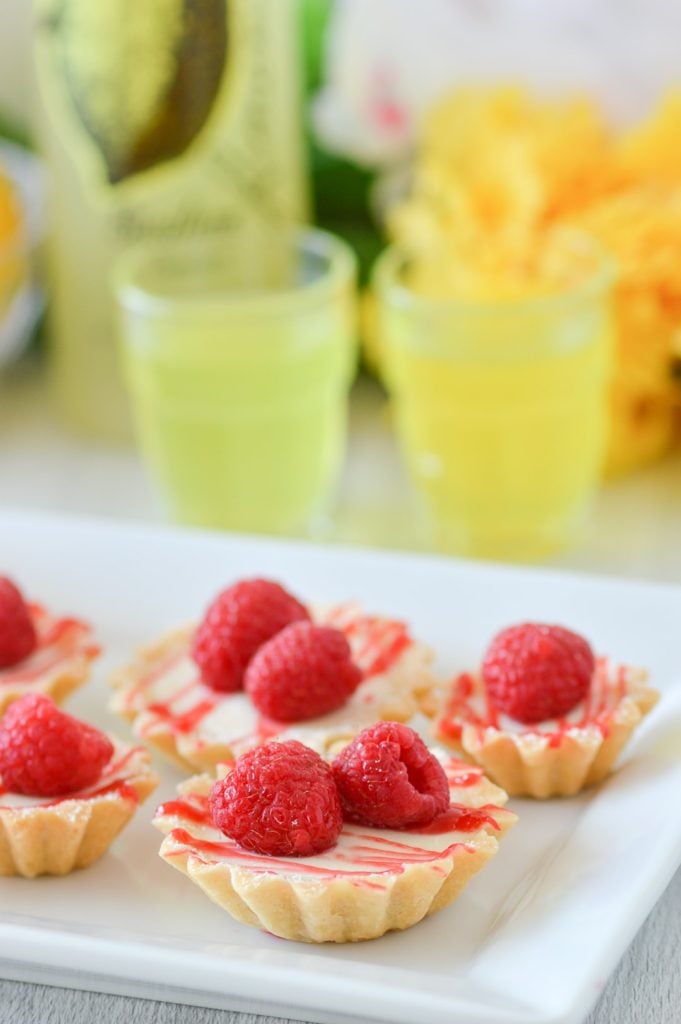 Making Limoncello Panna Cotta
To make the recipe you sprinkle the gelatin over 1 cup of cream and let it sit for about 10 minutes. This is called blooming and it allows the gelatin to absorb the liquid. After 10 minutes, heat the mixture over medium-high heat until the gelatin is completely dissolved.   This should take about 2 or 3 minutes. Then, turn down the heat, add the sugar, and stir until dissolved, and whisk in the alcohol and remaining cream.
At this point there is an optional step of cooling down the limoncello panna cotta by pouring it into a bowl over an ice water bath and whisking for 5-10 minutes until the mixture starts to slightly thicken.  Before you start whisking the panna cotta is a thin cream mixture. After whisking for a few minutes in the ice water bath, it starts to thicken and slightly coat the sides of the bowl, as shown below.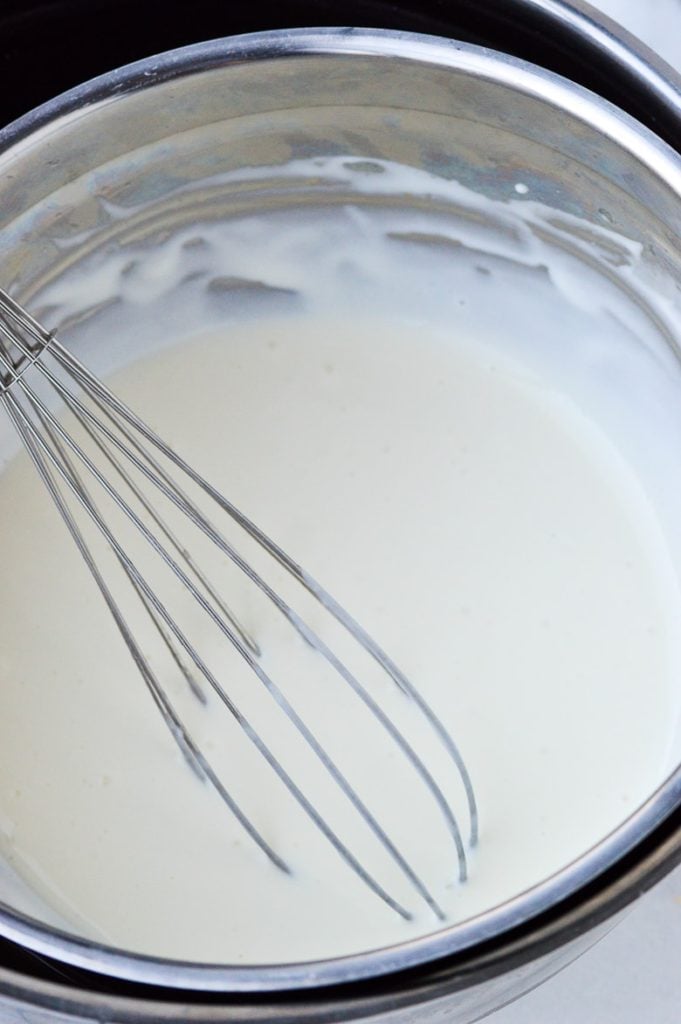 This will help to prevent the mixture from separating while it sets.   You must be careful when doing this to not let the mixture cool and thicken too much or it will be hard to pour into the serving containers. You want to cool it to about 50-55 degrees. 
If your limoncello panna cotta mixture seems to have any lumps or undissolved gelatin, strain through a mesh strainer to remove. If it's smooth, you can pour directly into your serving containers or prepared tart shells.  I recommend putting them on a baking pan so you can easily move them around. Cover with plastic wrap and chill in the fridge at least 4 hour or overnight to set.  Once they're chilled you can top them with more limoncello or berry coulis before serving.  You can also freeze them for up to a month, making sure they are very tightly wrapped in plastic wrap to avoid freezer burn.  Let them defrost in the fridge a few hours before serving.  This is such a great and easy dessert.  Be sure to try them at your next soirée and let me know how they turn out!
tips for making Limoncello Panna Cotta:
Try the Limoncello first. Limoncello flavor and alcohol content can very a lot between brands. Some have a very strong taste and other are more mild. This can affect the final flavor of your panna cotta.

This recipe makes a very strong limoncello panna cotta! Know your audience and alter the alcohol content accordingly. If you're worried about the panna cotta being too strong, you can also make mini tarts which I highly recommend because they are cute and delicious and you can go strong with the limoncello.   

If you want a lower alcohol content Panna Cotta you can substitute the limoncello for cream on a one to one basis, while adding more sugar.  So if you want only ¾ cup of alcohol, you can replace the remaining ¼ with cream while adding one (1) extra tbsp of sugar for every ¼ cup limoncello you replace in the recipe.   

For a healthier panna cotta, you can substitute up to to half of the cream (up to 1 ½ cups) with whole milk.  It will not be as creamy and delicious as if you use all cream. If you're making this for a party or special occasion I highly recommend using all cream. But, if it's just your typically Saturday night of getting drunk by yourself off panna cotta, substituting half the cream with whole milk is fine.

Optional: You can cool the Panna Cotta milk mixture by whisking it in a bowl in an ice water bath until it is at room temperature or a little cooler (about 50-55 degrees). This will help combat the cream separating while it sets.
Limoncello Panna Cotta
This creamy, delicious limoncello panna cotta is the perfect make ahead dessert for your next party! This is the perfect springtime lemon recipe, with a kick!
Print
Pin
Rate
INGREDIENTS
1

cup

limoncello

2 ¾

teaspoons

unflavored gelatin

3

cups

heavy cream

divided into 1 cup and 2 cups

3

Tbsp

sugar

Fresh Berries, Berry Coulis, or more Limoncello
Instructions
Pour 1 cup of the heavy cream into a saucepan and sprinkle the gelatin over it. Let it sit and bloom for 10 minutes.

If using an ice water bath, fill a large bowl or sink with ice water while the gelatin is blooming.

After 10 minutes, heat the cream and gelatin mixture on medium high heat and stir constantly until the gelatin is dissolved, about 2-3 minutes (about 135 degrees on an instant read thermometer if being precise)

Turn down the heat and add the sugar. Stir to dissolve.

Slowly pour the remaining 2 cups of cream and 1 cup of limoncello into the saucepan, while stirring.

If using a ice water bath, transfer the panna cotta to a bowl and set it in the prepared ice water bath.

Slowly hand whisk or stir the panna cotta mixture until it starts to slightly thicken and lowers in temperate, about 5-10 minutes. It should be around 50-55 degrees if using a thermometer.

Strain the mixture to remove any lumps, then divide evenly into desired serving dishes or tarts.

Cover each serving container with plastic wrap. You can put all the containers on a baking pan or sheet so they're easy to move around and then cover the entire sheet with plastic wrap.

Let chill in the fridge at least 4 hours or overnight.

Top with more limoncello or berry coulis before serving.
Notes
If using an ice water bath, don't let it thicken too much or else it will be hard to pour into containers.
Panna Cotta is freezer friendly! After they've set in the fridge, you can wrap them very tightly in plastic wrap and put in the freeze for up to a month. Let defrost in the fridge before serving.
If using a ramekin, unmold by setting the bottom in a bowl of hot or boiling water and running a knife around the edge to loosen. Then slip onto a serving plate and add desired toppings

This recipe makes 16  - 1/4 cup servings or 8 - 1/2 cup servings of Panna Cotta.   If prepared as directed, a 1/2 cup serving has 1 full shot of Limoncello in it. 
Other Easy Desserts:
Deviously Easy Devil's Food Cake