These light and fluffy Easter egg marshmallows will be devoured quicker than you can say Happy Easter!
I was on the lookout for a sugar based treat to fill an easter basket and thought these would be perfect to replace real easter eggs.  I figured these marshmallow easter eggs from Thomas Keller's Bouchon Bakery cookbook would do the trick, and I hadn't thought much more about them. Once  I took them out of the plastic easter eggs after they had set and they are adorable!
What is in a Marshmallow?
When most people think of marshmallows, they think of the store bought bags of marshmallows that you use for smores or hot cocoa, but homemade marshmallows are so much better than the super sweet marshmallows you get in the grocery store.  Marshmallows are made from sugar, water, and gelatin. This recipe calls for egg whites as well, which helps make the marshmallows light and fluffy. It also helps with piping shapes, or in this case piping into the plastic egg shells.
Flavoring and coloring Marshmallow
While this recipe calls for vanilla as the only flavor, you can add other flavors such as raspberry and lemon extract.  You can also color your marshmallows with food coloring at the last stage of mixing.
How to make easter marshmallows
First, you bloom and cook the gelatin until it's dissolved, while cooking the simple syrup to the correct temperature and whisking the egg whites to stiff peaks.   Then, you add the cooked simple syrup and the warm gelatin to the beaten egg whites and mix until glossy. Working quickly, you put the marshmallow mixture in a prepared pastry bag with a large tip and quickly fill the  plastic eggs pre-sprayed with non-stick cooking spray. After letting them set, you can roll them in sanding sugar, or sprinkles, or whatever you wish. Then, enjoy!
Storing Marshmallows
These marshmallow can be stored at room temperature for up to a week.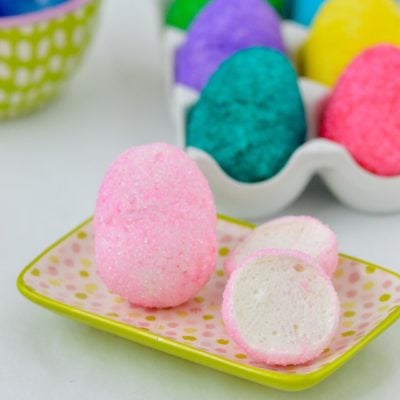 Marshmallow Easter Eggs
These light and fluffy marshmallow easter eggs are a perfect homemade dessert or treat for your easter basket
Print
Pin
Rate
INGREDIENTS
2

packets Gelatin

87

grams

egg whites

¼

vanilla bean or 1 tsp vanilla

1

cup

sugar

½

cup

water

2

tbsp

light corn syrup
Equipment
Candy thermometer

Plastic Easter eggs w/holes and/or mold of choice

Old egg carton

Non Stick Cooking Spray

Pastry Bag fitted with large round tip
Instructions
Wash and dry your plastic easter eggs and fit a large pastry bag with a large round tip

Spray the inside of the easter egg shells with non-stick cooking spray. Set Aside.

Add gelatin to ½ cup cold water and let bloom one minute. Once bloomed put the pan on medium heat and cook until the gelatin is dissolved, stirring the mixture while it cooks so it doesn't get a film on top.  Once it's completely dissolved reduce the head to keep it warm while you complete steps 3-6.

Fit your standing mixture with a whisk attachment. Add the egg whites to the bowl and vanilla bean if using. Do not start whisking the whites at this time.

Stir  granulated sugar, water, and corn syrup in a heavy bottomed saucepan. Whip down the sites of the pan with a pastry dish dipped in water. This will help ensure the sugar mixture doesn't crystallize.   Turn the mixture onto medium high heat. Once it's dissolved, simmer until the syrup mixture reaches 250 degree. This should take between 5-10 minutes.

Let the syrup continue to cook untouched until it reaches 281 - 284 degrees. It's important not to stir the sugar mixture while it cooks.  While it's cooking, start whisking the egg whites on medium high until stiff peaks are formed. You want to have the syrup at 281 degrees and the egg whites at stiff peaks at the same time.   If the eggs white get stiff peaks before the sugar mixture is done, turn the standing mixture to low and continue slowing beating until the sugar mixture is at the correct temperature.

Once the syrup is 281 degrees, remove it from the heat and slowly pour it down the sides of the bowl of egg white. It helps if the mixture is on slow to lessen splattering.

Add the warm gelatin to the egg whites. Once it's combined turn onto medium high speed. Mix until it is thick and glossy, it will take about 5 minutes and should still be warm.

Fill the pastry bag with the marshmallow mix.

Fill one half of the easter egg with the marshmallow batter, making sure to fill slowly so there are no air pockets.  Pay close attention to the bottom and top of the eggs, even though they seem full it's very easy to get air pockets. You'll want to start with the top of the pastry bag close to the bottom and fill upward. Then, fill the second half in the same manner and then close the egg fitting it security together.  The marshmallow mixture will come out of any holes in the eggs. This is good and what you want, it means the eggs is full of marshmallow. It helps to have a wet towel near you when you fill them. That way, you can wipe each egg of marshmallow overflow after you close it. Once filled and wiped of any access marshmallow, place in the egg carton.

Repeat with the remaining eggs. Once they're all filled let them sit at room temperature at least 12 hours.

Once they are ready to be served, remove the plastic shells and roll in sanding sugar or sprinkles of choice!
Nutrition
Serving:
1
egg
|
Calories:
79
kcal
|
Carbohydrates:
19
g
|
Sodium:
15
mg
|
Potassium:
11
mg
|
Sugar:
19
g
Other Kid Friendly Treats: