This easy recipe shows how to make homemade chocolate covered strawberries – decorated however you want! This is a delicious way to impress your guests at a party or a perfect dessert for holidays like Valentine's Day, Easter, or New Year's Eve!
Chocolate Covered Strawberries are so delicious and surprisingly easy! I personally love dark or milk chocolate covered strawberries, but white chocolate covered strawberries are also incredibly tasty and look so beautiful.
I made these rose gold chocolate covered strawberries to top a cake but the method is the same no matter how you decide to decorate them. You simply take dry strawberries, dip them in melted chocolate, and let them dry on parchment or with a toothpick stuck upside down on a styrofoam board.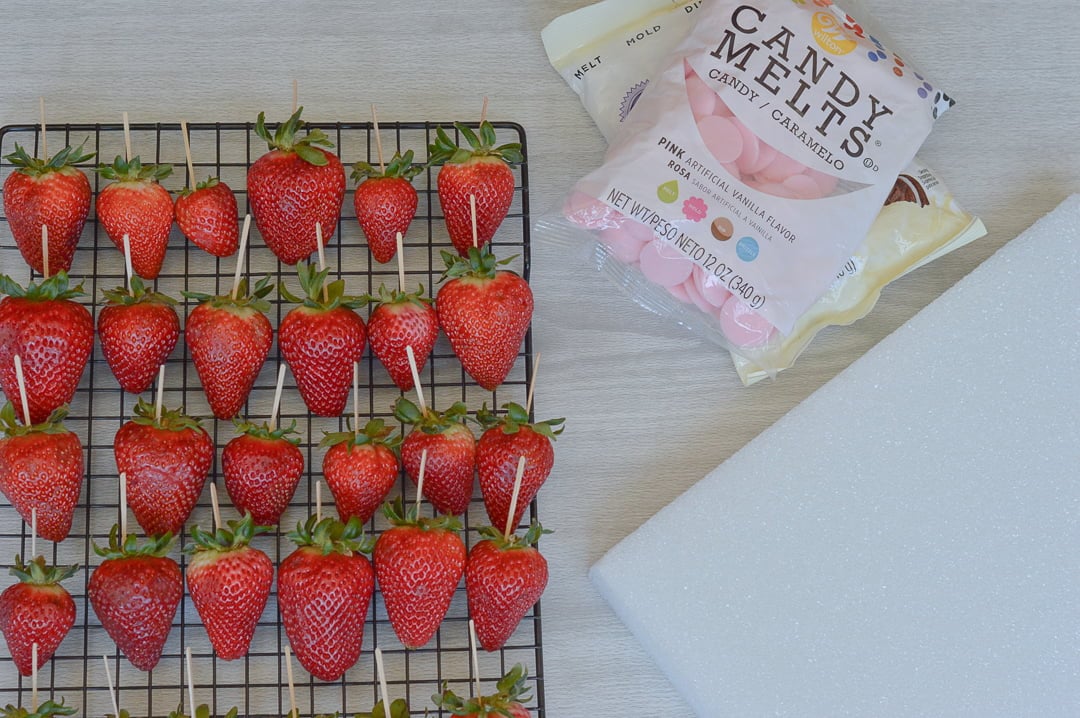 Making Chocolate Covered Strawberries
In order to make this super simple treat, first insert a toothpicks to the back of the strawberries so they are easy to dip into the melted chocolate. Then, heat the chocolate according to directions on the package.
You'll probably need to thin out the chocolate a bit by adding some vegetable shortening. Here is an example of a dipped strawberry before I thinned it out. As you can see below, the melted chocolate is a little too thick and you can see the drip once it dries:
Below is a close up picture of a dipped strawberry after I added the shortening to the melted chocolate. I normally start with a teaspoon at a time and fully mix into the warm chocolate. If the strawberries still have a little tip of chocolate after dipped, add more shortening.
I personally like to stick the toothpicks into a Styrofoam board to dry, but you can also place directly on parchment. They'll still look good and taste great.
Decorating Chocolate Covered Strawberries
Now comes the fun part, decorating! For anything that needs to stick on the strawberry like glitter, sprinkles, candy, crushed cookies, etc., you'll want to sprinkle it on the dipped strawberry while the chocolate is still melted. For these strawberries, I mixed rose gold luster dust with pink cake sparkles to give them a rose gold hue. The remainder I decorated after they dried by covering in luster dust, edible spray, and putting the extra melted chocolate in a pastry bag and drizzling it over the strawberries.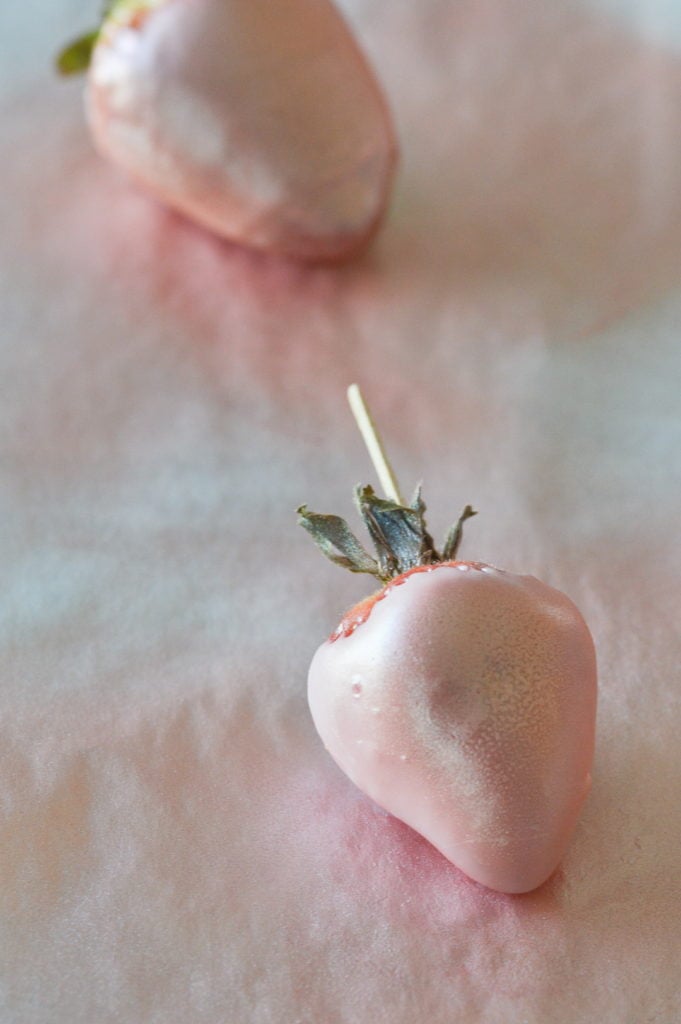 Here are some tips for making chocolate covered strawberries:
You can not add liquid or gel food coloring to white chocolate or it will seize up and get grainy. If you want your strawberries a specific color be sure to buy chocolate melts in that color or use candy colors, which are oil based.
Your strawberries must be completely dry before you dip them in chocolate. If there is any water it could cause the chocolate to seize. Plus, the chocolate will not stay as well on the strawberries.
Depending on what type of chocolate you use, you'll probably need to thin it to a dipping consistency, by adding shortening one teaspoon at a time and mixing until combined. I like my chocolate to be thick enough that it covers the strawberries without being too drippy, but thin enough that when I tip the strawberry upside down the drips re-incorporate. I normally test a few strawberries to get it right.
If you don't want to bother using toothpicks and buying a styrofoam board, you can place the covered strawberries directly on parchment paper, wax paper, or a silicone mat to dry.
Decorating the strawberries is the funnest part! Add sprinkles, edible glitter, cookies, pretzels, candy, more chocolate, or whatever fun and edible decorations and toppings you can think of.
For anything that needs to stick to the chocolate such as glitter, cookies, and candy, make sure to put it on the chocolate when it is wet.
If you put your chocolate covered strawberries in the fridge or freezer to dry, the chocolate will get beads of condensation, cause the chocolate to 'weep'. This may or may not be an issue depending on if you care.
These are best the day they are made. But, they will last about 12 hours at room temperate out or 1-2 days in the fridge. After 12-24 hours they start to leak strawberry juice and don't look as nice. But, they still taste delicious.
This post may contain affiliate links. If you purchase through the link, Partylicious may be compensated at no additional cost to you. This has no impact on our recommendations and this income helps to keep this site running! Thanks for your support!
malegra
buy cypionate 250
buy winstrol
Chocolate Covered Strawberries
Homemade rose gold chocolate covered strawberries are an easy and delicious way to impress your guests at any party!
Print
Pin
Rate
Servings:
24
Strawberries
INGREDIENTS
Strawberries

Chocolate Candy Melts

Toothpicks

Styrofoam Board or Parchment Paper

Vegetable shortening

Sprinkles, edible glitter, luster dust, crushed cookies, candy, etc.

optional

Pastry bags

optional
Instructions
Wash and thoroughly dry your strawberries. They must be completely dry before you dip them in chocolate.

Put toothpicks in the end of the strawberries. Lightly pull the stems back toward the toothpick so they don't get into the chocolate.

Melt your chocolate according to directions.

Holding on to the toothpick, drip the strawberries in the chocolate, allow excess chocolate to drip off or wipe off on the edges of the bowl.

If adding sprinkles or other topping, add now while the chocolate is melted.

Either place on parchment or put the end of the toothpick into the stryophoe board upside down to allow the strawberries to dry.

Once dry you can continue to decorate with edible spray or paint with edible luster dust. You can also add a different colored melted chocolate to a pastry bag and drizzle over the dried strawberries.

Once completely dry, remove the toothpicks and enjoy.
Notes
If the melted chocolate is too thick, add a teaspoon or two of shortening to thin out the chocolate. The chocolate should leave a smooth coating on the strawberry, without any drips or points.
These are best the day they are made.  But, they will last about 12 hours at room temperate out or 1-2 days in the fridge.
Nutrition
Serving:
1
Strawberry
|
Calories:
70
kcal
|
Carbohydrates:
8
g
|
Fat:
4
g
|
Saturated Fat:
2
g
|
Cholesterol:
2
mg
|
Sodium:
10
mg
|
Potassium:
62
mg
|
Sugar:
7
g
|
Vitamin A:
5
IU
|
Vitamin C:
11.6
mg
|
Calcium:
26
mg
|
Iron:
0.1
mg