This easy cake painting tutorial shows you how to hand paint beautiful floral art onto a cake using buttercream frosting, food coloring,  palette knives, and paint brushes! This simple cake decorating technique is perfect for your next birthday party or wedding, bridal, or baby shower!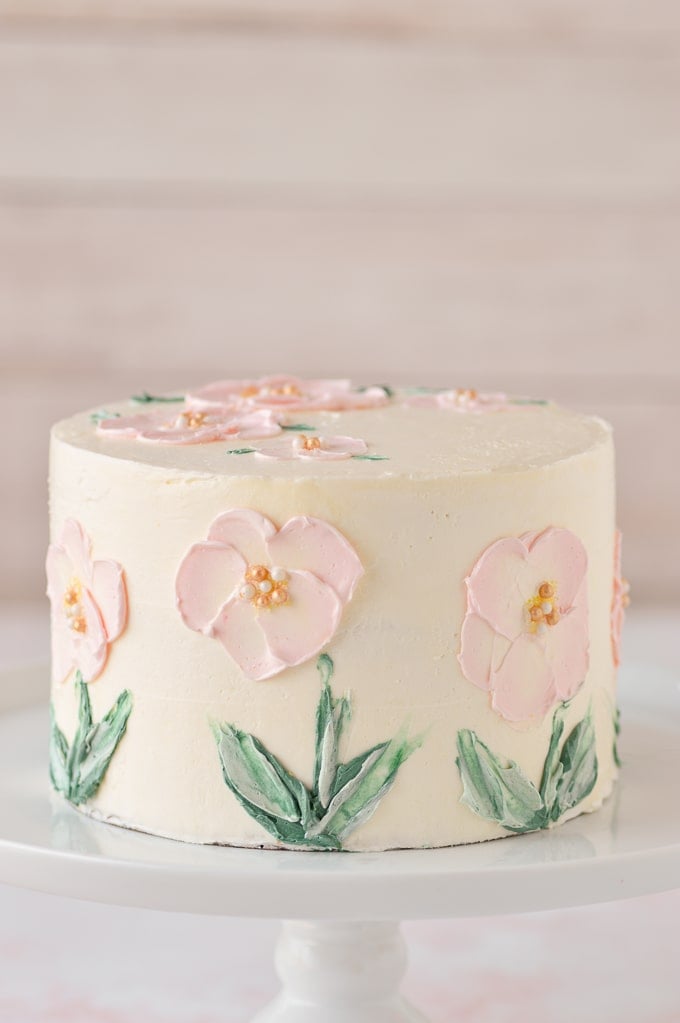 Cake Painting is such a fun and unique cake decorating technique.   Plus, there are so many different ways and styles to paint a cake!
Or, you can do a combination of the above! All will create beautiful painted cakes.  The nice thing about this technique is it is completely customizable.
You can do floral, abstract, modern, Christmas and holiday themed, or even follow a Bob Ross tutorial.  If you can think it up, chances are you can paint it on a cake.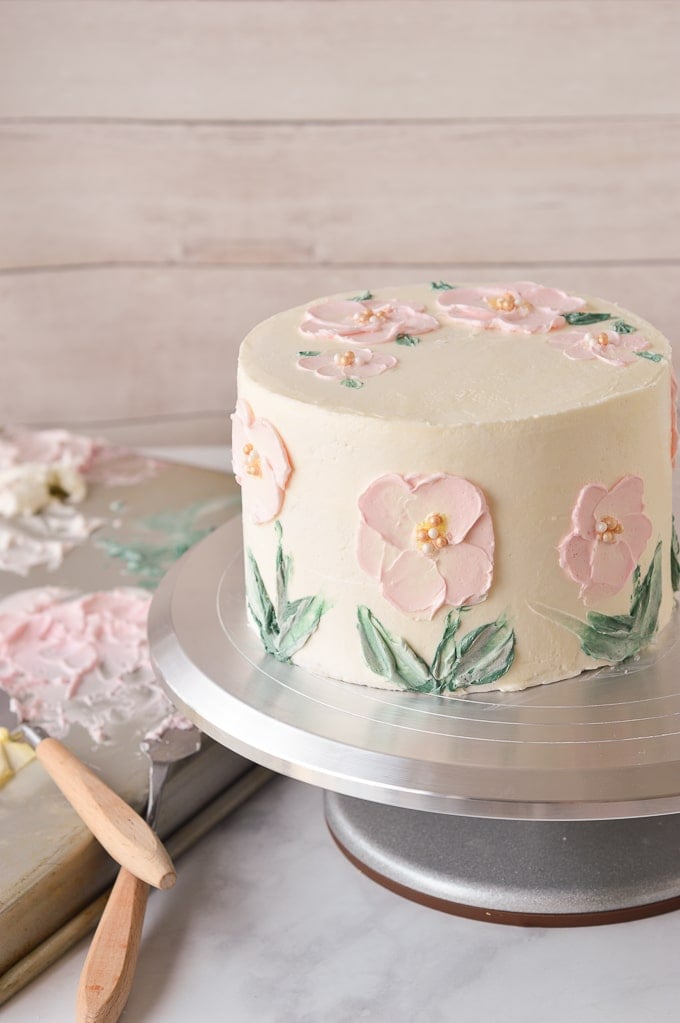 Tools for Cake Painting:
Prepare Buttercream and/or Food Coloring
Buttercream Painting (palette knife or paint brush technique)
For painting a cake with buttercream frosting, use any type of light colored buttercream such as:
Mixing Buttercream Colors for Painting: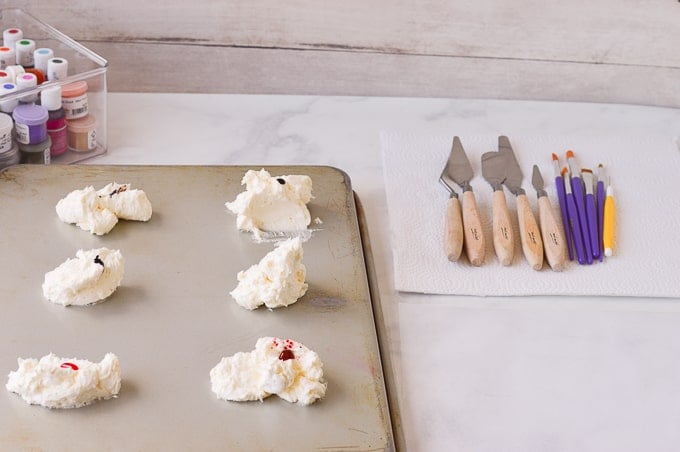 To mix the colors, I used a cookie sheet flipped upside down.  

Then

put about ½ -¾ cup frosting for each color and then a few drops of food coloring and mixed with a cake spatula

. 

I like this for buttercream painting because it was easy to move around and you can easily use the palette knife knife to mix and scrape the frostings together to make more colors – much like a traditional painting palette.   

You can also use a plate or bowl to mix your colors.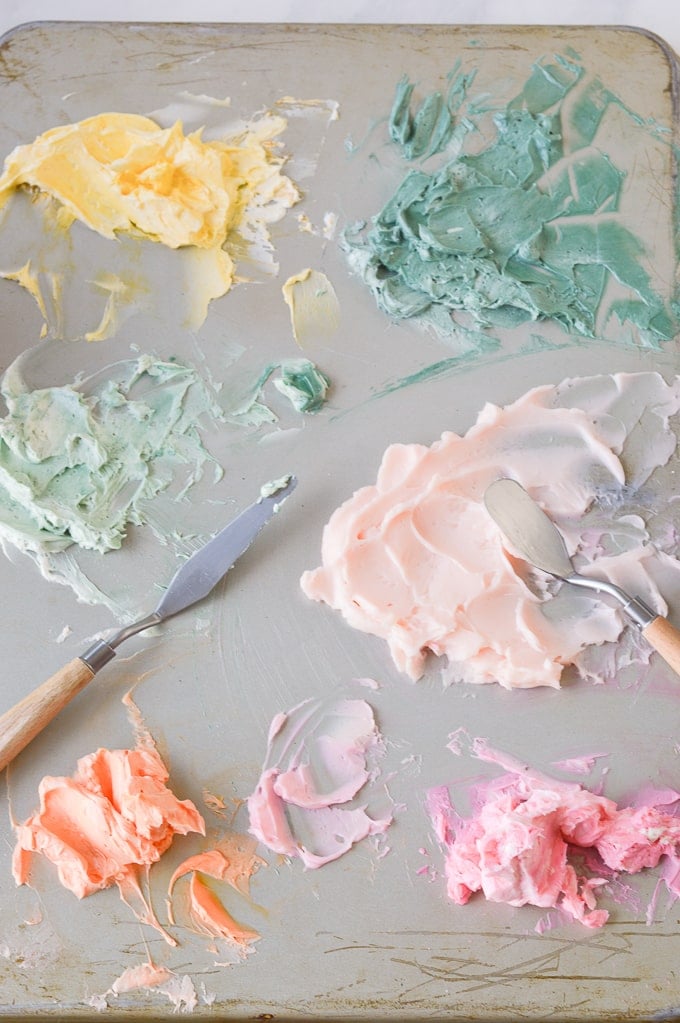 Food Coloring (paint brush or watercolor technique) 
If you're using food coloring, you can use water based for a watercoloring technique. This types of food color are not as pigmented so you can use them straight from the bottle. 
If using gel food coloring, I recommend mixed it with water or vodka to thin it out. You'll still have a more pigmented color than water based food coloring, but it will dry much easier than if you're painting with gel coloring right from the bottle. 
While I have not yet tried it, Wilton just started making edible paint which sounds perfect for cake painting. 
Sketch Out Your Design
A big tip for making your own painted cake is to practice your design before you go to your cake. For this cake, I sketched out some flowers and practiced on food grade acetate paper, but you can also practice on parchment or wax paper, or a plate.  Basically any flat surface will do.
It took a few tries before I got flowers I liked: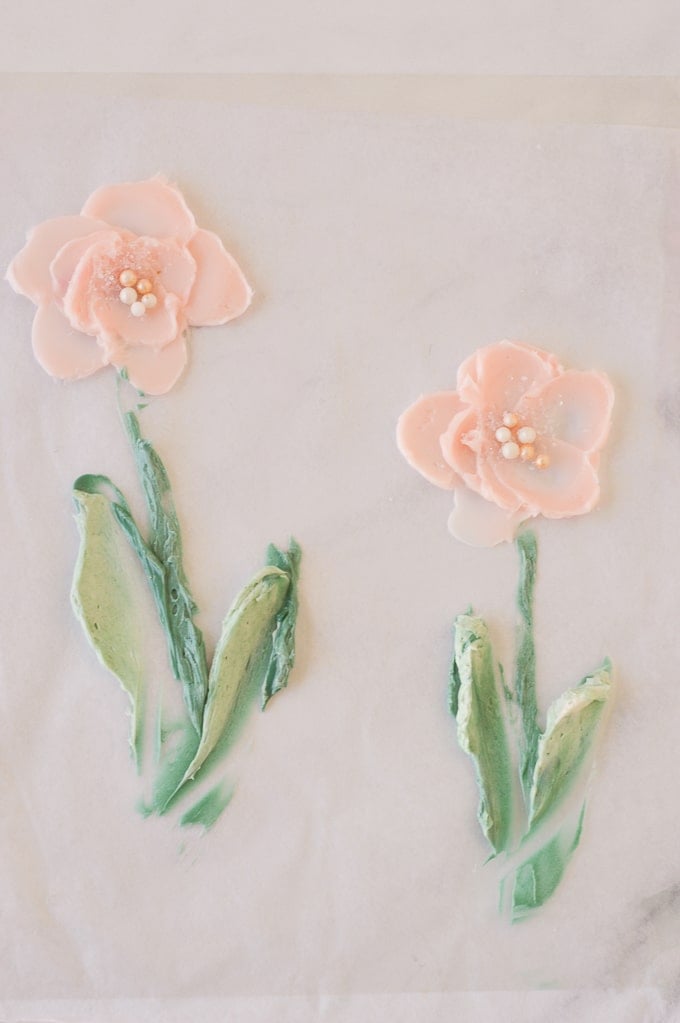 For this pink floral cake I used this palette knife kit but you can use any palate knives or paint brushes you want.  I used the round palette knife for the petals and the smallest knife for the stems and big leaves. I used paint brushes for the detail leaves on the top of the cake.  To color the buttercream, I used a tiny bit of rose pink for the petals and leaf green and forest green for the leaves and stems. 
When you're happy with your design, paint on a very well chilled cake.   Here are some other buttercream flower designs I tried: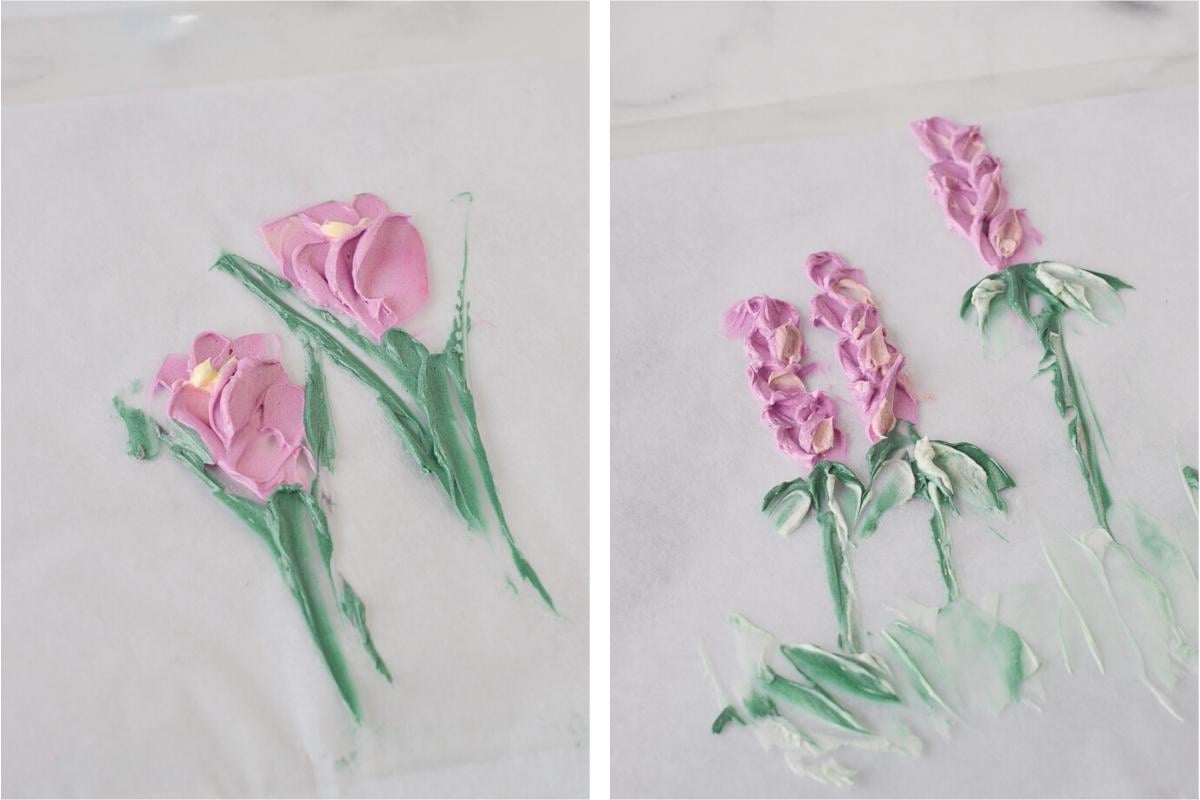 Decorating Painted Cakes
Once you've painted the frosting design you can use sanding sugar, sugar pearls, or other fun cake decorations like sprinkles or gold leaf foil sheets.  For this cake, I use yellow and white sanding sugar, with white sugar pearls. Some of the sugar pearls I covered in edible gold luster dust.  
Optional Cake Decorations: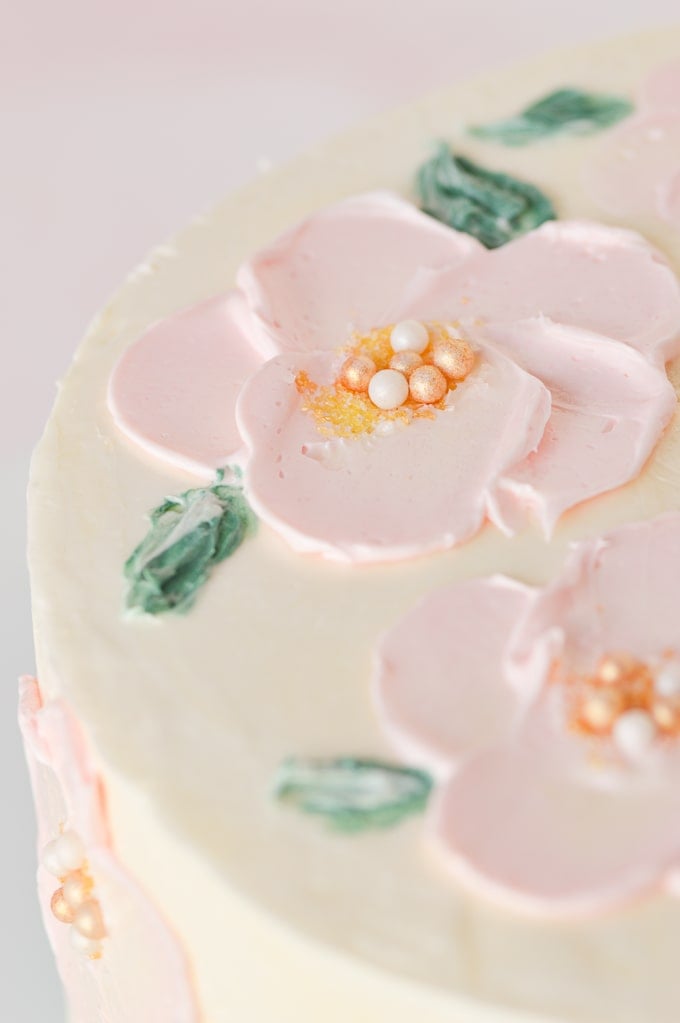 Tips for cake painting 
Start with a fully frosted and very well chilled cake.  If the frosted cake is soft, it's more difficult to paint. You can also paint on a fondant or marzipan

covered cake.

Sketch out a design and practice on a flat surface before you go right to painting your cake.
If the cake starts to get soft before you're done painting, put it back in the fridge for 20-30 minutes to firm up.
Use tweezers to get any sprinkles, sugar pearls, or other decorations exactly where you want them.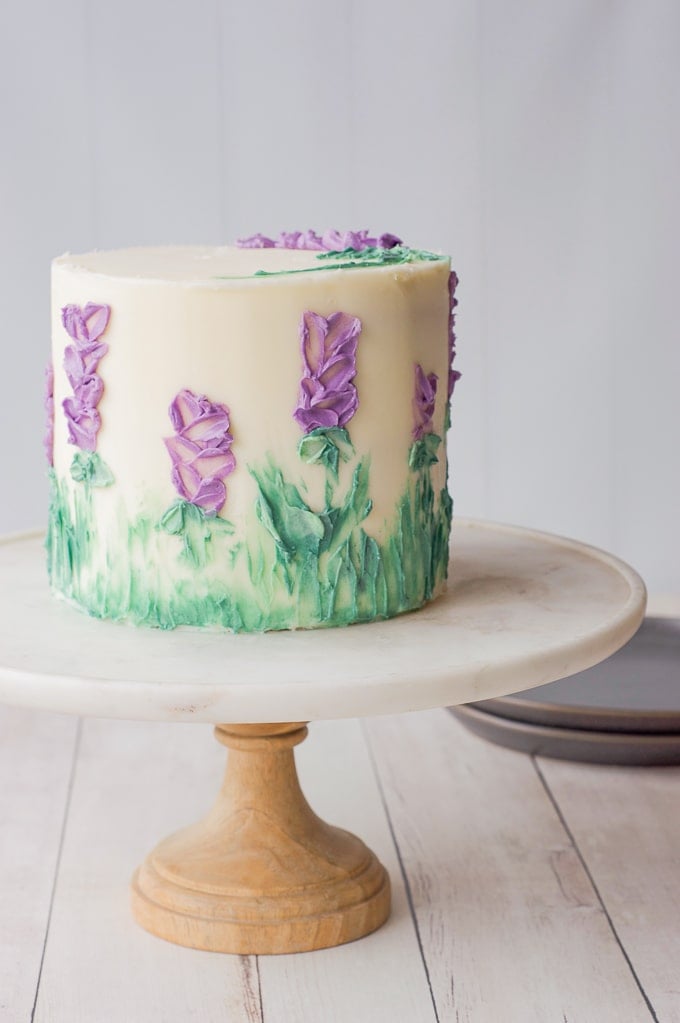 Looking for More Cake Decorating Techniques? Check These Out! 
WANT TO JOIN THE PARTY? Subscribe to my newsletter and follow on Pinterest, Instagram, and Facebook for all the latest recipes!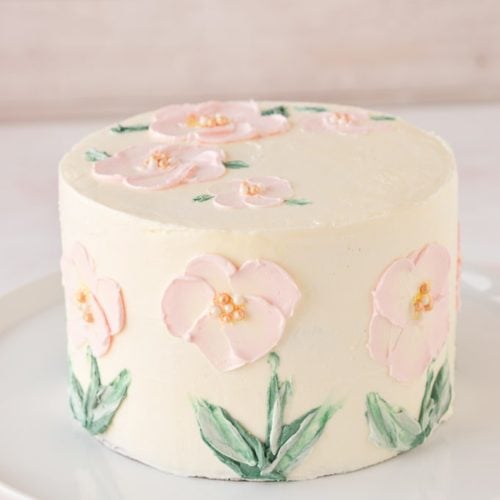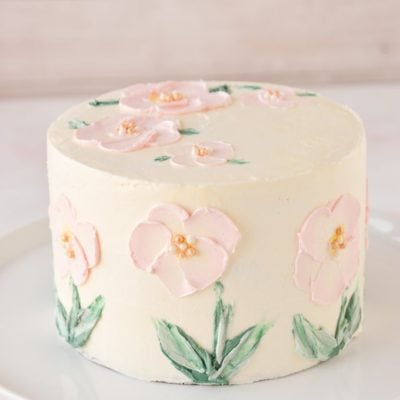 Cake Painting Tutorial
This tutorial shows you how to hand paint beautiful floral art onto a cake using buttercream frosting, palette knives, and paint brushes! 
Print
Pin
Rate
INGREDIENTS
1

Frosted Cake

1

batch

Buttercream Frosting

Food Coloring
Equipment
1

Cake Turntable

Palette Knives

Paint Brushes

Acetate Paper

optional
Instructions
Sketch out an idea for your design

On a plate, in a bowl, or on cookie sheet add about 1/2 cup of frosting for each color.

Add your food coloring to each color and mix well.

Once you've mixed your colors, practice painting your design on flat surface

Once you're happy with your design, paint on a very well chilled cake

If at any point the cake becomes too soft to paint on, put it back in the fridge to chill and firm up.
Pink Flower Cake
Starting with a round palate knife, add a bit of pink buttercream. In a downward motion make the first petal, like you are wiping the buttercream off the knife and onto your surface. Repeat in a circle for 4-5 leaves, making sure you are are always swiping inward.

Using a small palate knife, add green frosting. Move downward from the bottom of the flower to the bottom of the cake. Clean the palate knife and highlight with the lighter green. For the leaves use the same palate knife and stroke outward in a leaf shape. You have to play with the angles a bit to get your desired thickness, and it can vary depending on what palette knife you're using, that's why practicing helps.

Continue making flowers and leaves around the cake.

Add flowers on the top of the cake. Use a small paintbrush for leaves.

Using your finger, gently press sanding sugar to the center of the flowers. Using tweezers or your hands, add sugar pearls to the center of the flowers.
Notes
Practice your design. I did my design one day and the next day, when I went to paint it on the cake, I  had to re-practice until I got the hang of painting the design again. 
Make sure your cake is very well chilled or it will be hard to paint on.  
You can also paint directly on a marzipan or fondant covered cake.