This Halloween popcorn recipe is perfect for parties, movie nights, or as a special snack to celebrate the season!
Homemade Halloween popcorn is such a fun treat to make. Monster Munch, Halloween Party Popcorn, Popcorn Snack Mix, this halloween popcorn goes by many names. But, one thing remains the same: it's sweet, crunchy, and super delicious.
For this version I chose a black and orange Halloween Oreo Popcorn theme, but you can really do whatever you want! Because it's so customizable, you can alter it to suit any taste. Like candy corn? Throw it in! Don't like Oreo's? Skip them! Similar to Halloween strawberries, it an easy, no-bake treat, and fun activity the whole family can enjoy making together.
Why you'll love it:
Ingredients
Popcorn
You can use any type of popcorn you like! I do recommend a salty or sweet popcorn, since this is a candy coated sweet popcorn mix. Here are some common ideas for your popcorn base:
Candy melts or melting chocolate are what help the toppings stick to the popcorn. For this version I used black and orange, but you can use whatever colors you like. Green and purple give a fun witchy vibe, and yellow, white and orange, are the perfect candy corn theme.
Toppings
This is the fun part, the toppings! For this black and orange Oreo Halloween popcorn, I used crushed Halloween Oreos, black and orange M&Ms, and sprinkles. But, you can use whatever toppings you want! Here are some fun ideas:
How to Make
Similar to Unicorn Popcorn, this popcorn recipe is super simple and it can be made in less than an hour.
Step 1: Melt Candy Melts or Chocolate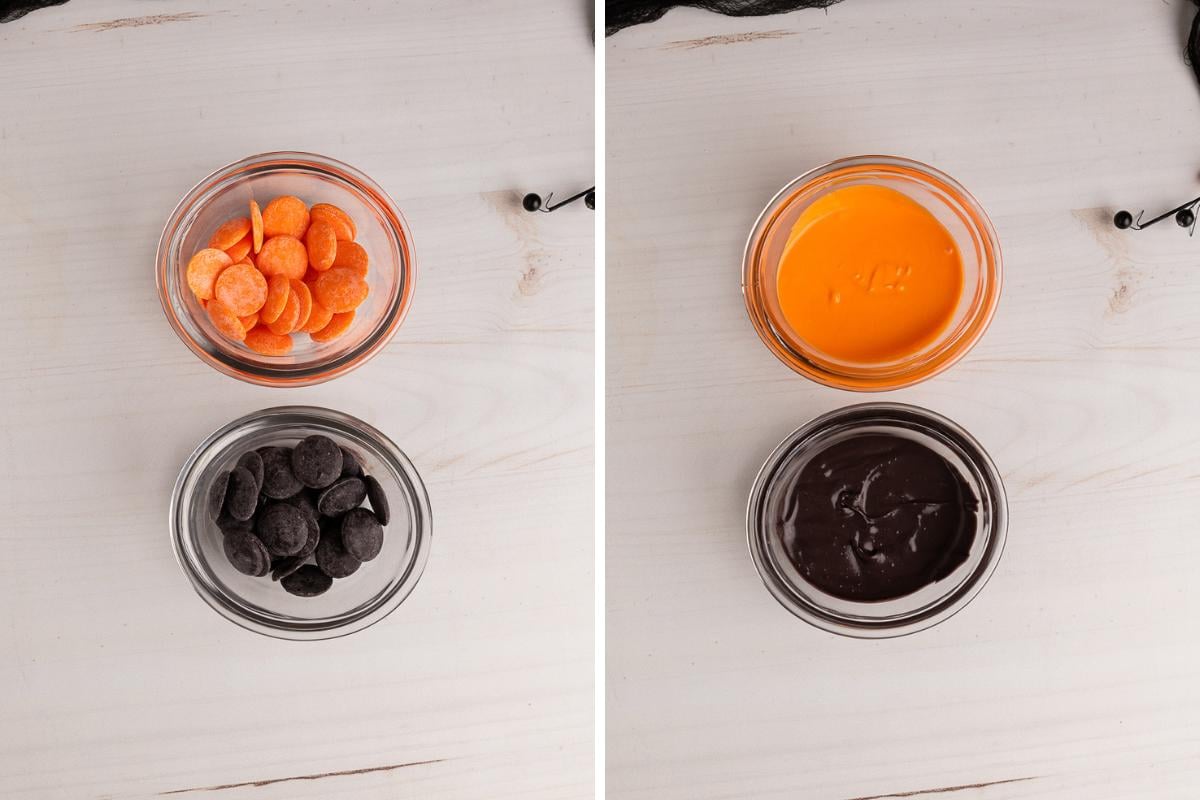 In separate microwave-safe bowls, melt the orange and black candy melts according to the package instructions. Typically, this involves heating them in 30-second intervals and stirring until smooth. You can also melt over a double broiler on the stovetop.
Step 2: Add Chocolate and toppings to popcorn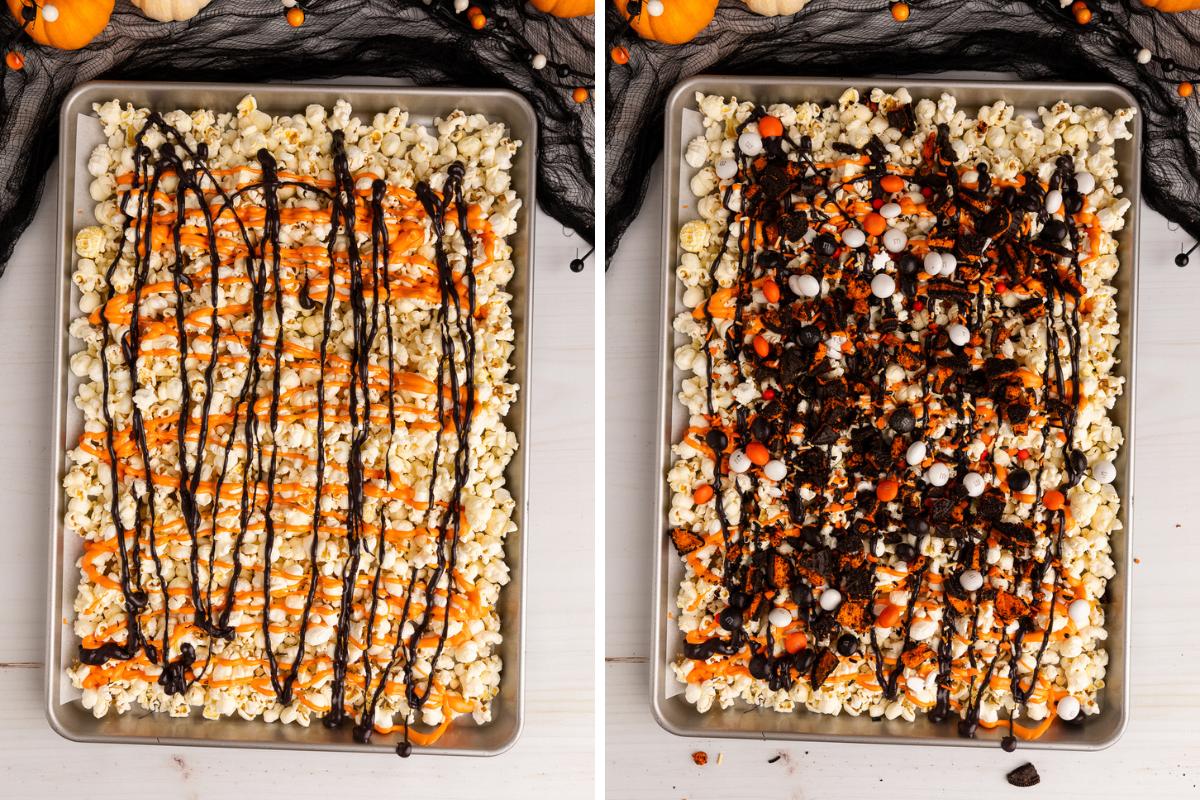 Place the popcorn on a parchment lined baking sheet. Then, drizzle the melted chocolate all over the popcorn. You can add it to a pastry bag with the top cut off, or simply drizzle with a spoon. You can also place all the popcorn in a large bowl, rather than a parchment lined baking sheet.
While the chocolate is still melted, sprinkle ½ of your desired toppings so they stick.
Step 3: Let Dry, Mix, and Repeat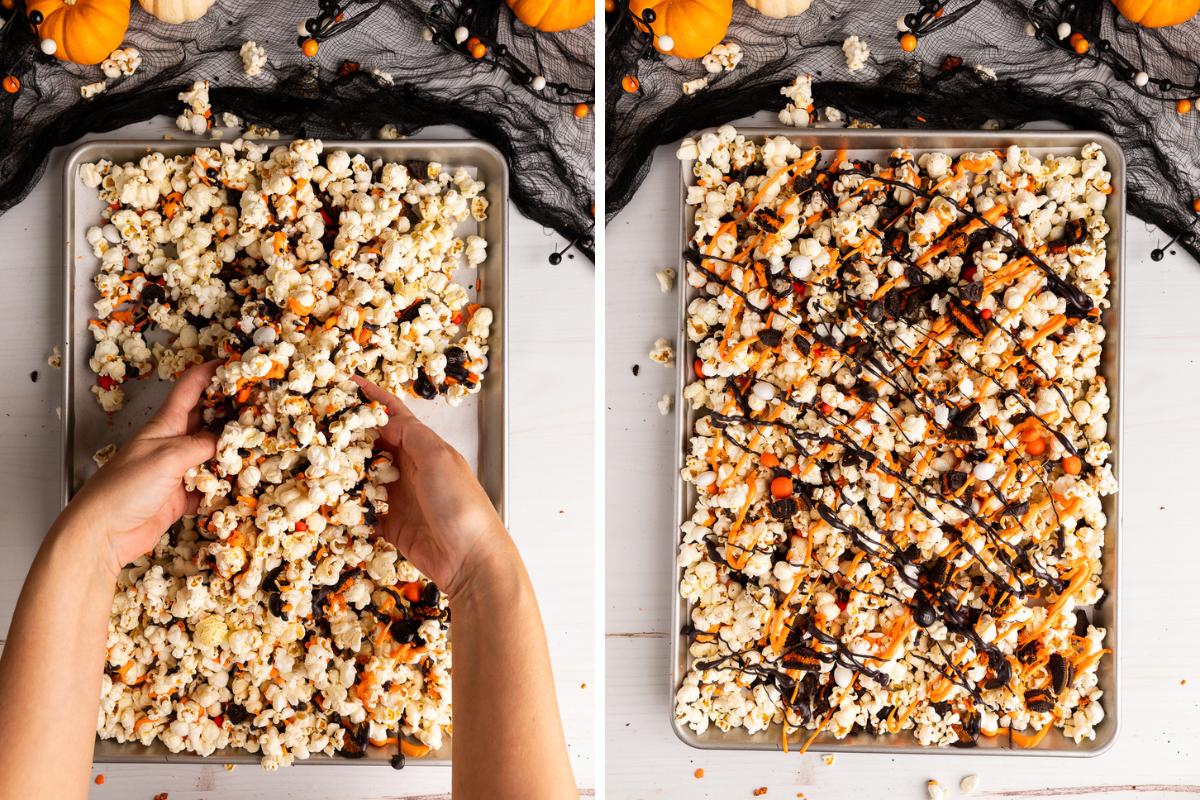 After adding the toppings, let the chocolate harden for an 30-60 minutes. Once the chocolate has set, mixed it up, breaking up the chocolate popcorn pieces.
Then, spread it out again on the parchment lined baking sheet and add more melted chocolate and more toppings. This helps to ensure that not just one side of the popcorn is covered in chocolate.
I recommend at least two times, but you can do this as many times as you want to ensure the popcorn is really full of chocolate, cookies, and sprinkles. Then, once it's dry for the last time, break it up and it's ready to serve!
Fun Variations
Remember to get creative and have fun with your Halloween popcorn themes. These ideas are just starting points, and you can mix and match to create your own ideal spooky popcorn!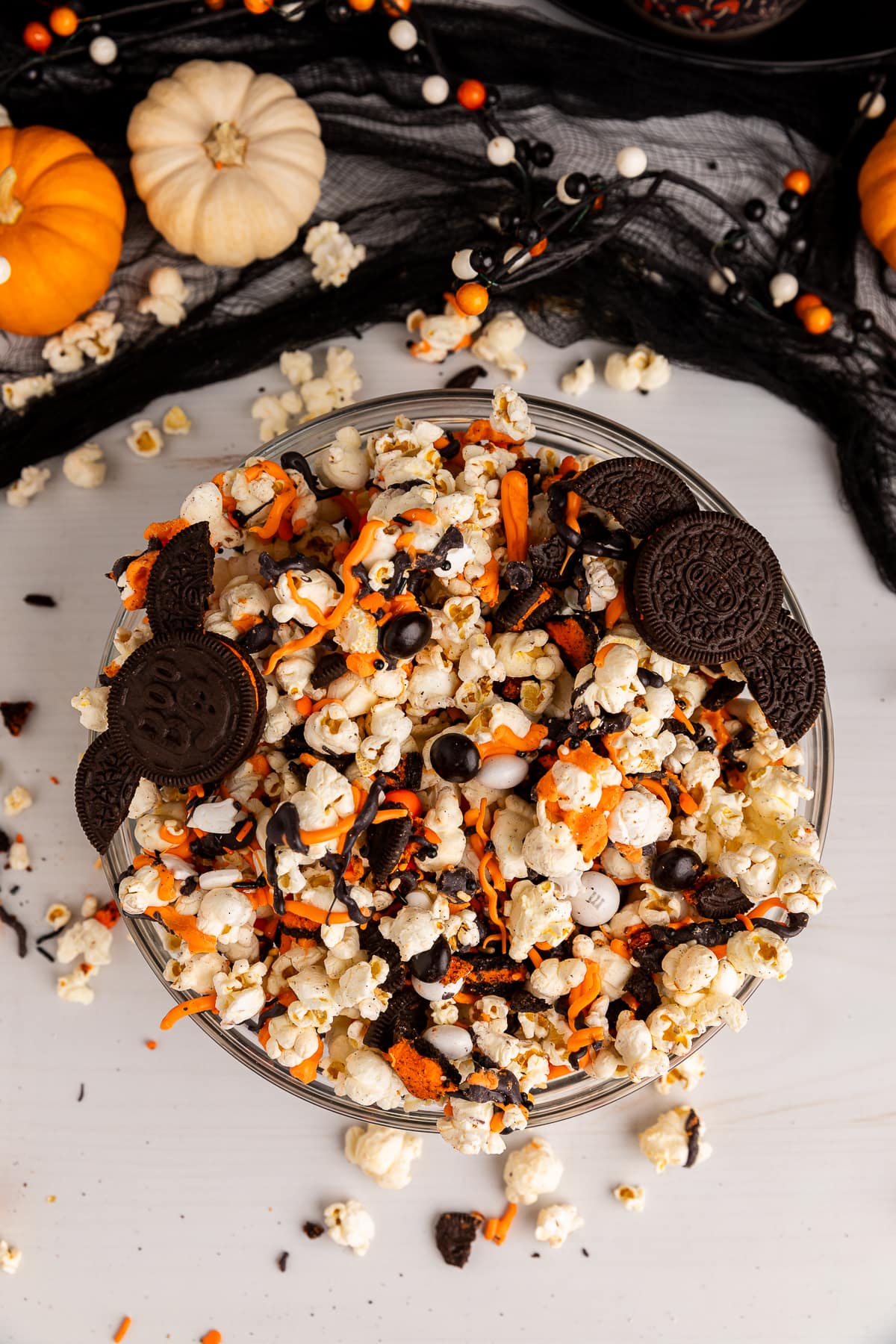 Tips and Tricks
FAQ
Why is my melted chocolate or candy melts grainy?
There are two reasons chocolate can seize up and get grainy. The first is it was overheated. You can combat this by making sure to follow the instructions exactly when melting your chocolate. If using a microwave heat on half power and use a double broiler if heating on the stovetop. Do not ever heat any type of chocolate or candy melts directly in a pan on a stovetop. It will always overheat and seize up.

The second reason is because liquid somehow got mixed in with the chocolate.  Be sure your bowl and utensils are completely dry before adding and melting the chocolate.  And, if adding flavors or food coloring make sure they are oil based. 

Can I use white chocolate and add food coloring? 
Yes, but if you want to add food coloring to your white chocolate or melting chocolate, be sure to use candy colors which are oil based food. Regular or gel food coloring will cause the chocolate to get grainy.

Serving and Gifting
This holiday popcorn is perfect for halloween parties and spooky movie nights! Like most popcorn, there are tons of fun ways to serve or gift it:
Making Ahead and Storing
This popcorn is best with in the first couple days of making, but will last up to a week or two in an airtight container, very tightly sealed. The better the seal, the longer it will last and stay fresh and the less chance of going stale.
Looking for more halloween recipes? Check these out!
WANT TO JOIN THE PARTY? Subscribe to my newsletter and follow on Tik Tok, Pinterest, Instagram, and Facebook for all the latest recipes!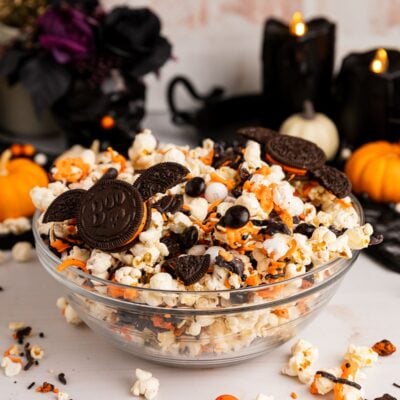 Easy Halloween Popcorn Recipe
This Halloween popcorn recipe is perfect for parties, movie nights, or as a special snack to celebrate the season!
Print
Pin
Rate
INGREDIENTS
8-10

Cups

Popped Popcorn

20-24

oz

Candy Melts

black and orange, or colors of choice, see notes

8-10

Halloween Oreo Cookies

crushed

1

Cup

Halloween M&Ms

½

Cup

Halloween Sprinkles
More topping ideas
Marshmallows

Halloween Candy

Pretzels
Instructions
Line a large baking pan with parchment paper, wax paper, or a silicone baking mat.

Spread out popcorn evenly on the parchment so it is in a single layer.

Melt your candy melts or chocolate according to the package directions.

Using either a pastry bag or spoon, drip about 1/2 the melted chocolate all over the popcorn.

White the chocolate is still wet, add 1/2 the chopped cookies, sprinkles, M&Ms, and any other toppings you desire.

Let dry for 30-60 minutes until the chocolate is firm to the touch.

Mix up the popcorn and spread evenly over the parchment again. Repeat with adding more melted chocolate and toppings.

Let dry completely and then break apart into bite size pieces. Serve and enjoy!
Notes
Prepare Your Toppings in Advance: Have your chosen toppings, such as crushed cookies, ready before you melt the chocolate. This ensures a quick and smooth assembly process without the chocolate hardening.
Use colored chocolate melts in the colors you want or buy candy food coloring, which is oil based and won't cause your white chocolate melts or white chocolate to separate. You can not add regular or gel food coloring to white chocolate or it will get grainy.
The amount of chocolate and toppings can vary depending on how much popcorn you're making, how many different colors you're using, and how many times you decide to mix up and re-cover the popcorn with chocolate and toppings.
Nutrition
Serving:
1
Cup
|
Calories:
361
kcal
|
Carbohydrates:
54
g
|
Protein:
3
g
|
Fat:
15
g
|
Saturated Fat:
10
g
|
Polyunsaturated Fat:
1
g
|
Monounsaturated Fat:
1
g
|
Trans Fat:
0.04
g
|
Cholesterol:
3
mg
|
Sodium:
87
mg
|
Potassium:
64
mg
|
Fiber:
3
g
|
Sugar:
41
g
|
Vitamin A:
68
IU
|
Vitamin C:
0.1
mg
|
Calcium:
27
mg
|
Iron:
2
mg