The Chocolate Cake Shot is a fun and delicious cocktail that tastes like chocolate cake, even though there is no chocolate in the actual recipe!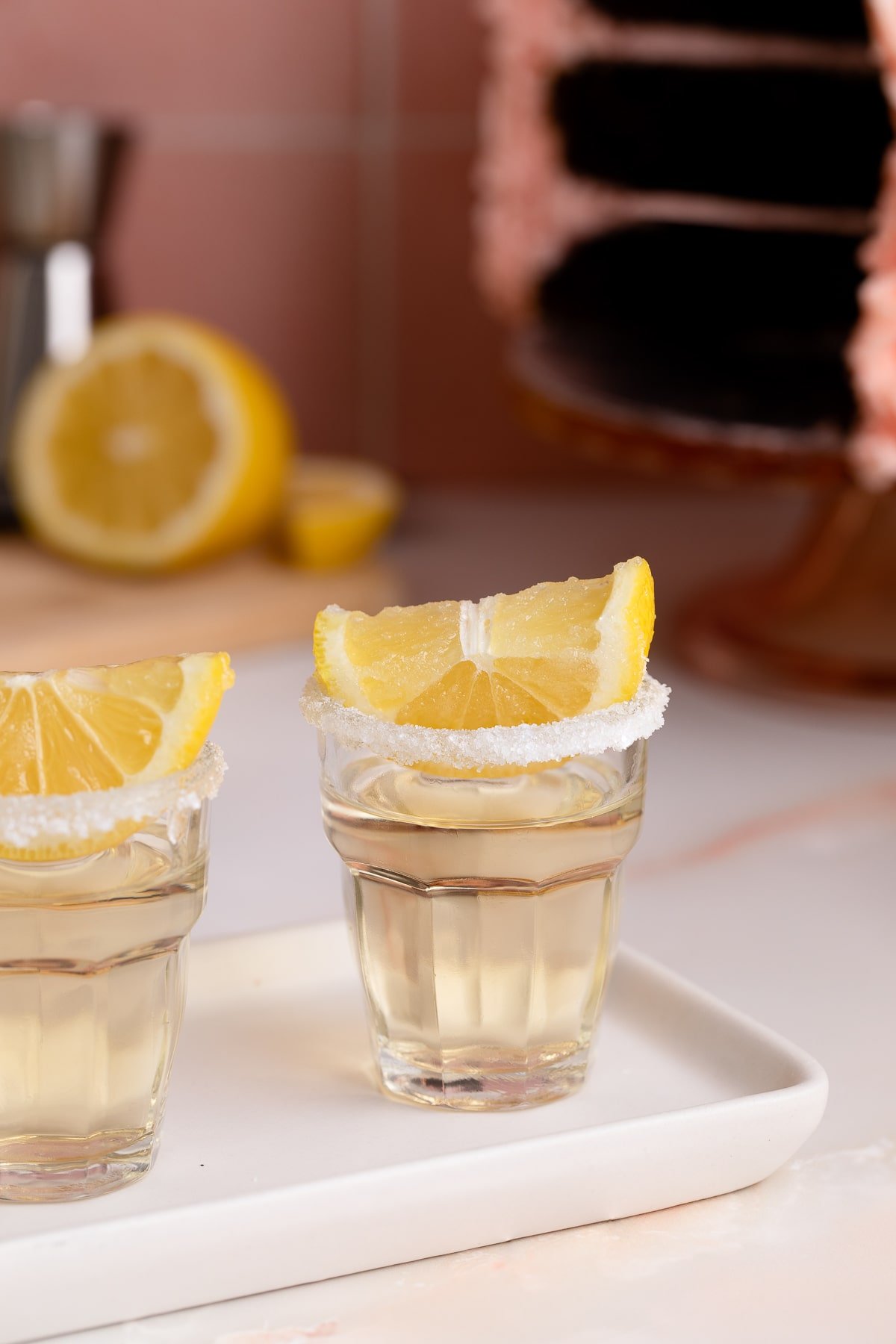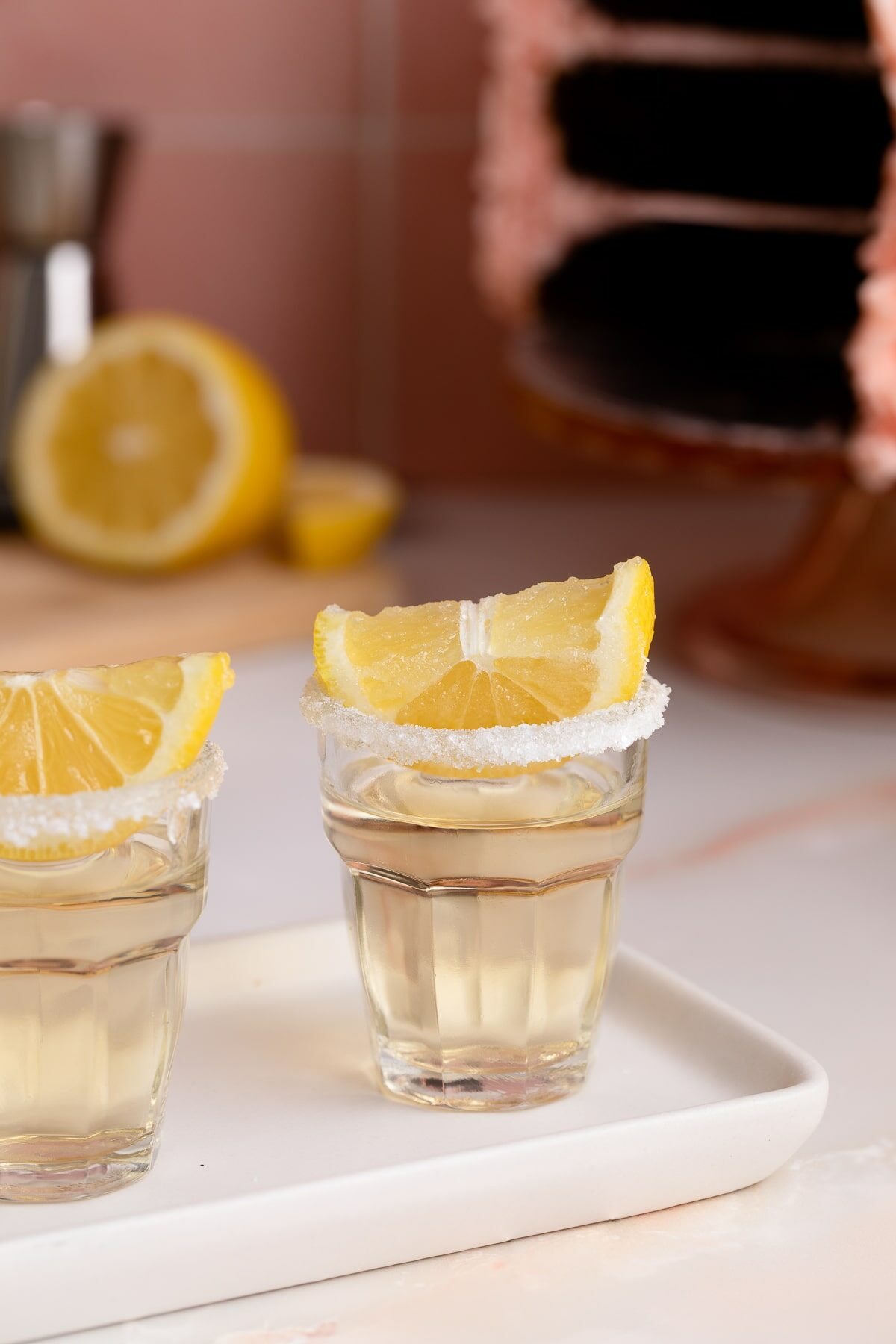 Sometimes called a birthday cake shot, or birthday shooters, these fun and easy chocolate cake shots are a classic bar shot with only 4 ingredients, none of which have any actual chocolate!
Similar to the lemon drop shot or brain hemorrhage shot, this drink is a bar and club staple because of how easy and tasty it is.
And while there are recipes floating around that use Kahlua, Godiva liqeuer, Creme de Cocoa, or Bailey Irish Cream's for the chocolate flavor, this simple and classic Frangelico and Vodka recipe is more than likely the shot you'll be served if you order this drink at a bar or restaurant.
But, since it is such an easy recipe with alcohol you can find at most grocery or liquor stores, try making at home for your next party or friends night in!
Ingredients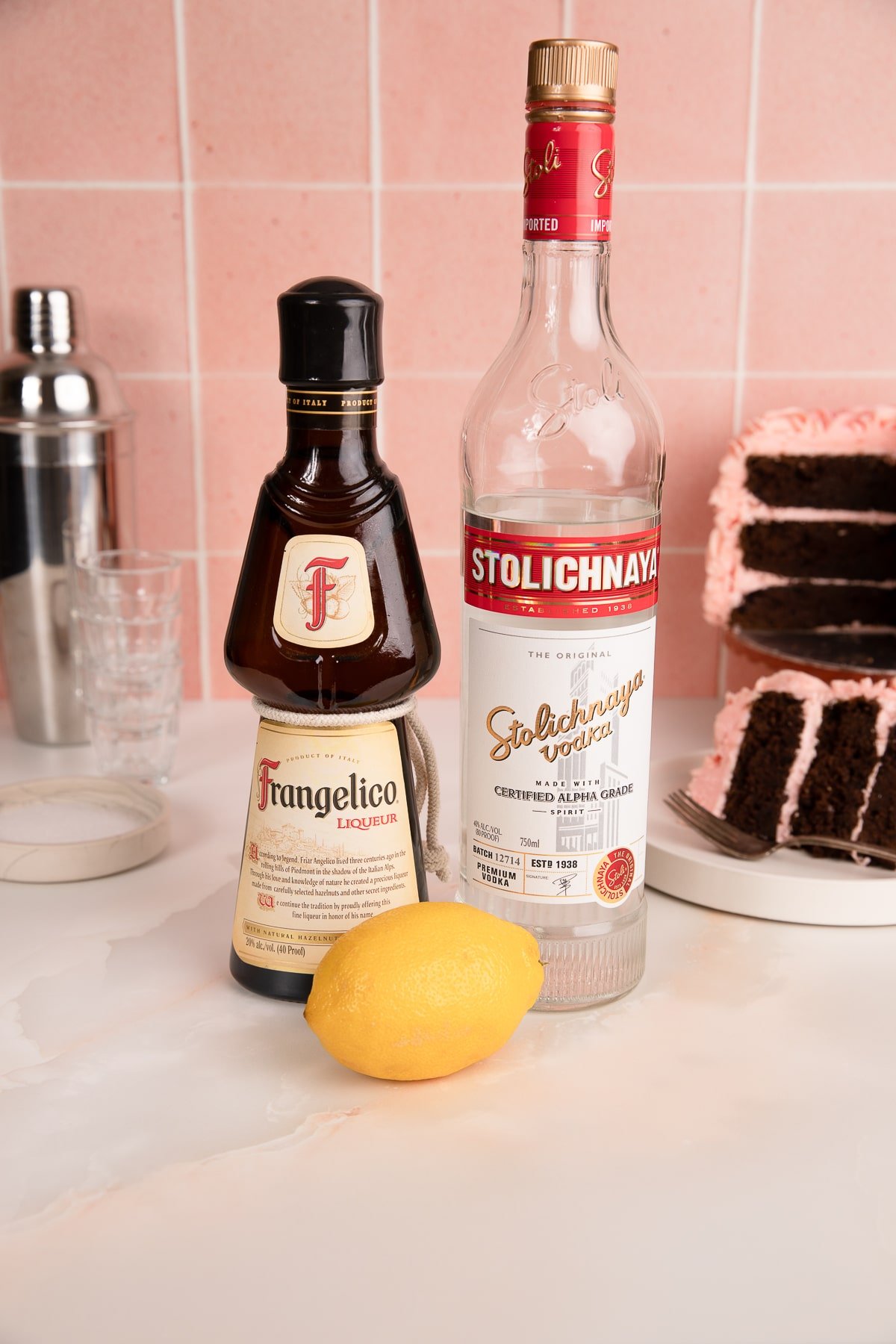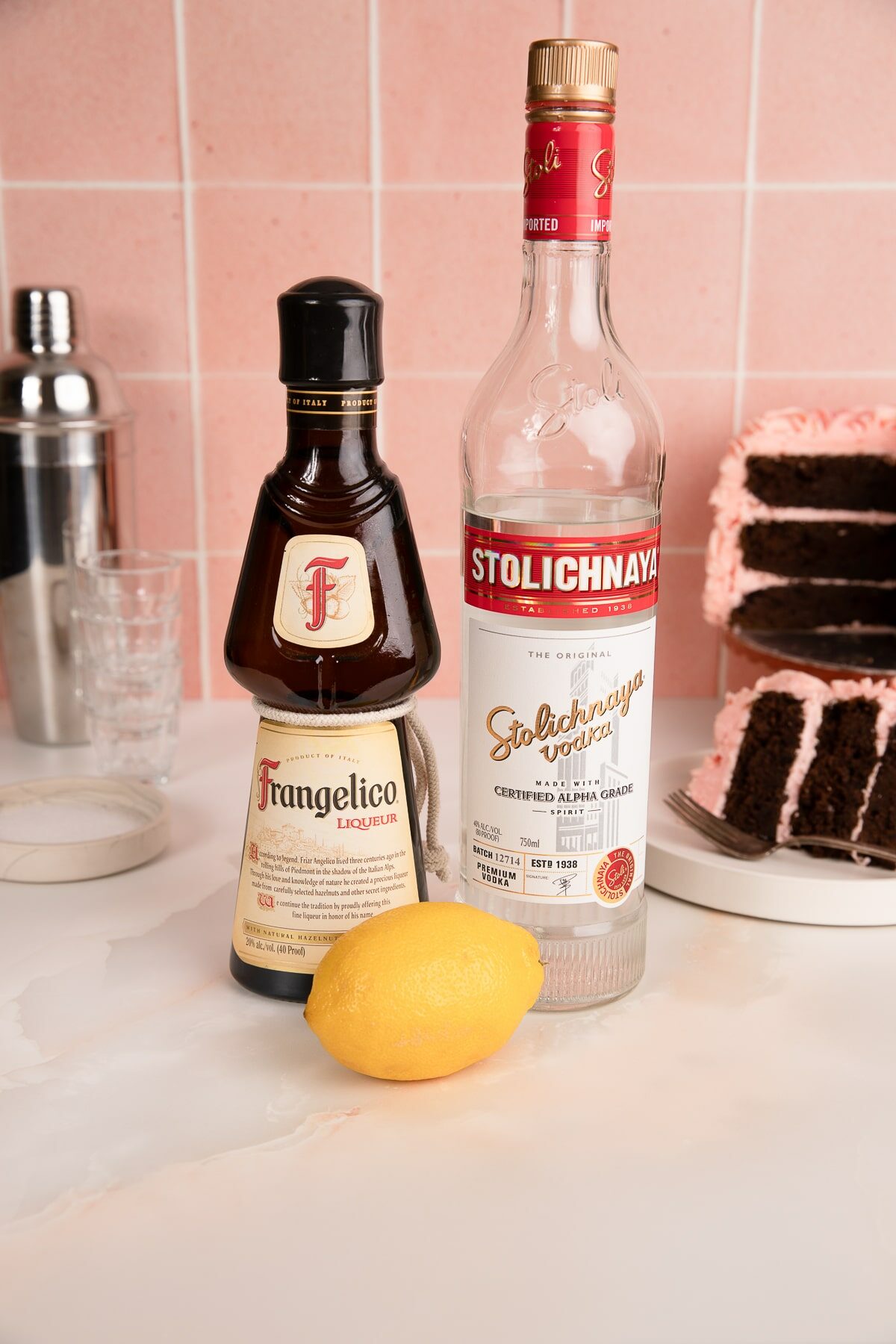 Vodka: you can your favorite vodka brand such as Titos or Kettle One. High-end vodkas such as Grey Goose make for a smoother shot, but any brand will work. You can also use vanilla vodka (Smirnoff, Pinnacle, Stoli, and Absolut all make one). Both regular and vanilla flavored vodka are delicious in this recipe!
Frangelico Liqueur: This brand name hazelnut liqueur is commonly used in this shot recipe, but you can substitute other brands of hazelnut liquor, although depending on the brand it could slightly alter the flavor profile of this drink.
How to Make
This quick and easy shot can be serve neat or shaken, it's up to you!
Step 1: Sugar Lemon and Rim
Slice a lemon into wedges. Use one wedge to wet the edge of the shot glass. Dip the wet edge of the shot glass into granulated sugar to coat. This is optional, but adds an extra layer of sweetness to the shot.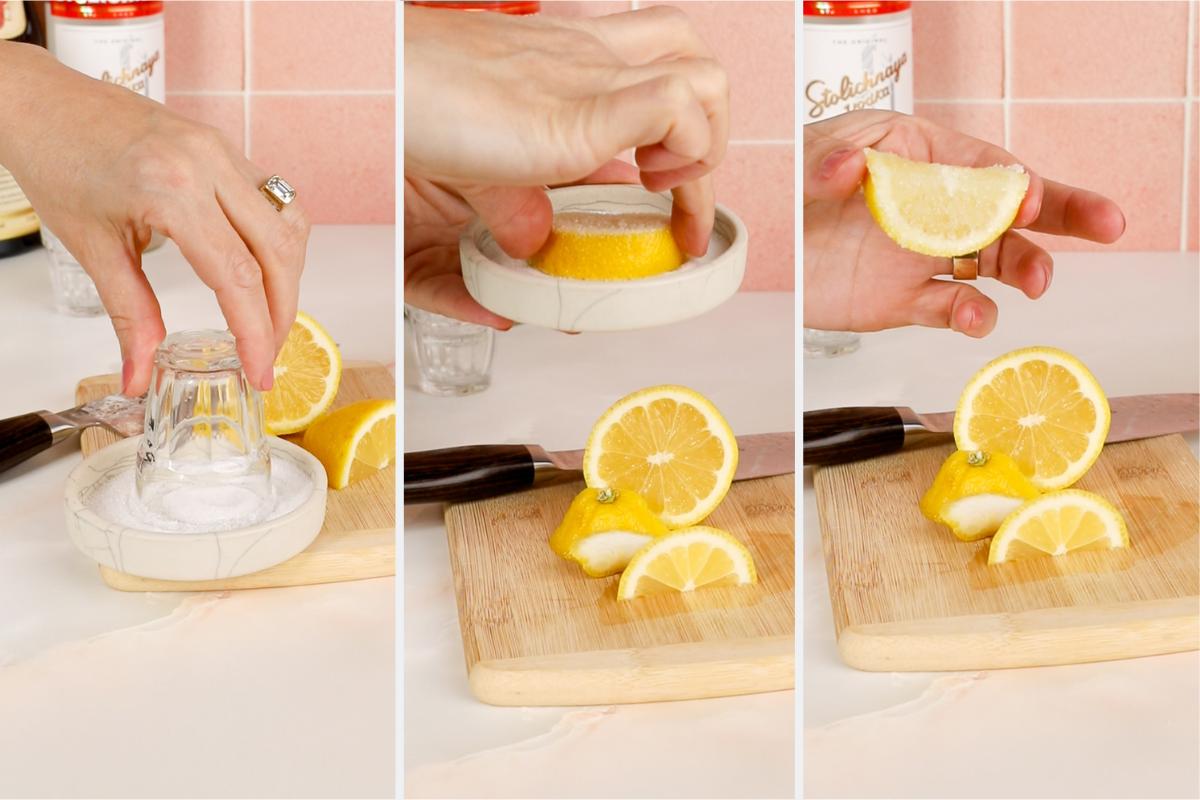 Then, dip the lemon wedge in sugar to coat, to be eaten immediately after taking the cake shot.
Step 2: Pour and enjoy!
This is super easy. Just pour .75 ounces of both vodka and Frangelico into the sugar rimmed shot glass. Alternatively, if you don't have a jigger or measuring spoons, you can fill the shot glass half way with vodka, then fill the second half with the Frangelico.
You can also mix in a cocktail shaker with ice if you prefer the shot cold, but this is totally optional. You can even pre-mix these for large batches.
When serving, immediately eat the sugar coated lemon after taking the shot.
Tips and Tricks
This can also be made using a cocktail shaker with ice. It's totally up you!
.75 oz is 1.5 tablespoons of liquor or half of a jigger.
For a sweeter shot, increase the hazelnut liqueur to 1 oz.
FAQ
Why does it taste like chocolate cake?
This is the most common question with these cake shots! Even though it doesn't have any chocolate, since Frangelico is a hazelnut liqueur, it is a sweet and nutty alcohol. It has undertones of vanilla and chocolate, all of which are flavors in chocolate cake.  Paired with neutral vodka and a sugared rim, it mimics the taste of cake – in a drink form!
Can I pre-mix these shots?
Yes, you can easily pre-mix a larger batch of these for easy pouring for a party or event. 

Can I turn this into a drink rather than a shot?
Totally! You can make a chocolate cake martini by increasing the amount of the vodka and hazelnut liquor to 1.5 oz each and serve in a sugar rimmed martini glass with a slice of sugared lemon. 

Looking for more shot recipe? Check these out!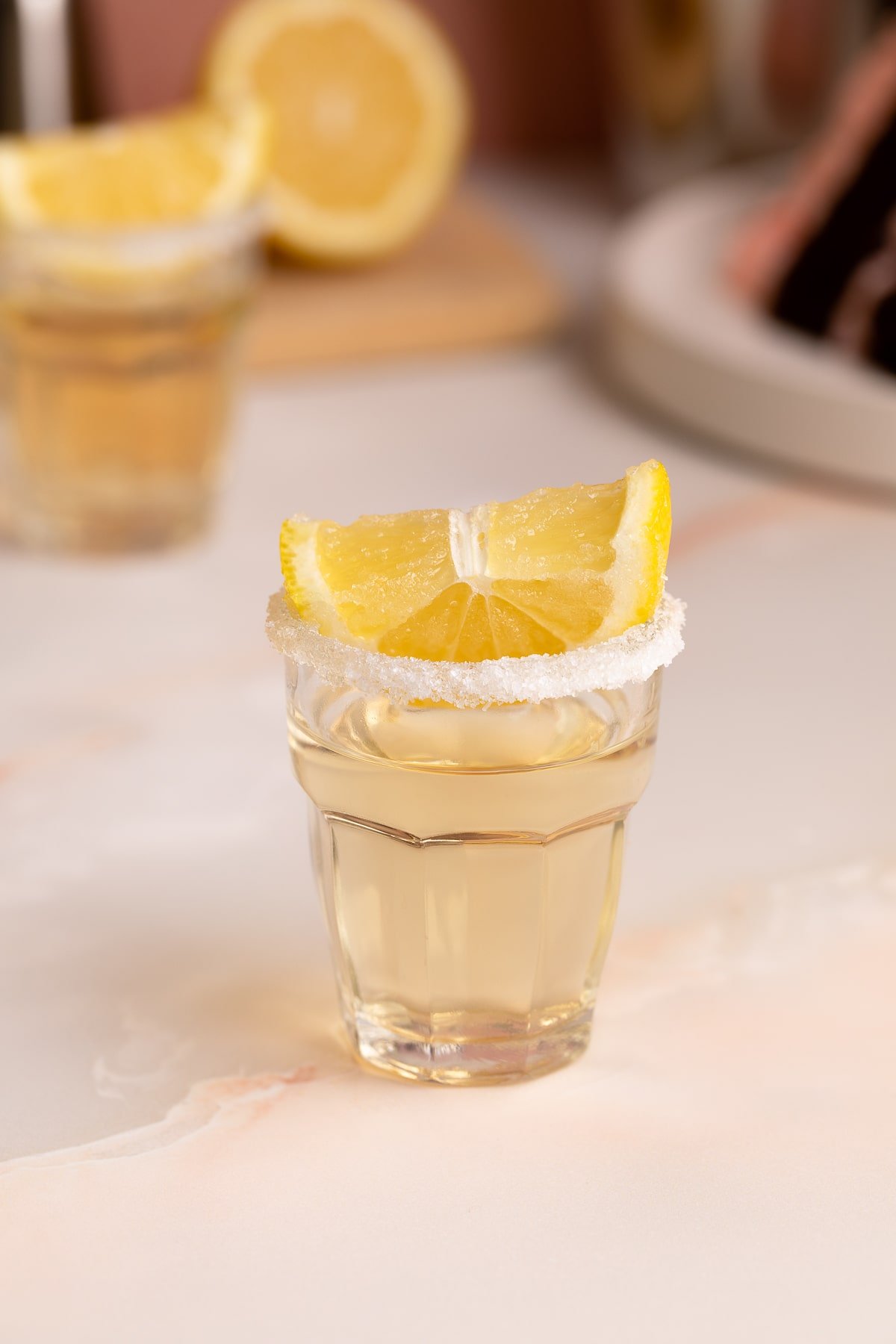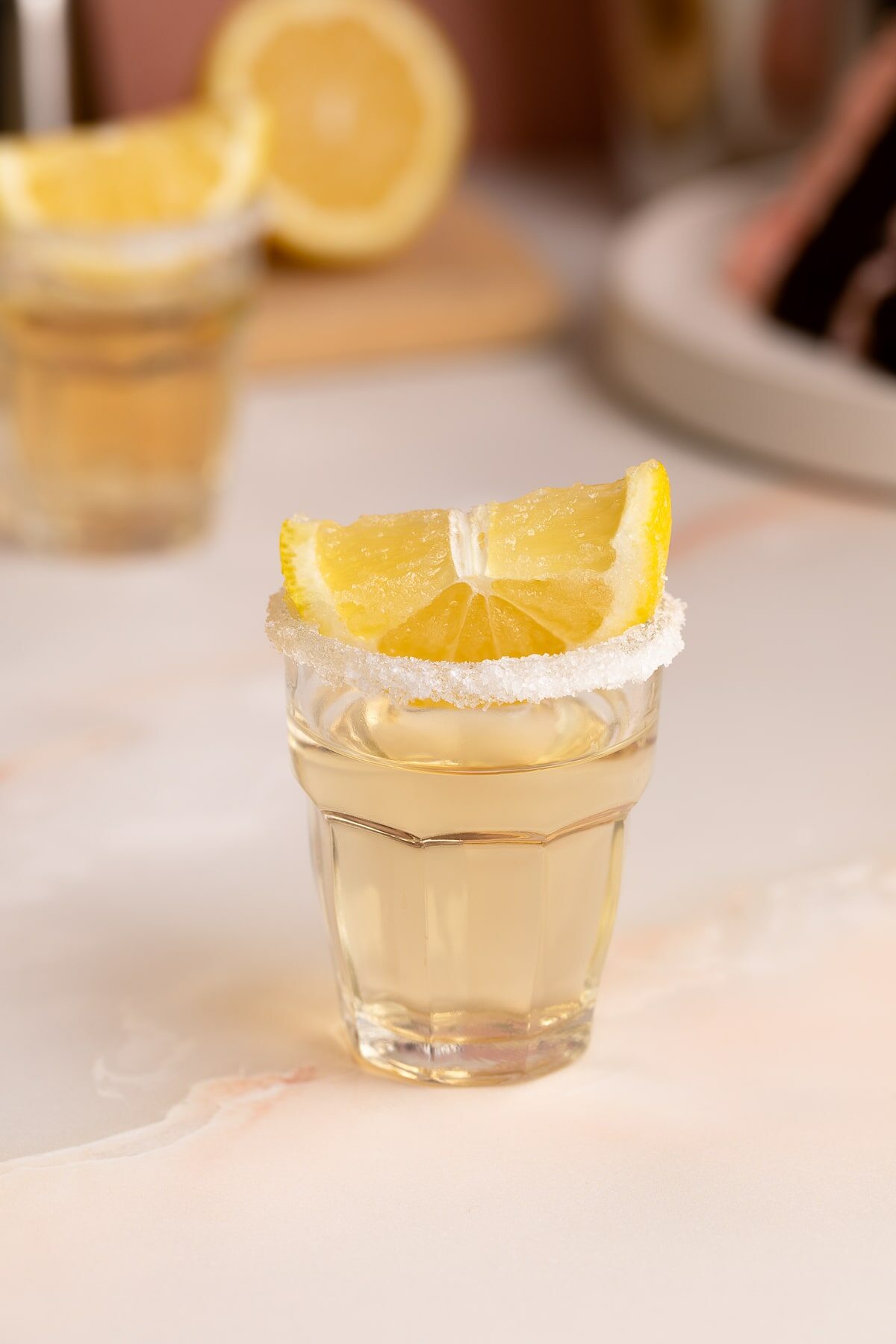 WANT TO JOIN THE PARTY? Subscribe to my newsletter and follow on Tik Tok, Pinterest, Instagram, and Facebook for all the latest recipes!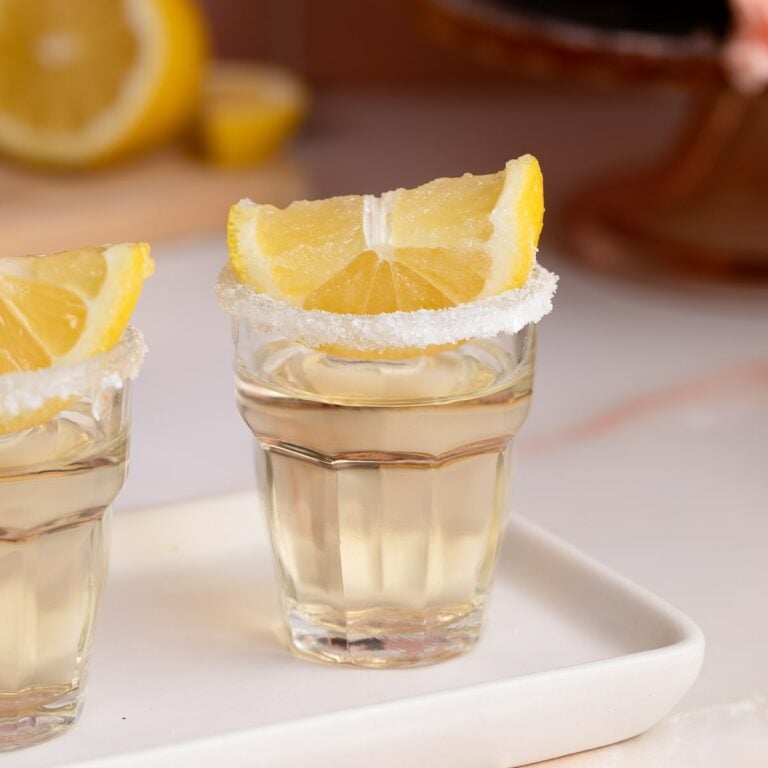 Chocolate Cake Shot
The chocolate cake shot is a fun and delicious cocktail that tastes like chocolate cake, even though there is no chocolate in the recipe!
Print
Pin
Rate
INGREDIENTS
¾

oz

Vodka

regular or vanilla

¾

oz

Frangelico

hazelnut liqueur

Lemon Wedge

Sugar

for coating glass and lemon wedge
Instructions
Cut a lemon into wedges.

Rim a shot glass with granulated sugar by running the lemon wedge around the rim and then dipping the rim into a dish of sugar.

Coat the lemon wedge in the sugar as well.

Pour Frangelico and Vodka into the prepared shot glass.

Serve immediately along with the sugared lemon wedge. Enjoy!
Notes
This can also be made using a cocktail shaker with ice.

.75 oz is 1.5 tablespoons of liquor or half of a jigger. 

For a sweeter drink,  increase the hazelnut liquor to 1 oz.

For a Chocolate Cake Martini, increase both alcohols to 1.5 oz and serve in a sugar rimmed martini glass.
Nutrition
Serving:
1
shot
|
Calories:
72
kcal
|
Carbohydrates:
6
g
|
Fat:
0.02
g
|
Sodium:
0.3
mg
|
Potassium:
0.3
mg
|
Sugar:
6
g
|
Calcium:
0.1
mg