Using a tequila lime buttercream frosting, these margarita french macaron cookies are sprinkled with sea salt making them the perfect margarita themed dessert recipe for summer or celebrating Cinco de Mayo!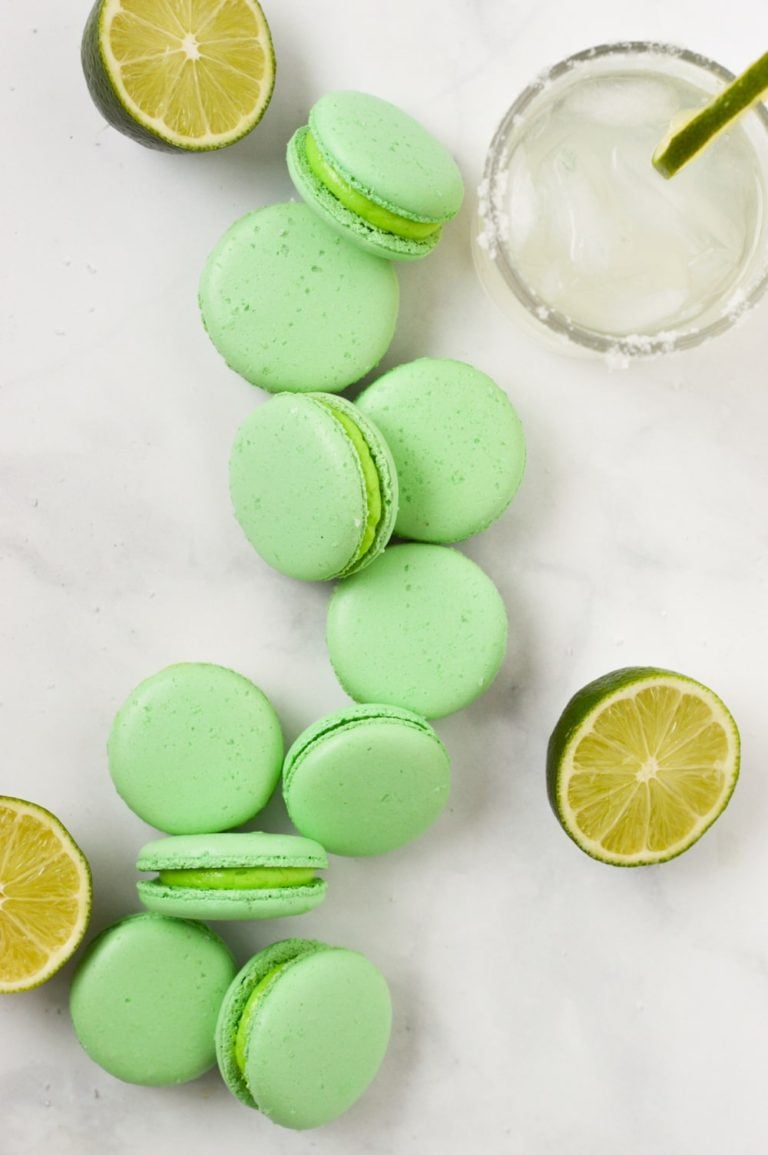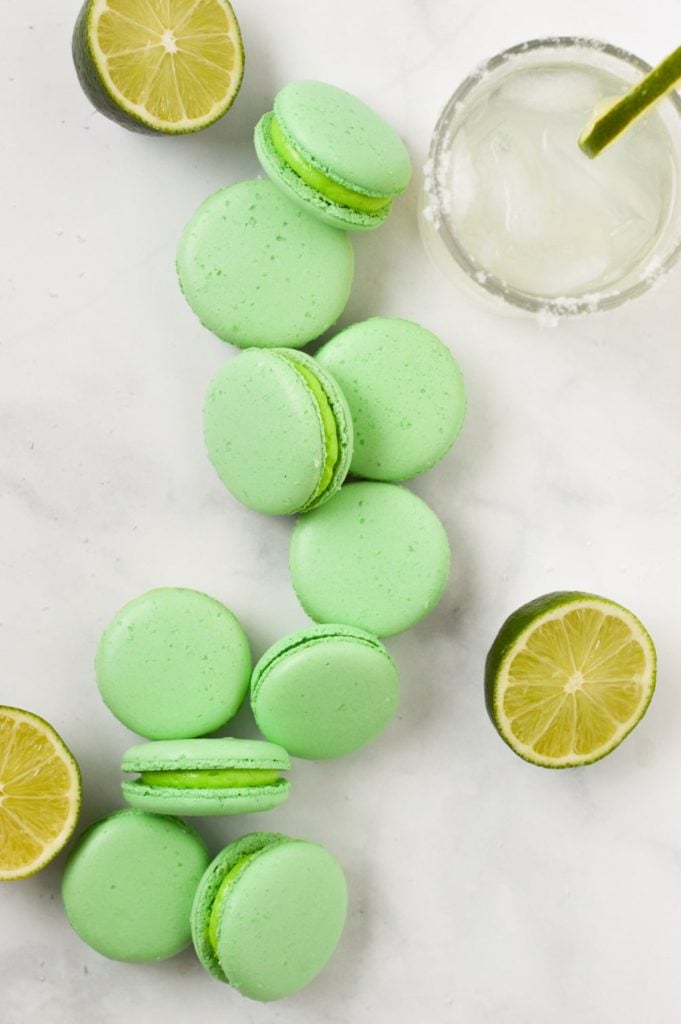 Happy Cinco De Mayo! In honor of Cinco de Mayo I've made some delicious lime and tequila flavored Margarita Macarons.
Why this margarita macaron recipe works
When I first thought about this recipe I envisioned with a tequila lime curd, not a tequila lime buttercream. Unfortunately, in order to taste the alcohol I had to add a fair amount to the lime curd and it made it a bit watery. Then, I tried to make a tequila sugar reduction, which didn't taste right. I also tried brushing the macarons shells with tequila and cointreau but I still had a hard time tasting the alcohol, and if I added too much it started to break down the macarons shells. So finally, I caved and used some Swiss meringue buttercream along with the lime curd. Using 1 part lime curd to 2 parts buttercream worked really well and was the clear favorite with my taste testers. Plus, it could hold the alcohol without getting watery or breaking down. Win-Win.
Making Lime Curd
This lime curd recipe is almost exactly like my lemon curd recipe here. You take egg yolks, egg, lime zest, and lime juice and bring it to a boil. Then, you cook it for a few minutes and allow it to thicken. Once it's thick enough to coat the back of a spoon you add butter and then strain it. Easy and delicious lime curd. Let it cool and then it's ready to use.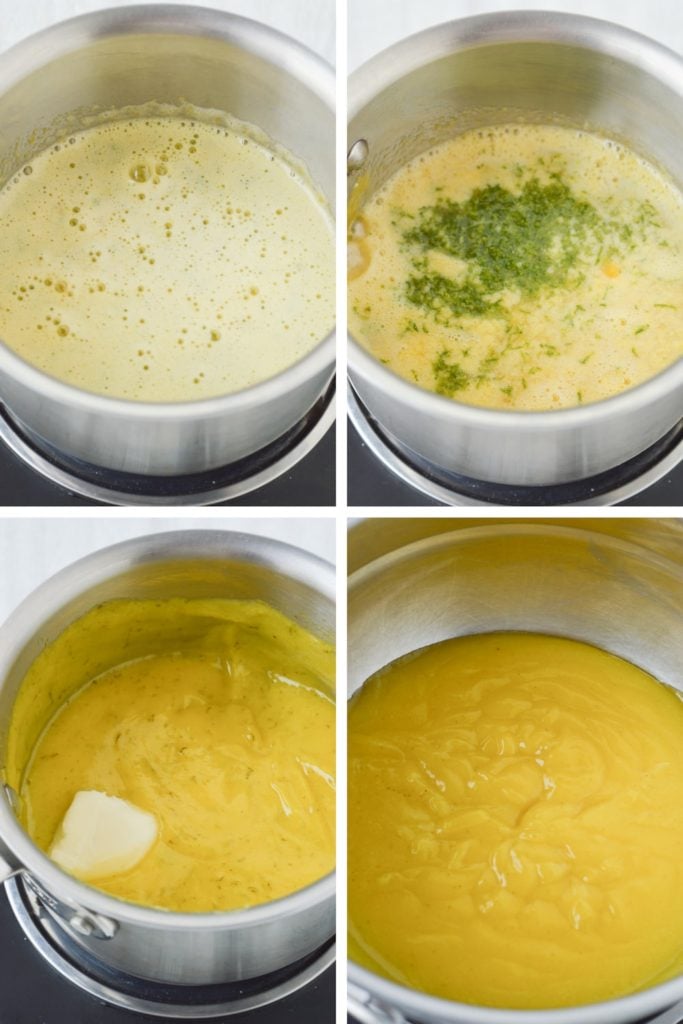 Tips for lime curd:
When zesting, try to only get the green part. The white part can make the curd bitter.
If your limes are small you can use three limes instead of two. You can also use key limes, yum!
Zest first, then juice the limes. This is obvious, but really easy to forget in the moment and go right to slicing the limes in half.

Finished lime curd is yellow, but you can easily add food coloring if you want to make it green.
Making Margarita Macarons
For the macaron shells, I use my macaron recipe here. It has a lot of tips and tricks for making macarons, which can be somewhat temperamental. But, you can use your favorite macaron shell recipe. Prior to cooking the shells, I use a salt grinder to grind sea salt on the unbaked shells. I like that it has large and small pieces of salt from the grinder. You can also sprinkle the shells with sea salt or use your favorite margarita salt. I do not recommend using table salt. If you hate salt on your margaritas, feel free to skip this step but I think it really makes the margarita macarons.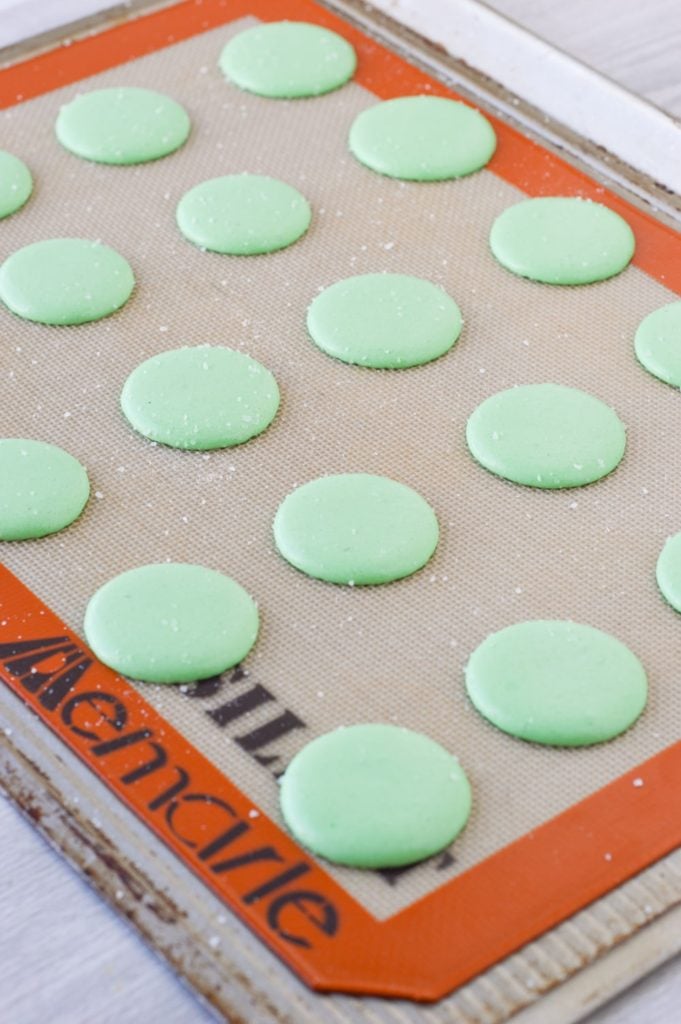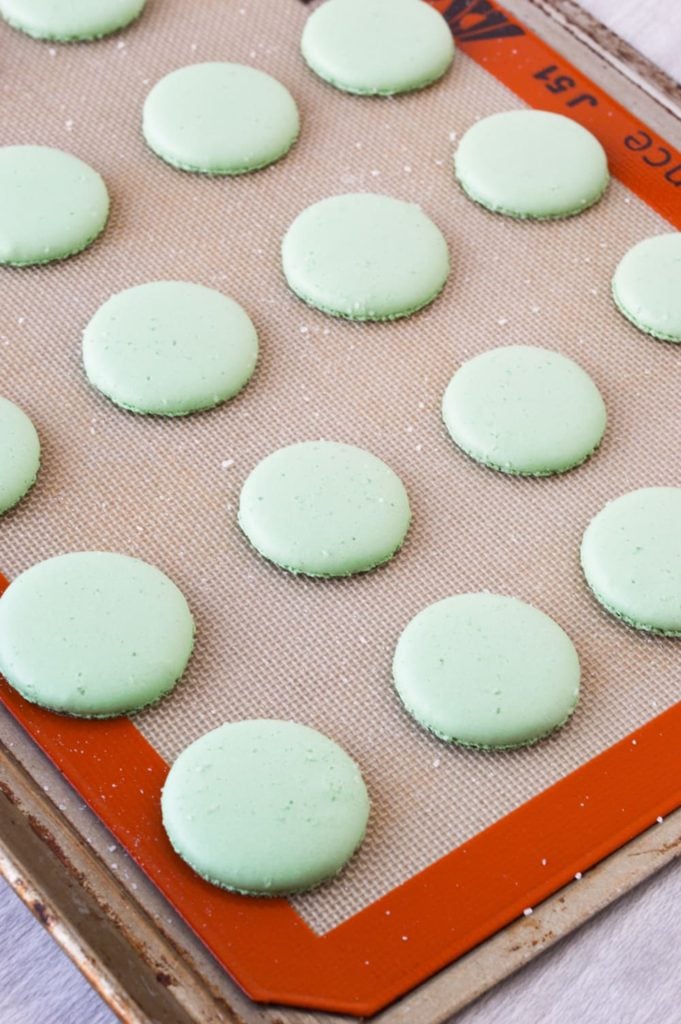 Once you've baked your shells and let them cool to room temperature. Then, try to find shells that are similar in size and shape and pair them up. I like to line my up as shown below. Then, I use a pastry bag with a medium to large size tip to fill my shells. You can all use a plastic bag with the tip cut off, or just spoon the buttercream onto the sells. Once the buttercream is on the shell, add the top and your macarons are done! If necessary, you can let the assembled macarons sit in the fridge for a day or two to mature and soften up.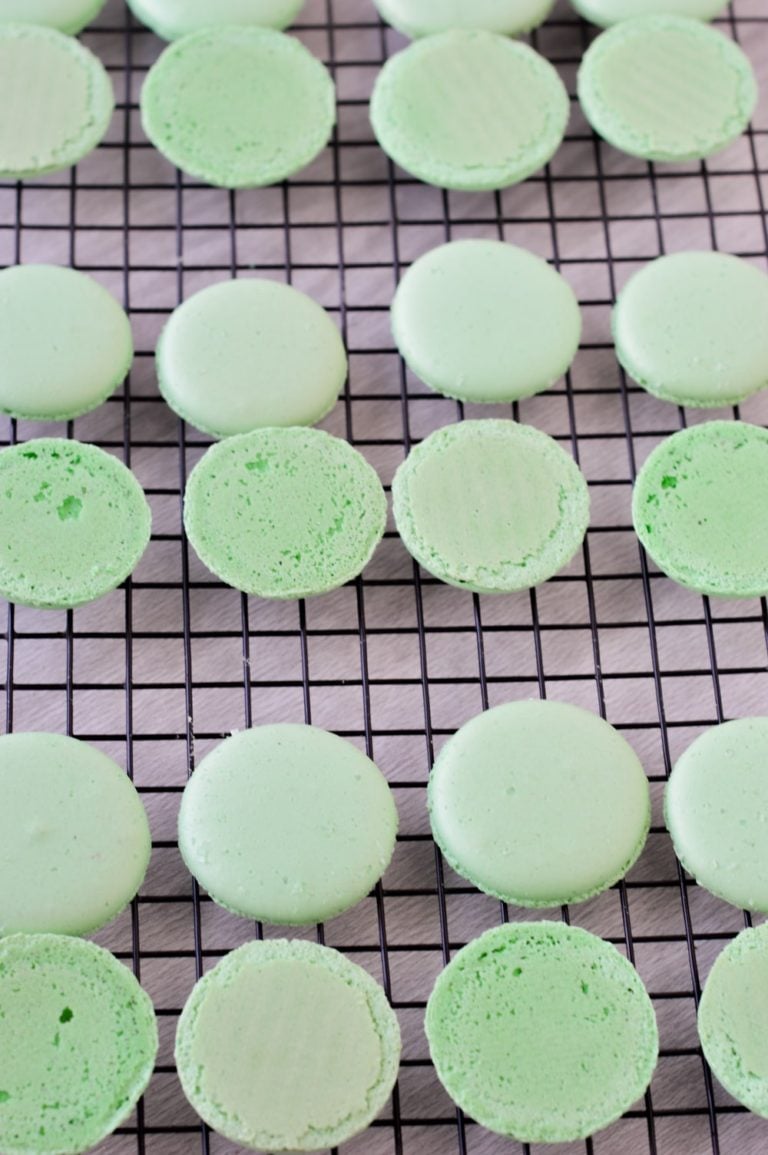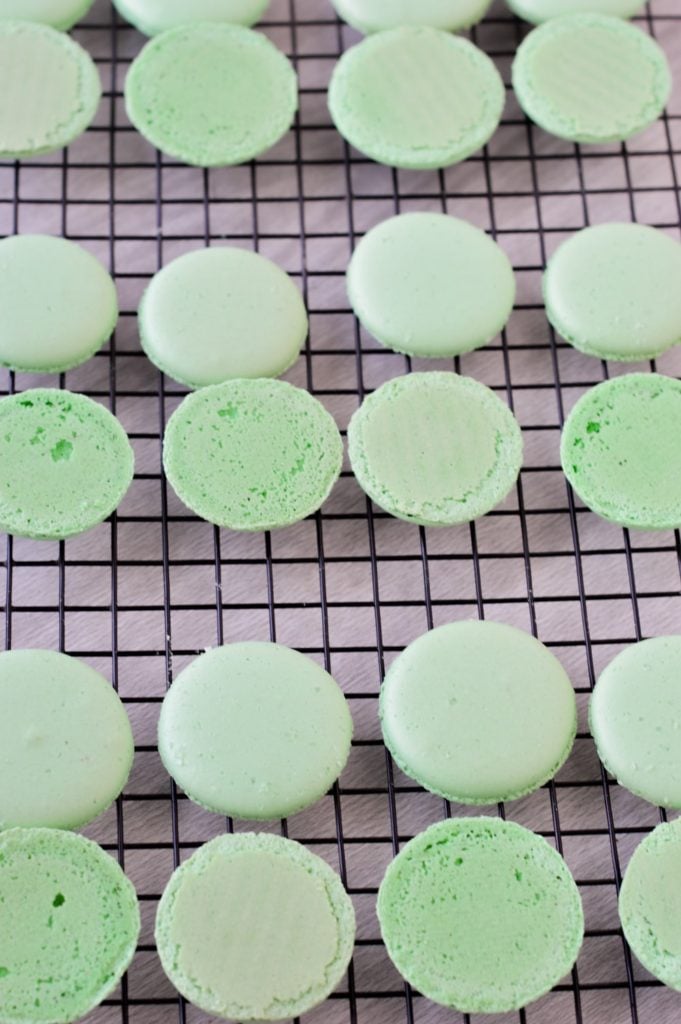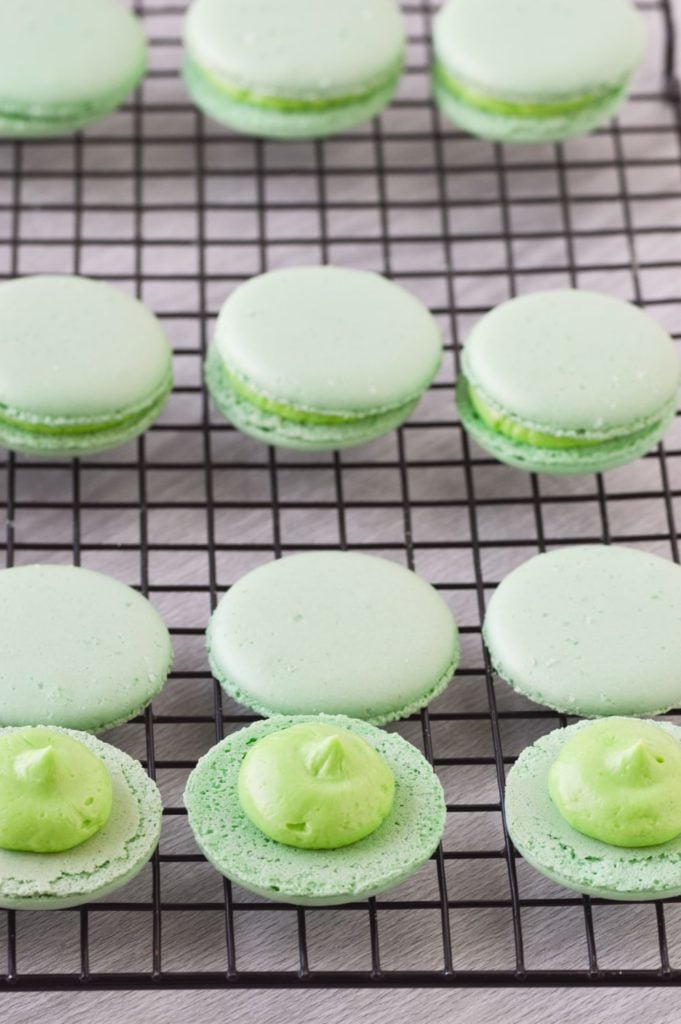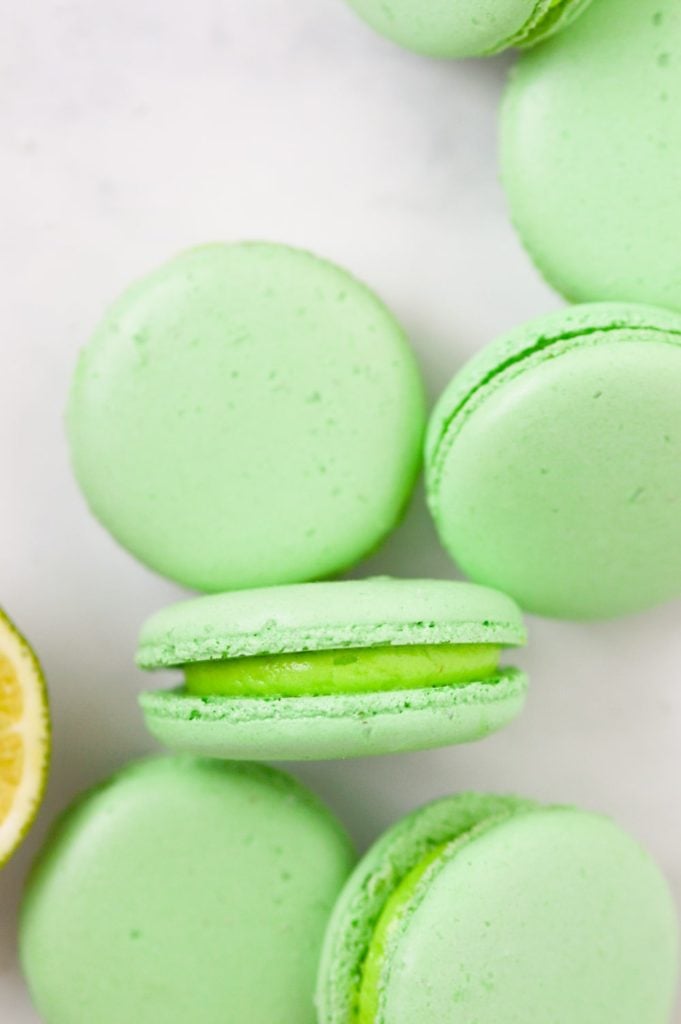 Tips for making Margarita Macarons:
I colored my macaron shells and lime buttercream green. This is optional – I think green shells and uncolored yellow lime buttercream would also be cute.

I use Swiss meringue buttercream for the lime buttercream because that is what I had in my freezer, but you can use any plain or vanilla flavored buttercream you want.
I recommend using sea salt or margarita salt on the macaron shells, not table salt.
The number of macarons you make can vary depending on the size you make your macarons. I make mine about an inch to an inch and a half in diameter.
You can easily double or triple the buttercream and lime curd recipe if you macaron recipe makes more than 25 finished macarons.
If necessary, you can mature your macarons in the fridge for 1-2 days to soften them up.
These will keep up to 5 – 7 days in the fridge or up to a month in the freezer.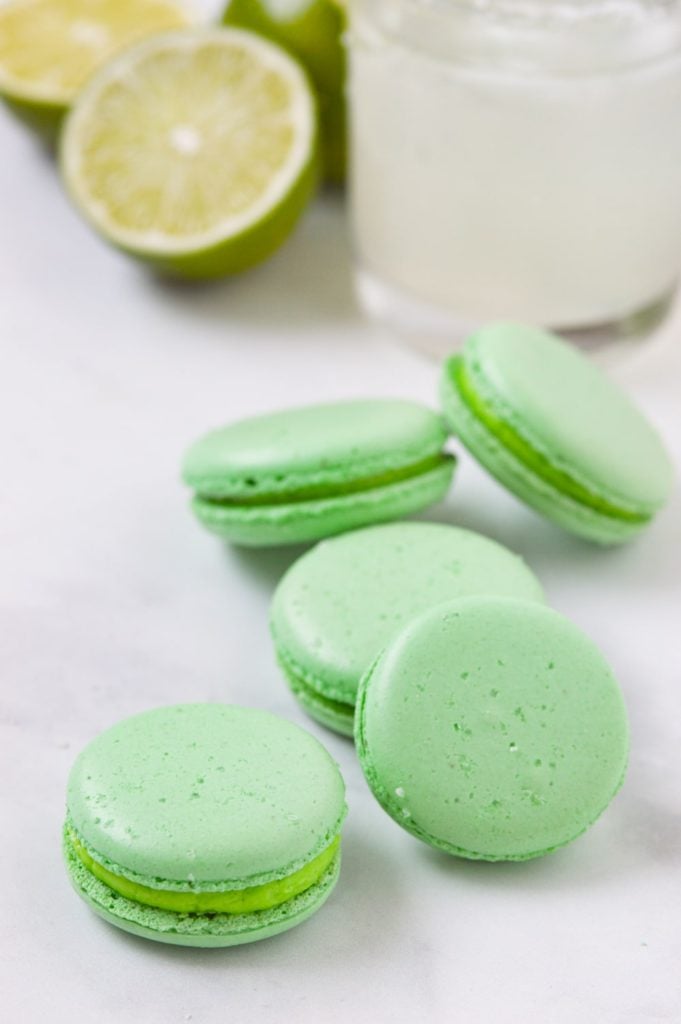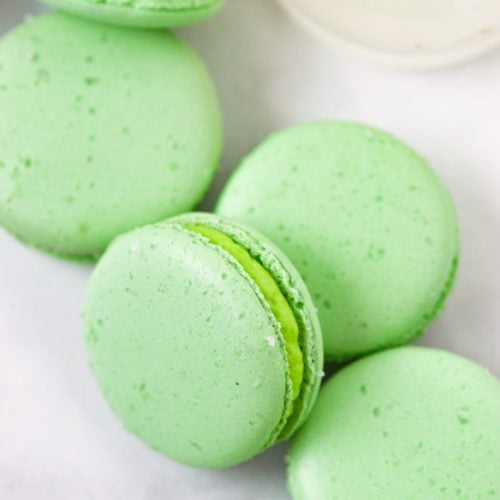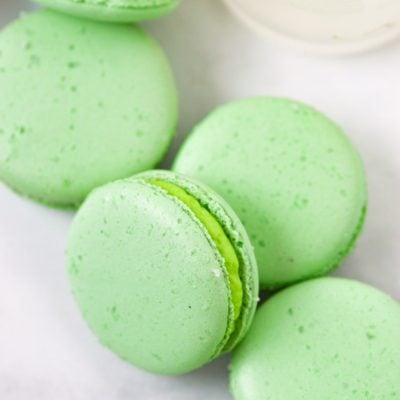 Margarita Macaron Recipe
Using a tequila lime buttercream frosting, these french macaron cookies are sprinkled with salt making them the perfect margarita themed dessert recipe for summer or celebrating Cinco de Mayo!
Print
Pin
Rate
INGREDIENTS
Lime Curd
3

egg yolks

1

whole egg

½

cup

sugar

Zest of 2 limes

Juice of 2 lime

3

tbsp

butter
Instructions
Making Macaron Shells
Make the macaron shells as instructed.

I opted to color mine green, but this is optional

Prior to baking the shells, grind or sprinkle sea salt or your favorite margarita salt on top of them

Let macarons cool to room temperature before assembling.
Making Lime Curd
Mix or whisk egg yolk, egg, and ½ cup sugar in a heavy bottomed saucepan until light and pale.

Add lime juice and lime zest.

Stirring constantly, cook over medium heat until thick and bubbling, about 5-7 minutes.

It should be thick enough to coat the back of a spoon

Remove from heat and stir in butter one tablespoon at a time

While still warm, strain through a mesh sieve

Let cool and then cover and refrigerate until ready to use

This lasts up to a week in the fridge or up to 3 months in the freezer
Making Lime Curd Buttercream Frosting
Add buttercream into a standing mixer with a paddle attachment. Mix until fluffy.

Add lime curd, tequila, and triple sec or cointreau, and food coloring (if adding).

Beat on medium-low until incorporated.

Turn to medium high and mix until fluffy, about 1 -2 minutes.
Assembling Macarons
Pair up macaron shells that are similar in size.

Add lime buttercream to the bottom part of the shell.

Top with the matching macaron shell.

If necessary, let the macarons mature a day or two in the fridge to soften.