This Pumpkin Cream Cold Brew Starbucks copycat recipe is so easy, you can make it in less than 5 minutes so try it today!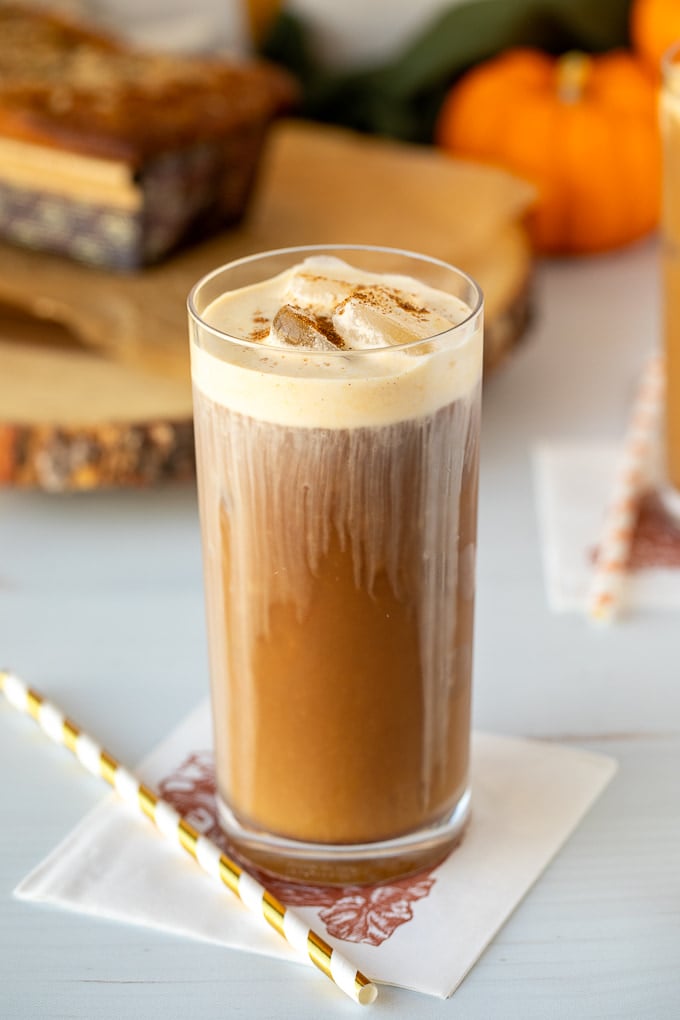 I can't believe fall is almost over! Starbucks has officially released their winter drinks, but they're still offering fall coffees. In addition to the pumpkin spice latte, Starbucks came out with a new drink this year – the Pumpkin Cream Cold Brew.
The original Starbucks recipe uses a pumpkin syrup. If you're looking to make that I found a recipe here or you can purchase a similar sauce here. I haven't personally tried those yet because this quick method is so, so easy. Six ingredients and five minutes and you have your coffee.
The nice thing about making this drink at home is it is completely customizable. I personally find the Starbucks version very sweet, and very vanilla-y. But, when you make it yourself you can adjust it to your liking. Plus, it's very easy to make low carb and vegan!
So, with a few more weeks of fall before Christmas takes over, grab a some cinnamon bread or a pumpkin cupcake and whip up a batch of this delicious and easy fall coffee today!
Ingredients
How to Make
This is so easy to make. You add all the ingredients to a bowl and mix. Then, when ready pour it over your coffee and top with more pumpkin pie spice.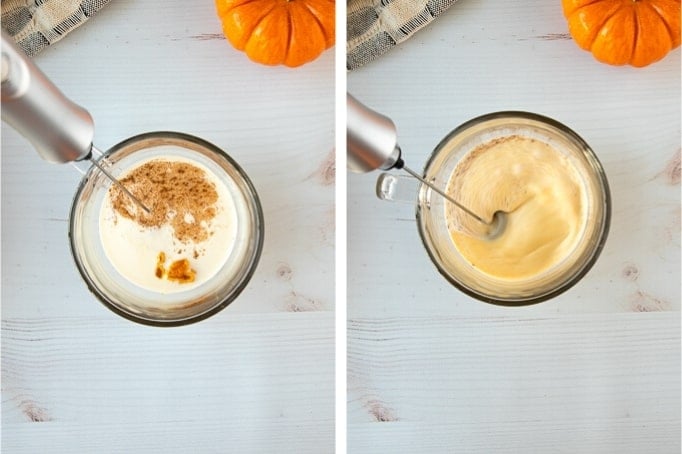 You can use a frother like in the photos, use a blender, or hand whisk:
Frother: these frothers are so fun for making fancy coffee at home and they're only 15 dollars on Amazon! If you like cappuccinos or frothed milk in your coffee this is a great and affordable tool to have.
Blend: You can blend this with a regular blender or smoothie blender
Whisk: While it will take some arm work and time, you can whisk it up by hand.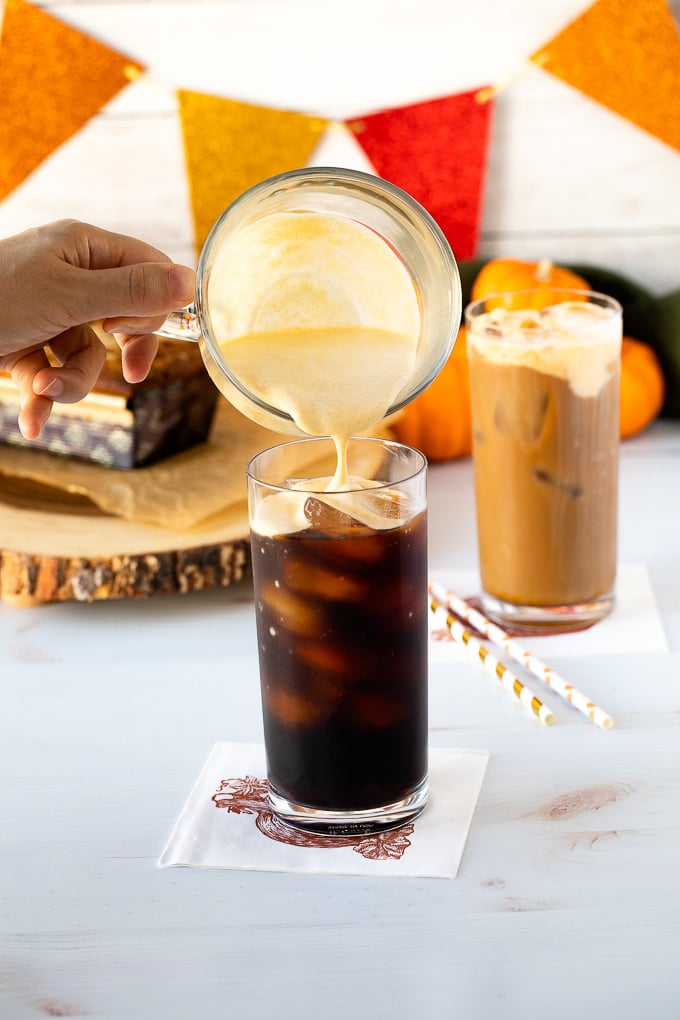 Tips for Making This Recipe
You can substitute any type of regular or non-dairy milk in this recipe but whipping cream thinned with milk or half and half gives the most Starbucks like consistency.
If using all cream, do not over froth.

As with whipped cream it can curdle if mixed too much.

This recipe is completely customizable.

Want it less sweet, add less sugar. Don't like vanilla syrup? Use 1/2 tsp vanilla extract or skip it all together.

You can easily half or double this recipe as desired.
The cold foam will last a day or two in the fridge. If it separates a bit, you can remix as needed.
Vegan and Low Carb Pumpkin Cream
Vegan: You can substitute your favorite non-dairy milk in this recipe. Oat milk tends to froth the best, the flavors will be there no matter what milk you're using. Canned Coconut milk froths well too, but it will have a coconut flavor to it.
Low Carb/Keto: use a sugar substitute and sugar free syrup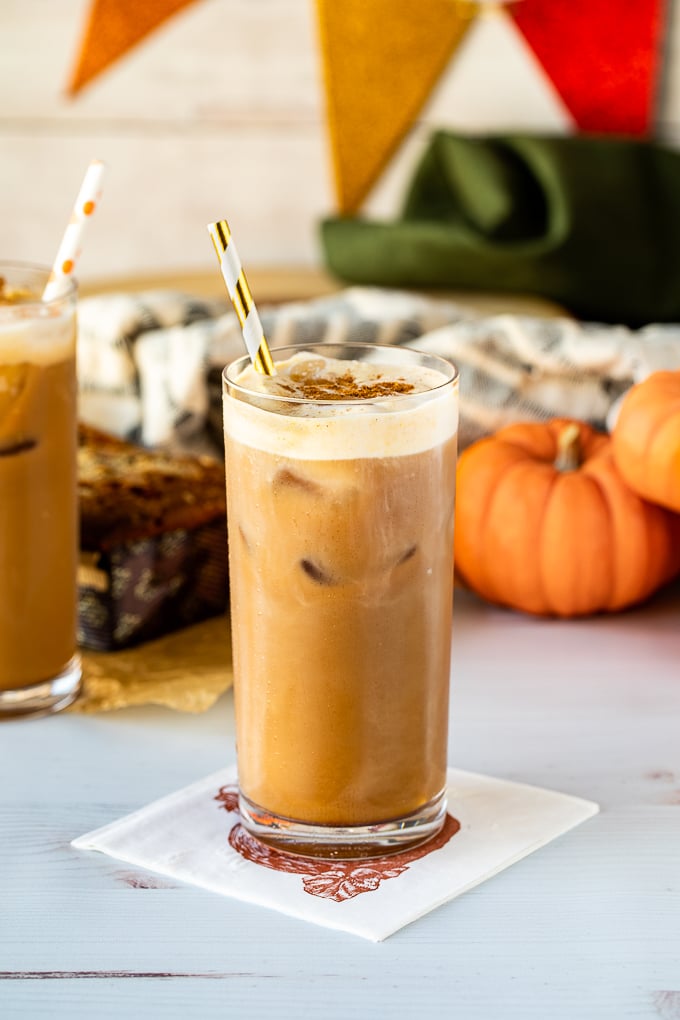 WANT TO JOIN THE PARTY? Subscribe to my newsletter and follow on Pinterest, Instagram, and Facebook for all the latest recipes!
Pumpkin Cream Cold Brew
This Pumpkin Cream Cold Brew Starbucks copycat recipe is so easy, you can make it in less than 5 minutes so try it today!
Print
Pin
Rate
INGREDIENTS
Pumpkin Cream
1/3

cup

cream or half and half

plus more to thin, optional

2-3

tsp

sugar

more or less to taste

2

tsp

vanilla syrup

optional, see notes

1

tbsp

pumpkin puree

⅛

tsp

pumpkin pie spice

plus more for topping

Pinch

salt
Cold Brew
16

oz

cold brew or iced coffee

vanilla syrup

optional
Instructions
Add all ingredients into bowl. Mix using a whisk or frother until frothed. You can also mix in a blender. If using heavy cream, try not to overmix or it can curdle.

Add a splash of vanilla syrup to coffee (optional).

Top coffee with pumpkin cream.

Sprinkle more pumpkin pie spice on the pumpkin cream and serve.
Notes
You can substitute any type of regular or non-dairy milk in this recipe but whipping cream thinned with milk or half and half gives the most Starbucks like consistency. 
If using all cream, do not over froth.

As with whipped cream it can curdle if mixed too much.

This recipe is completely customizable.

Want it less sweet, add less sugar.  Don't like vanilla syrup? Use vanilla extract or skip it all together.  

You can easily half or double this recipe as desired.
The cold foam will last a day or two in the fridge.  If it separates a bit, you can remix as needed. 
For Vegan Pumpkin Cream: substitute your favorite non-dairy milk in this recipe. Oat milk tends to froth the best, the flavors will be there no matter what milk you're using. Canned Coconut milk froths well too, but it will have a coconut flavor to it. 
For Low Carb/Keto: use your favorite sugar substitute and sugar free syrup